With the warmer weather and endless sunshine, there's a lot to look forward to and celebrate this season. And after you've refreshed your outdoor space, you might be thinking about how you can show off your new upgrades. There's no better way to start the summer fun than by hosting a backyard barbecue or get-together.
As part of our series Shop This List TODAY, author and organizing expert Janelle Cohen stopped by TODAY to share some unique ways to take your gathering to the next level. This expert-picked list includes a lawn game that your friends and family can enjoy together and a cute tabletop piece to keep the bugs at bay (without sacrificing your decor!). You'll even score a limited-time deal of 63% off a portable pizza oven to host your very own make-your-own-pie night. You'll be known as the ultimate hostess for weeks to come with these functional yet fun items.
If you're ready to jump in on the summer fun, keep reading to check out all of Cohen's entertaining must-haves, starting at just $10. You can shop this list by product or add everything to your cart at once with our handy shopping feature. To get the party started even sooner, Target offers free shipping on orders $35 or more.
TODAY earns a commission on purchases through these links.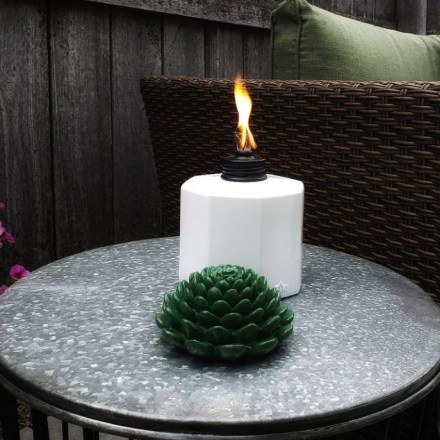 1 of 9
Succulent Glass Tabletop Outdoor Torch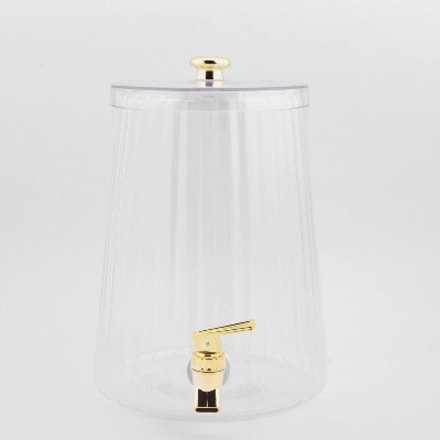 2 of 9
Beverage Dispenser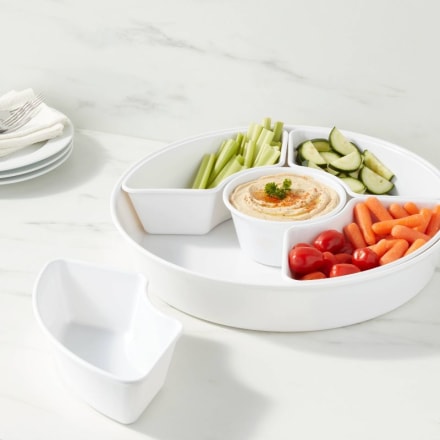 3 of 9
Melamine 5-Section Serving Platter White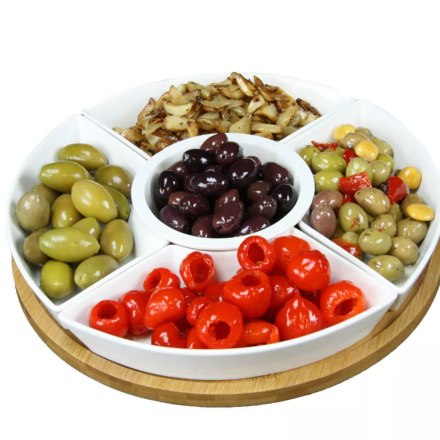 4 of 9
6-Piece Stoneware Beautiful Rounds Party Serving Set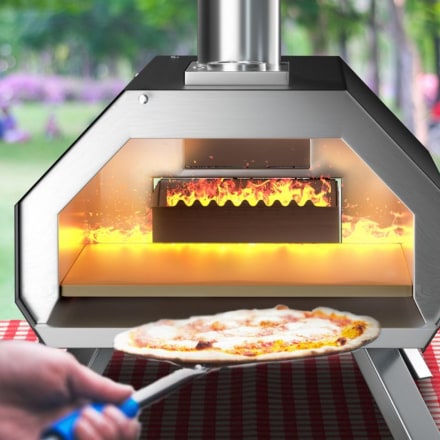 5 of 9
Outdoor Portable Pizza Oven Machine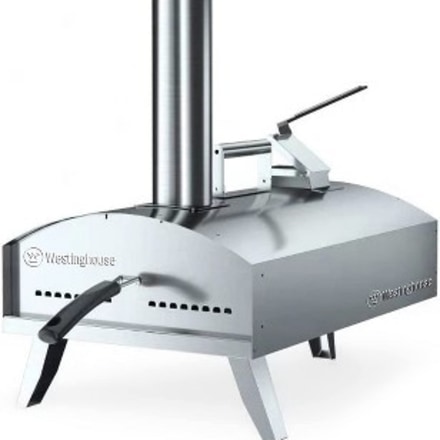 6 of 9
Wood Pellet Artisan Outdoor Pizza Oven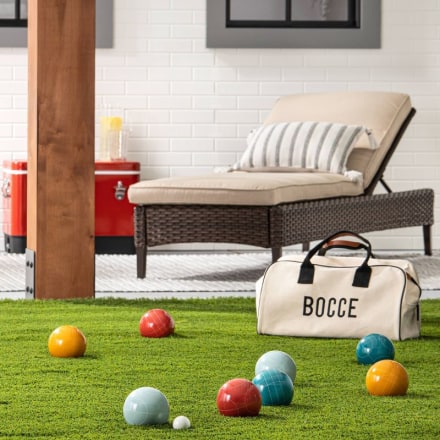 7 of 9
Bocce Ball Lawn Game Set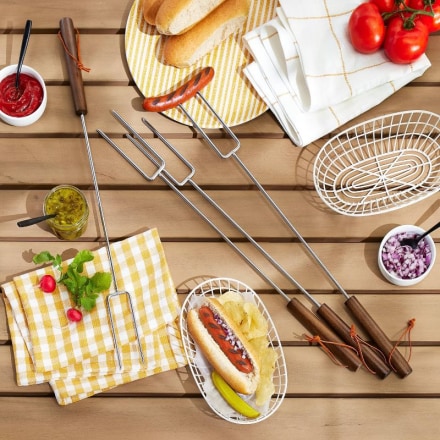 8 of 9
Grilling Skewers (Set of 4)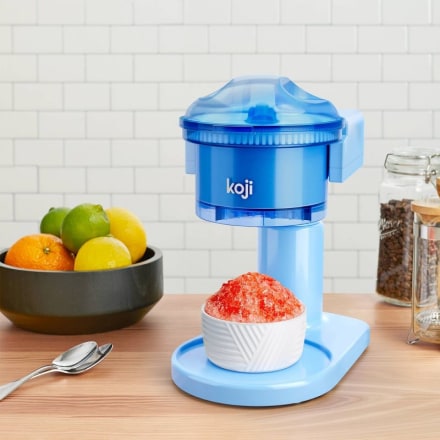 9 of 9
Koji Ice Shaver - Blue
If you find ordinary bug-repellent devices to be an eyesore, you can opt for this adorable succulent torch, which Cohen calls the perfect mix of cute decor and functionality. When not in use, it will sit on your patio table as a cute centerpiece, but the canister holds refillable bug repellant (sold separately) that keeps mosquitos at bay for up to six hours, says the brand. All you need to do is remove the "plant" top and light the torch; it'll look just like a candle!
Cohen says this elegant beverage dispenser is a great way to level up your hosting skills. Holding up to one-and-a-half gallons of your preferred drink, Cohen says she personally likes to fill this up with ice water and cut-up oranges, limes or cucumbers for added flavor, and to give your table a pop of color.
Whether you're curating a tasty appetizer or snack plate for your guests, Cohen recommends looking for tableware that's made of melamine instead of glass, so you don't have to worry about it shattering. She loves this six-piece platter not only for its durability but also because the pieces separate so you can use it for an assortment of food and dips. To get creative, Cohen says she likes to style her food options in a rainbow color coordination.
Editor's note: This find is currently out of stock for shipping, but we found a similar option that we'd think you like below.
According to the brand, this six-piece serving set comes with a bamboo plate that also functions as a Lazy Susan, making it easy for your guests to grab their favorite snacks and dips. It's also made of stoneware that is microwave safe so you can reheat your dishes.
We love the convenience of a frozen pizza as much as the next person. But summer bashes call for the homemade kind, and if you're looking to host a pizza-making night (you can use the platter above to offer pepperoni, cheeses and peppers!), Cohen says this portable oven will turn your backyard into your very own Italian restaurant. And right now through June 30, you can score a limited-time deal on this oven with savings of 63%.
According to the brand, the oven box can be fueled by wood, coal, pellets or briquettes and can reach up to 500 degrees in under 10 minutes. Plus you can use it for more than just pizza: The brand says it's great for bread baking, roasted chicken and other meats.
Editor's note: This find is currently out of stock for shipping, but we found a similar option that we'd think you like below.
This pizza oven is fueled by pellets that will preheat to 1000 degrees Fahrenheit in just 15 minutes and cook a pizza within 90 seconds, says the brand. The company also mentions it can fit up to a 13-inch pizza and even be used for meats, fish, roasting veggies and more.
Hosting backyard parties isn't all about the food and drinks: You'll want to keep guests entertained with a fun activity. Cohen loves bocce as a lawn game to keep your guests laughing and having a great time. The brand says you can have up to four players or teams, making it the perfect activity for larger groups. Not only is it extremely fun, but also Cohen says this set from Hearth & Hand with Magnolia is super chic and adds a decor element to your space. "I just got engaged and we actually had this set at our engagement party and it made for some really fun memories and got everyone up and playing," Cohen says.
Summer is the time for backyard barbecues and roasting marshmallows for s'mores, so you know you'll get a lot of use out of this stainless steel grilling skewer set. Coming in a pack of four and a carrying case for easy storage, the brand says the skewers are 22-inches long for a safe distance from the grill or open flames and they're suitable for cooking meats, vegetables, marshmallows and more. Cohen says this will make a great gift to bring to a host, too.
For hot summer nights, Cohen says the whole family will enjoy cooling down with refreshing homemade snow cones. According to the brand, the machine holds up to six cups of standard ice cubes and features stainless steel blades to grind up delicious shaved ice — just add your favorite syrup flavors.
More Target shopping guides: