This jade roller features a dual head so you can target larger or smaller areas. The benefits of jade rolling are said to include smoothing and sculpting the skin, relieving facial tension, sinus pressure and headaches, stimulating blood flow and oxygen, and reducing dark circles and puffiness under your eyes. It can also help your skin absorb creams, serums and oils.
We asked Dr. Joshua Zeichner, Director of Cosmetic and Clinical Research at Mount Sinai Hospital, about what jade rolling can actually do for your skin.
"Rolling the skin is thought to enhance lymphatic drainage and improve circulation," he told TODAY. "Applying a cool stone to the skin helps constrict blood vessels to minimize the appearance of redness."
Dr. Debra Jaliman, a New York City-based dermatologist and author of the book "Skin Rules: Trade Secrets From a Top New York Dermatologist," echoed the benefits mentioned by Dr. Zeichner, but also warns users to not get too excited when rolling.
"Roll on gently and do not apply too much pressure," she told us. "You can cause irritation if you push too hard."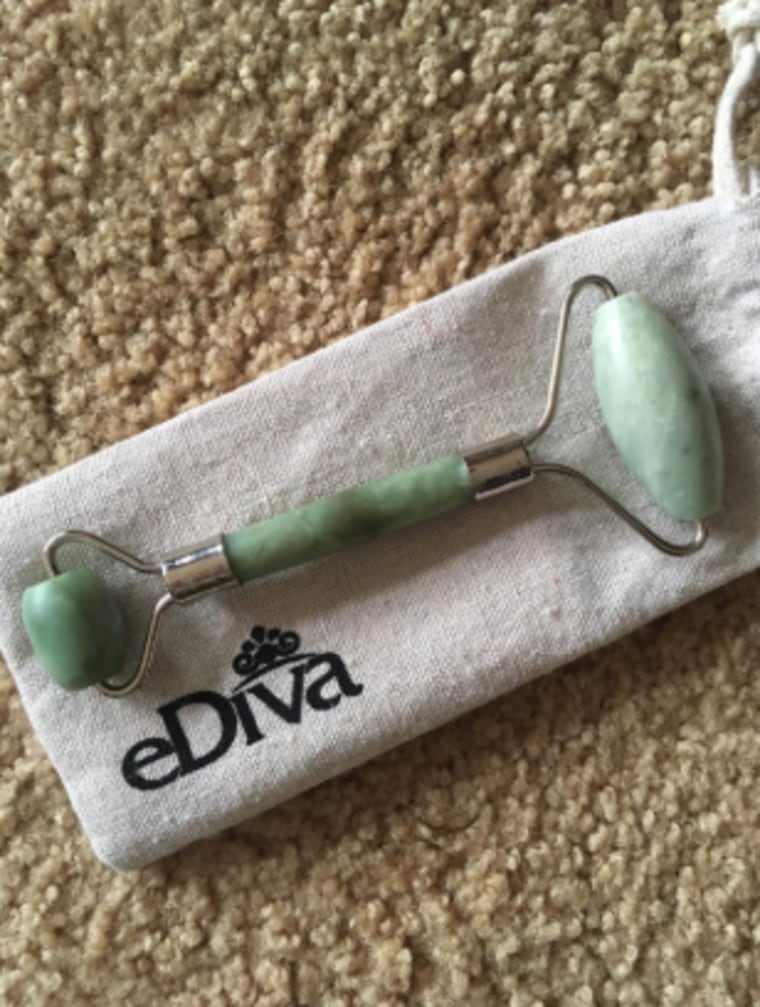 Though we haven't tried it yet, over 2,000 reviewers can't stop talking about it on Amazon where it boasts a 4.8-star rating.
Helps combat puffy eyes
Fighting puffy eyes can feel like an uphill battle, but this jade roller has left reviewers feeling victorious. "I have puffy eyes no matter what I do or try," began one reviewer. "This is an excellent tool to combat that issue."
"I have always struggled with puffy eyes in the morning and sinus issues in the winter," shared another reviewer. "This definitely helps relieve both of them."
One reviewer even describes the jade roller as "heavenly" for under-eye puffiness.
Smoothing out those fine lines
Reviewers love how smooth their skin is once they start using the jade roller.
"I have been using a week and already notice a new smoothness to my skin," one person shared.
"What I experienced was my skin began to 'smooth over,'" wrote one reviewer. "And the fine lines that have always bothered me have definitely faded."
For $23, this jade roller is a steal. Dr. Jaliman said it's a "good price point compared to in-office treatments."
For more beauty favorites, check out:
To discover more deals, shopping tips and budget-friendly product recommendations, download the new TODAY app and subscribe to our Stuff We Love newsletter!