A few years ago, I started waxing at home instead of going to the salon. I rarely run into any issues, but one weekend I had a bit of a mishap and waxed off more of my left eyebrow than I intended.
So, I turned to Amazon to find a top-rated brow product that would help even out my brows until they grew back. With over 4,100 verified five-star ratings, the MoonKong Eyebrow Pen seemed promising. I was a bit skeptical about the brand, having never tried it before — until I saw the results: long-lasting, natural-looking brows.
The MoonKong Eyebrow Pen is designed to give you fuller, more defined brows without fading or smudging. The formula's realistic finish and staying power can almost be compared to the results seen from microblading — a professional tattoo technique where eyebrows are hand-drawn using small blades and ink. While microblading can be a good option for a long-lasting semi-permanent solution, this pen can give you a similar look without the commitment.
The pen also has a unique four-prong tip that creates hair-like strokes. It comes in four waterproof shades, but I chose chestnut to better match my blonde hair color.
A few Amazon reviews I read pointed out that it takes some time to master the application technique. To avoid another beauty mishap, I first practiced on the back of my hand. The instructions state to hold the pen at a 45-degree angle to achieve precise lines. For me, the pen was easy to maneuver; it went on smoothly, evenly and actually created a hair-like look.
When I started to fill in my brows, I quickly realized that applying the product to the back of my hand was a lot easier than putting it on my face. I typically fill in my brows after creating an outline around the perimeter, but this pen works best if you move the tip in the same direction as your hair growth — and my brow hair grows in multiple directions. After a few tries and some makeup remover, I achieved my desired look.
Only afterward did I realize my pen came with a kit that included three brow-shaped stencils to help with the application — something I will likely use in the future to make sure both my brows are even on the first try. It also includes a brow-shaping razor that you can use to touch up any unwanted hair growth.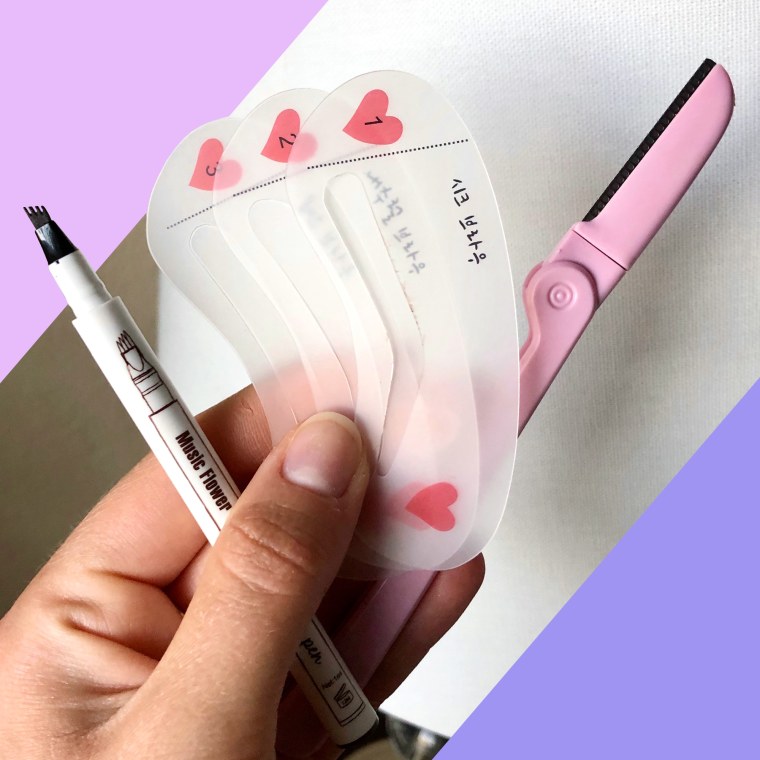 I wore the product for almost two days straight — it not only kept its dark color, but I could also still see the defined, hair-like strokes after hours of wear. I was also thrilled that the makeup didn't smudge or run down my face during workouts. This formula could be the key to achieving the perfect sweat-resistant brow once the summer heat arrives. And when you want to wash it off, the waterproof formula can be removed with an oil-based makeup remover.
The pen stands out among other brow products I've used in the past because the results appear natural. This little "tattoo" pen made it look like I had sprouted new brow hairs without a heavy or fake look. That's not a bad deal for just $8. (And compared to a microblading session that can cost upwards of $500, the price tag makes it a more than reasonable choice.)
Even after a single application, I can see the MoonKong Eyebrow Pen becoming my go-to eyebrow makeup. The fact that I don't have to reapply throughout the day will save me time in my routine, and the natural look helps me look put-together without a lot of effort.