Every day can be fry-day with an air fryer!
At least that's what you'd think from the way everyone is buzzing about this trendy kitchen appliance.
The Air Fryer Tips and Recipes group on Facebook, with more than 166,000 members, features almost 100 community posts a day. And, more than 2.6 million people have watched a simple air fryer review on YouTube.
And people love that the appliance offers a healthier option for cooking foods than dunking them in a deep fryer.
How does an air fryer work?
An air fryer is essentially a small, turbo-powered convection oven for your kitchen counter. It speedily circulates hot air around food to cook it quickly. While the air fryer has a removable basket like a deep fryer, instead of submerging the food into hot oil, the items in the basket are baked by the heat from air flowing around them. (It's the same method as the convection option on a full-size oven or large toaster oven, just miniaturized.)
As a professional recipe developer and food writer, I'm not afraid of deep frying. But, I do appreciate any technique that lets me eat healthier versions of satisfying foods.
So, when I got the chance to test a Krups air fryer, I put my skills to use.
Krups Air Fryer, $100, Amazon
I tried making a variety of weeknight meal components and foods that are typically deep-fried to see where the fryer works best, and where it falls flat.
What works best in an air fryer
Breaded foods are by far the most successful things to cook in an air fryer. I tested both homemade chicken nuggets coated with traditional flour, egg and panko breading as well as frozen chicken nuggets straight from the bag. Both versions cooked up to a remarkably crunchy finish in less than 15 minutes. The homemade chicken nuggets remained moist and tender inside their crunchy coating. It's impressive.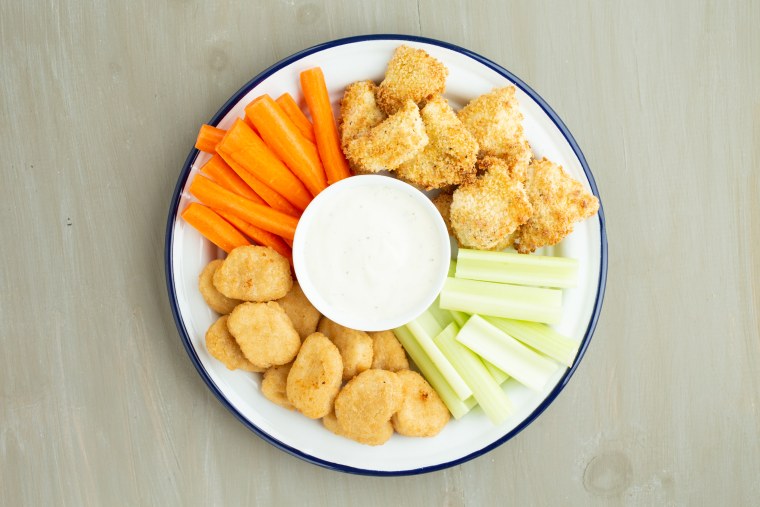 I was so wowed by the homemade nuggets that I tested the same technique with homemade breaded zucchini sticks. The result was equally tasty. They turned out browned and crispy, without any sogginess or dripping.
The air fryer also excels at reheating foods that have already been baked or air-fried. This is an easy, quick way to breathe new life into chicken cutlets whose breading has softened up after a night in the refrigerator, that last handful of fries you brought home from the diner, or even a few hot dogs in a jiffy. It won't be as quick as microwaving your leftovers, but it will taste much more satisfying to re-crisp the coating.
What's just OK
I followed the air fryer's instructions for making homemade french fries, which are the same as how I prep my own fries for oven-roasting or deep frying — slicing, soaking in cold water to remove excess starch and patting the potatoes dry before lightly tossing in oil.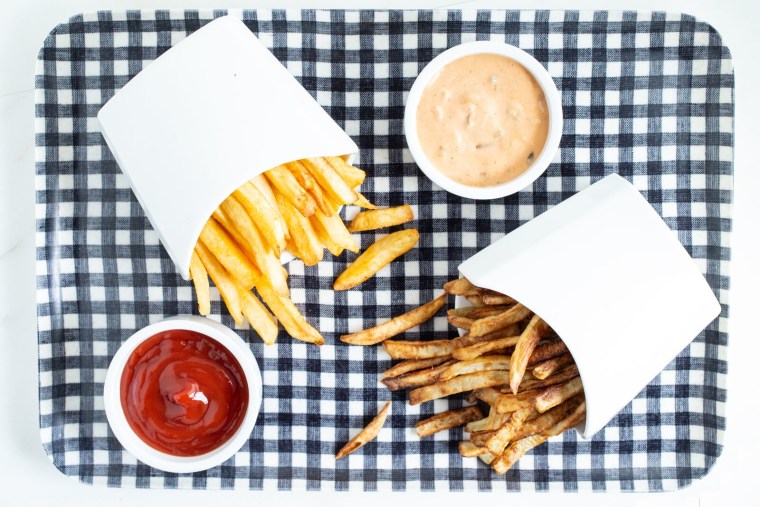 The end result was almost identical to roasting fries in the oven. The potato strips stayed translucent and nearly raw throughout most of the 25-minute cook time and required frequent shaking to get them to cook evenly. Unlike setting an oven timer and checking in on the fries in 30 minutes, this was not a set-it-and-forget-it process.
Frozen fries fared much better in the air fryer, crisping up more evenly since they've already been partially baked and coated with tantalizing seasoning. They required fewer shakes of the basket to ensure even cooking.
Similarly, air-fried Brussels sprouts didn't improve by leaps and bounds over a traditionally oven-roasted batch. Halved and tossed lightly in olive oil, just as they would be for oven cooking, the sprouts crisped and charred on the edges, but dried out a little too much in the intense heat of the air fryer for my taste.
The drawbacks
Because of the air fryer's construction, it's not set up to effectively cook foods that are dipped in batter. The liquid drips through the basket and into the bottom of the fryer, making a mess. So if you're craving calamari, tempura shrimp or buttermilk fried chicken, you'll have to stick to the traditional method.
And if you have dreams of serving up wings or fries for a big crowd, the size of the air fryer may foil your plans. While the manual states that it's capable of making up to a pound of food at a time, the fryer works best when there's a single layer of food in its basket. Plus, with an average 15-20 minute cook time for a basket of fried food, there will be some wait time.
Is it worth it?
Unlike an Instant Pot or a Breville countertop oven, the air fryer does only one thing, so you won't get the same multifunctionality as other appliances. If you have room on the counter and don't already have a countertop toaster oven, this can take its place in many ways. It's great for frying up frozen foods or anything coated in breading! But, if you're pressed for space or are regularly cooking meals for a big family, consider something like the Instant Pot instead.
Ready to try an air fryer?
If you're ready to try frying some food in one of these contraptions yourself, check out the top five best-selling air fryers on Amazon.
Aicok Air Fryer, $86, Amazon
Philips Avance XL Digital Air Fryer, $300, Amazon
GoWise USA 3.7-Quart Programmable Air Fryer, $86, Amazon
Philips Viva Air Fryer, $160, Amazon
This one has more than 1,000 reviews on Amazon.
SimpleTaste 1400W Multi-function Electric Air Fryer, $100, Amazon