If you know me, you know that I'm never without a cup of cold brew coffee in my hand — even in the fall and winter. My co-workers can even tell what kind of morning I'm having based on the size of my cup: A medium means my morning has been smooth so far, and a large means don't talk to me until this cup is empty.
It's probably my most irresponsible spending habit, and I'm sure some financial expert believes it's the reason I'll never own any real estate, but I guess there are worse things to waste money on.
However, my habit was slightly disrupted once I began working from home in 2020. I used to simply grab my cold brew each morning at the Dunkin' or Starbucks that are located in the same building as my office. But now, my home is often my office, too — and my apartment building sadly does not have either a Dunkin' or Starbucks. Not even a McCafé.
So, I decided it was time to start making my own cold brew at home, and this pitcher has become my new favorite part of my morning routine.
It's simple to use.
Luckily, you don't have to be an experienced barista to create an impressive cup of cold brew with this machine. To use, simply fill the included mesh filter with 14 to 16 scoops of your favorite ground coffee. A coarse grind works best for cold brew, and I recommend the dark roast by Stone Street Coffee Company if you're looking for a bold but smooth flavor.
Next, you fill the pitcher with filtered water, screw the filter onto the lid, then insert the filter into the pitcher and securely screw on the airtight lid. Place the pitcher in the refrigerator, and you'll have fresh cold brew concentrate in as little as 12 hours. (I like a strong brew, so I usually let it sit for 24.)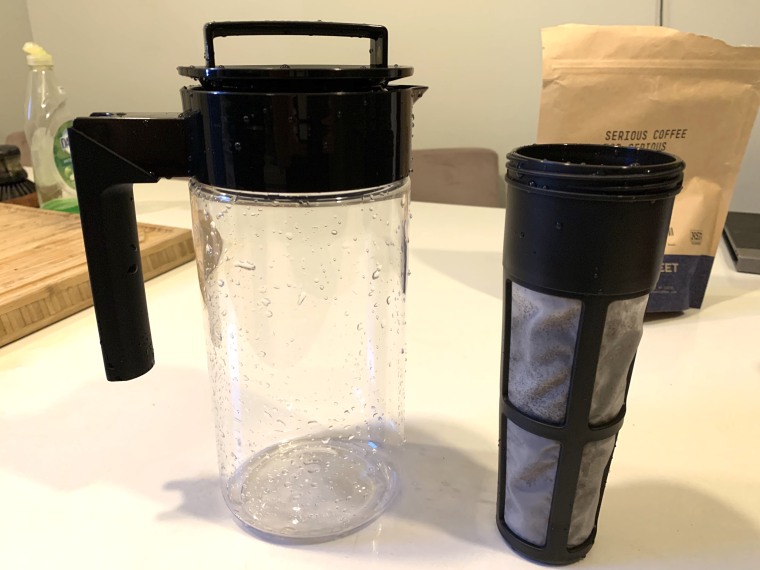 If you're new to the world of cold brew, it's important to note that you're actually making a concentrate that's meant to be diluted with water. When I pour a cup, I typically do a 1:1 ratio of concentrate to water, and the flavor turns out perfect — not too strong but not too watered down.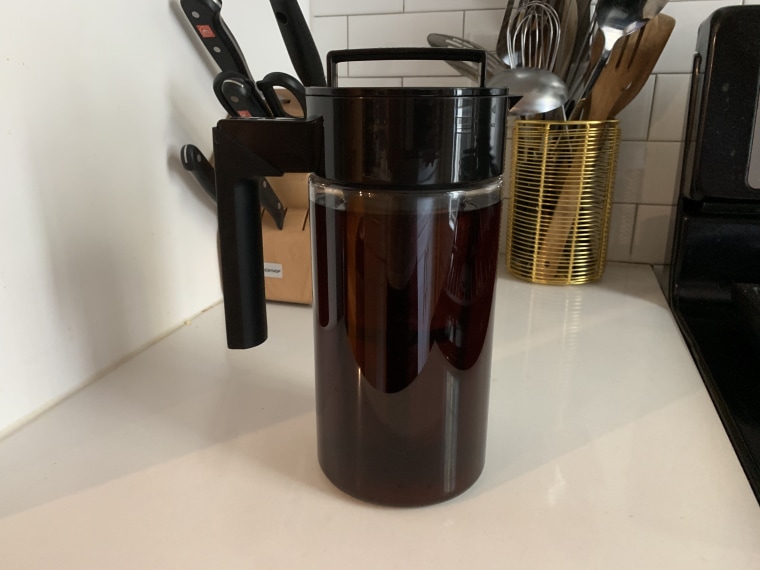 The cold brew lasts a few days.
My favorite feature of this particular pitcher is its airtight lid. This allows me to store it horizontally if necessary, and it keeps the cold brew fresh throughout the week. I'm typically able to get about five days out of one pitcher, though that all depends on if it's a medium or large cup kind of day.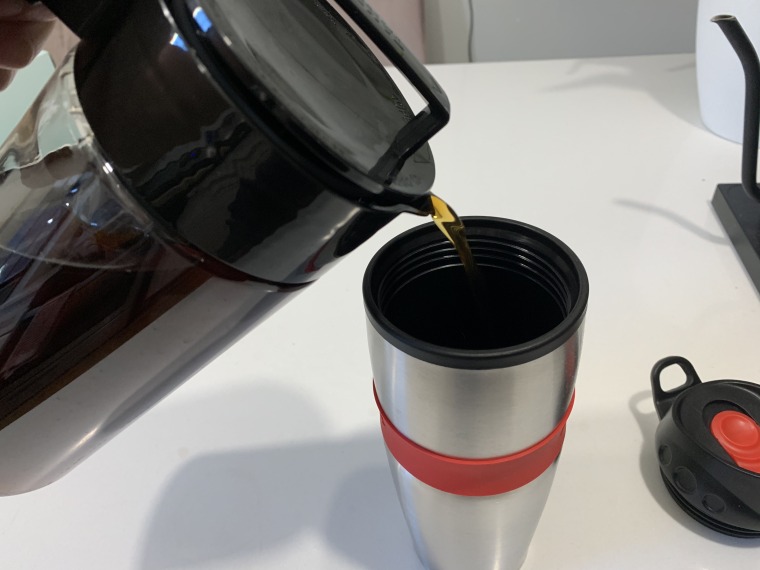 While I sometimes miss my daily Starbucks run, my bank account is thankful to be saving a few bucks every day. My favorite coffee shop is now my own fridge, and I think I'll be a regular even once my office is up and running again.