Retinol, a synthetic derivative of vitamin A, is often touted as one of the most powerful skin ingredients out there. Although it's known to be a skin care wonder that can dramatically prevent and minimize fine lines and wrinkles, brighten skin, reduce breakouts, and fade hyperpigmentation (yay), it can also aggravate it significantly when you first use it (nay).
Trust us, the initial redness and dryness are a small price to pay for the eventual results. Still, you can help minimize the negative effects of retinol by using a top-notch daily moisturizer.
First things first: what's the difference between a retinol serum and a retinol moisturizer? Dr. Kseniya Kobets, Director of Cosmetic Dermatology at Montefiore Einstein Advanced Care, tells us, "The terms 'serums' and 'creams' are often used interchangeably, and their consistency often depends on the brand that you buy. Some serums are like lotions and others are waterier, others more oily."
Either way you go, know that pairing with a moisturizer is still essential in your skin care routine (more on the order of application in our FAQs section below).
If you have sensitive skin, it's imperative that your skin barrier is reinforced or repaired before using a topical retinoid, which can irritate the skin, says Kobets. "Once the skin barrier dysfunction has been fixed and maintained, we can start adding topical retinoids (from over-the-counter to prescriptions)," she adds.
Since there's so much info on this skin care topic, grab your favorite drink, get comfy and read on. To make it easier, use the links below to jump to your desired category, and visit it again if you need a reference or refresher later.
What to look for | How we chose | Derm-approved picks | More moisturizers we recommend | FAQs | When do I use moisturizer with retinol? | What is a "retinol sandwich"? | What should I not use with retinol? | How long after retinol can I apply moisturizer? | Meet our experts
What to look for in a moisturizer to use with retinol
"In the first two to four weeks, the skin undergoes a process known as retinization, where the skin cells adjust to the retinol itself. This can lead to dryness, flaking and redness. That is why it is so important to pair your retinol with a moisturizer," says Dr. Joshua Zeichner, board-certified dermatologist and Director of Cosmetic and Clinical research at Mount Sinai Hospital's department of dermatology.
Of course, every person's skin is different, and it's best to consult a dermatologist for personalized recs, but here are some of the common ingredients experts say we should be looking for while shopping for a moisturizer to pair with retinol.
How we chose the best moisturizers to use with retinol
In a sea of moisturizer options out there, how did Shop TODAY narrow it down? First, we looked to our trustworthy sources: dermatologists and skin care experts who gave us their take on effective products. We then took into consideration their notes on which specific ingredients to look for, and we tried some of our picks ourselves alongside retinol. In addition, we scoured the web for bestsellers and read raving reviews from users who deemed products worthy of five-star ratings.
Best moisturizers and creams to use with retinol, according to experts
Give your skin a double dose of hydration with this moisturizer. The main ingredients? La Roche-Posay's prebiotic thermal water (a soothing antioxidant), Ceramide 3 (a skin-identical lipid that helps retain moisture) and niacinamide (a water-soluble vitamin to soothe and restore skin).
After just one hour, it repairs the skin's protective barrier and keeps it hydrated for 48 hours — yep, that's two full days. It's also fragrance-free and made with sensitive-skin types in mind. So, especially if you're new to the retinol game, this hydration-heavy formula will help counteract irritation so you can put your best face forward.
Kobets notes, "I advise my patients to avoid the UV-containing version (they look very similar, so be careful), since it is a chemical blocker and can cause skin sensitivity. Plus, since most retinoids are used at bedtime, we do not need one with SPF."
She adds, "It also comes in a matte version, which is great for patients who do not want to worsen their oiliness."
FULL REVIEW: Find out why one writer replaced the $70 face oil she uses in her skin care routine with La Roche-Posay's face moisturizer.
"CeraVe PM Moisturizing Lotion is my other favorite, as it is also great for all skin types," says Kobets.
It contains hyaluronic acid, glycerin, niacinamide and ceramides — these ingredients lock in moisture but don't feel greasy on the skin. Although it says PM, you can use it in the AM as well, the dermatologist notes.
One of the 700-plus reviews on Ulta noted, "I used to have really dry skin. After I started using this, in about two weeks, my skin was always moisturized! I took this every night before I went to bed and I'd wake up with my skin feeling great. I love this stuff. I will buy again!"
RELATED REVIEW: The AM version of CeraVe's face lotion, which has SPF 30, keeps one reviewer's face fresh and fragrant (and breakout-free) all day long.
Editor's Note: While Greenfield works with REN Clean Skincare, we included this pick because it meets the criteria we described in our selection process above.
This moisturizer by REN Clean Skincare is formulated with sensitive skin in mind: It uses hydrating natural ingredients like black currant seed oil, sea buckthorn oil and camellia oil, which together add back to the skin the moisturizing factors that retinol may have stripped away.
This ingredient combination, when used with retinol or retinoid products, will make those products more tolerable on the skin so you can use them more consistently, Greenfield says.
One Sephora reviewer can attest to how well this pairs with retinol: "I have sensitive skin now due to using retinol daily, and it's a challenge to find a moisturizer that plays nice. ... It absorbed nicely on the first try. The icing on the cake is that it worked well under foundation — what a relief! ... The pump is great, and I do love the consistency of the product too."
If you're already dealing with sensitive skin or allergies, retinol can exacerbate things and potentially cause rashes, but the right moisturizer can help your complexion adjust in the early stages of retinol use.
It's also infused with hyaluronic acid, as well as squalane, an emollient known to moisturize and soften skin. Apply the cream, feel its cooling effect and take a well-deserved self-care moment. Also worth noting: This formula is clean, vegan and cruelty-free.
Prefer a more streamlined ingredient list? Boston-based, board-certified dermatologist Dr. Ranella Hirsch loves the fact that this lotion is free of dyes and fragrances. "It makes it a great, light option for even sensitive skin types trying to get started on a retinol," she said.
It also helps soothe red, irritated, cracking or itchy skin. The bestseller also happens to be quite popular with Amazon shoppers, who've given it over 7,460 five-star ratings.
RELATED REVIEW: Find out why dermatologists (in addition to shoppers) recommend Vanicream's Moisturizing Cream for especially dry skin.
"Retinols function by revving up cell turnover. This can — and frequently does — yield some level of irritation and/or dryness," Hirsch explains, adding, "Judicious use of a good moisturizer can help counter this for a beginning user or even someone who has been using it for a long time."
The derm is a fan of this gentle, noncomedogenic moisturizer that works for all skin types.
"It offers long-term hydration with ceramides and glycerin," she shares. Add it to your routine after retinol and let the formula do its job — it'll provide 24 hours of hydration thanks to key ingredients like ceramides and hyaluronic acid.
Board-certified plastic surgeon Dr. Troy Pittman lists glycerin and hyaluronic acid as the two powerhouse ingredients in this Neutrogena gel cream, saying it has a number of great benefits for your complexion.
"It has no fragrance, is dye-free and restores the skin's natural barrier against moisture loss. This moisturizer quenches extra-dry skin, relieves intense dryness and leaves the skin looking smooth, which is excellent for those using retinol," he says.
Many Amazon shoppers agree and more than 32,300 gave it a five-star rating. One user noted, "Love this moisturizer, especially for the price. I'm currently using a topical retinoid, which can really dry out the skin. This has been my saving grace."
FULL REVIEW: Read why one writer — who lives in Montana, where the air is dry — traded her traditional body lotions for this gel cream, which she says "works better."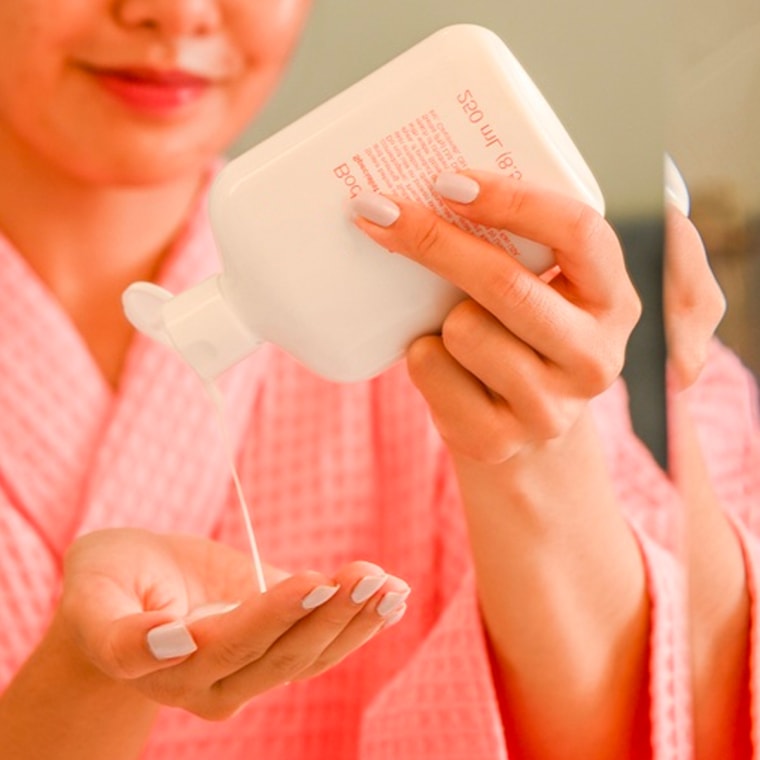 Don't be surprised if your skin rebels a bit when you first start using retinol.
"Especially early on, retinoids cause an exfoliation of the keratinocytes, and that can disrupt the lipid barrier," board-certified dermatologist Dr. Mary Lupo shares, adding, "It is worse in very dry climates and during the first few weeks of use."
The skin care expert recommends using a soothing moisturizer to combat those initial growing pains and named this Aveeno oat gel moisturizer one of her top picks.
"It's a great choice as a hydrating gel in humid climates and for acne-prone skin," she says.
Editor's Note: While Greenfield works with REN Clean Skincare, we included this pick because it meets the criteria we described in our selection process above.
If you're looking for an extra dose of hydration, count on this balm to do the trick.
Recommended by Greenfield, this night treatment "has olive, almond, borage and linseed oils combined in a thicker formulation that acts as an occlusive, locking in the skin's hydration so that the skin has the ability to heal itself after a retinol dehydrates [it]."
One Sephora user who calls this balm the "perfect night cream" raved, "I bought this after irritating my skin with a heavy-handed use of PM retinol treatments. It has a consistency similar to Vaseline but becomes much lighter once you warm it in your hands prior to applying. After using this for two nights, I woke with the irritation gone and my skin is soft, smooth and even-toned. I'll be using this as the final step in my PM routine from now on."
Dr. Alan Parks, a board-certified dermatologist and founder of DermWarehouse, couldn't help but give a shoutout to the power of ceramides.
"They are a great ingredient in a moisturizer because they help to protect and maintain the moisture barrier of the skin, which is responsible for its overall health and hydration," he tells us.
We're not suggesting you go two days without moisturizing, but if you do get a little lazy, this one just so happens to provide 48-hour hydration, and Parks particularly digs its light formula.
This bestseller has won the hearts of Amazon shoppers (it has 15,700-plus five-star ratings!) and it's also earned Pittman's respect.
"It uses micropearl technology to absorb excess oil and has glycerin, which keeps the skin smooth and soft," he tells us.
Although it's not recommended to use retinol during the day, if you happen to for any particular reason, know that this formula contains SPF 30, which is helpful to pair with retinol since it increases your skin's sensitivity to the sun's rays.
Pittman also reminds us that it's essential to apply sunscreen throughout the day, and says that this lightweight formula won't clog pores, making it particularly great for those with combination or oily skin.
Ever wonder why your skin gets so dry while using a retinol?
Parks breaks it down for us: "Retinol increases the rate that your cells turn over themselves exponentially, producing the anti-aging effects you know and love. This means that your skin gets rid of its old skin layers faster than usual, which can cause a significant amount of dryness and flaking."
The derm swears by this lightweight cream that works equally well for all skin types, even oily ones.
"If you have oily skin, adding that moisture back into your skin is important and can actually help regulate oil production in your skin," he says.
This cream is light yet nourishing, with ingredients like antioxidants, vitamin B5 and niacinamide.
Parks notes this lightweight gel as a great nighttime moisturizer option.
"It locks in moisture and protects the moisture barrier. It uses a strong combination of aloe, hyaluronic acid, glycerin and other natural extracts to gently but effectively hydrate the skin and protect it from damage," he says.
One Ulta user raved, "This moisturizer is my holy grail product. It's the perfect calming moisturizer for during the day and layers very well with other products. Perfect to soothe the skin! 10/10."
Like the other skin care experts we polled, Neinstein agrees that with retinol can minimize irritation and maximize skin glow. He tells us that many of his patients enjoy using this daily moisturizer from Skintelligence and says it's great for all skin types.
The potent formula is full of antioxidants that fend off free radicals and fight back against premature aging. It works well under makeup or on its own, and it also includes ginseng extract, a soothing ingredient, and aloe extract, a known hydrator.
More top-rated moisturizers we recommend using with retinol
A lightbulb moment came to Lisa Mattam when she came home one day to discover her then-two-year-old daughter fully covered in her face cream. Although it was adorable, she worried and wondered just how safe that product really was. This led her to the idea of creating Sahajan (the Hindi word for "intuitive"), an Ayurvedic skin care brand formulated with natural ingredients just like the ones she grew up using in Kerala, Southern India.
The Nourish Crème Riche is a luxe, rich elixir with a natural fragrance that feels like a treat to apply. It's made with deeply hydrating coconut oil and gotu kola, an herb known to stimulate the production of collagen, firm skin, and reduce wrinkles.
There's also triphala (which contains vitamin C) to brighten skin. Since retinol and vitamin C are both potent ingredients, it may be too much for some skin types, while others can benefit even greater from the power couple. In this case, it helps that the cream is ultra-hydrating to help soothe the skin and minimize irritation.
On a personal note, Wendy, one of the writers of this piece, has been using this Sahajan cream for months paired with a retinol serum (integrated gradually) — and she loves the effect of the combination.
More than 100 people who reviewed this product on Credo Beauty's website agrees. One of the reviewers noted, "It was like nothing I have tried before. My skin felt so luxurious after, and every time I put it on, it was though I could feel the nutrition going in my skin. Highly recommend!"
Dry, red skin: meet your match. This formula is like a more intense version of the signature Kiehl's Ultra Facial Cream. Made for distressed skin, this quick-to-absorb potent cream is infused with colloidal oatmeal and beta-glucan as well as the brand's Advanced Barrier Technology which mimics skin's lipid structure. The result? Much more hydrated skin and reduced redness and irritation.
It'll come in handy to have one of these at home. In addition to relieving the side effects that retinol can cause, use it for situations like sun damage, windburn, rough patches of dry skin and even on dry lips.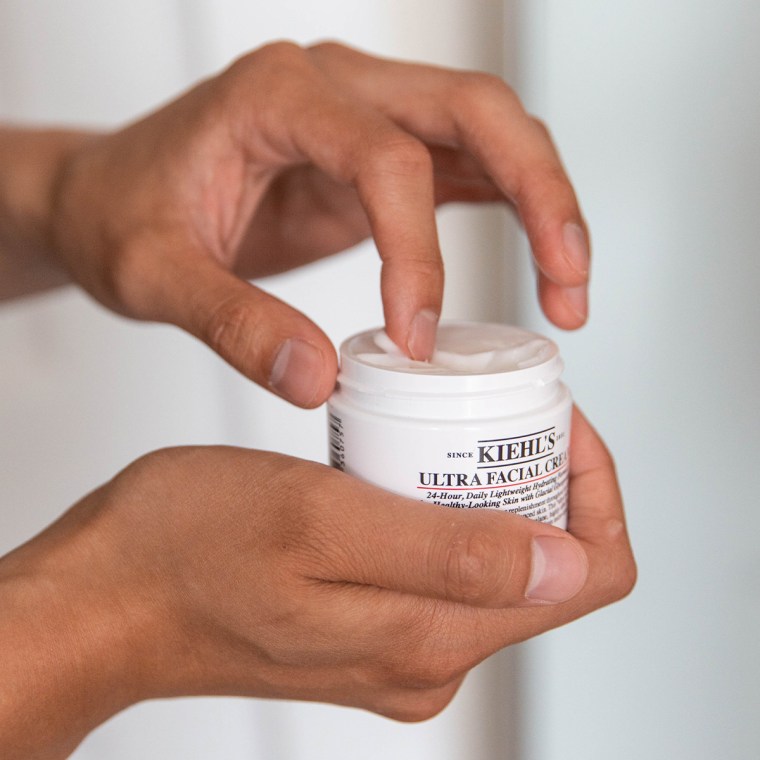 This bestseller in Japan is light as air yet makes a noticeable difference. Infused with ceramides, this easy-to-absorb formula deeply hydrates and nourishes skin while giving it a healthy glow.
One of the many happy Amazon shoppers stated, "I like this product because it has no scent and it does the job. I put it on as a night cream since I have really dry skin and my skin feels moisturized even the next morning. One of the best moisturizers I've tried!"
Save a little bit of time and precious real estate on your vanity with this two-in-one formula. Made with the intention to simplify your skin care routine, this one combines both retinol and moisturizer. It hydrates, restores, brightens, plumps and protects skin thanks to, yes — retinol — blended with niacinamide, hyaluronic acid and antioxidants.
One satisfied Sephora shopper gave it five stars and noted, "Top-of-the-line hydration. This night cream made my skin feel so healthy, replenished and toned. I didn't notice any irritation at all or sensitivity. My skin looked healthier and more glowy after use."
Fun fact: The name "Community Sixty-Six" comes from research that it takes 66 days to form a habit. Founder Dia Foley found inspo from the bestselling book "Atomic Habits" by James Clear.
Your questions on products to use with retinol, answered by experts
Do I use retinol before or after my moisturizer?
"If your skin is dry, use the moisturizer prior to applying the retinol. If your skin is normal to oily, apply it after the retinol," says Greenfield. She adds, "The order does not change if the retinol is serum versus cream, but you may need to add more hydration if using a retinol serum."
Kobets understands that it may be confusing why we would apply a retinoid after moisturizer since we want to reap all the benefits of anti-acne, anti-aging and anti-pigmentation of the product that we acquired. She explains, "Most people will have some sort of irritation with topical retinoids when starting it, so this application blocks some of the action by diluting the retinoid. I would prefer to build up the tolerance to a retinoid than someone stopping it completely and not using it at all. I say consistency and less is more [are] what gets you results."
Remember: When using retinol, it's a marathon, not a sprint.
Kobets says, "If it takes someone weeks to months of using a retinoid once a week to increasing it to twice a week, I am still happier than someone starting to use it daily, getting irritated and completely stopping because they 'cannot tolerate it' or 'have an allergic reaction to it.'"
What are the benefits of a "retinol sandwich"?
The theory of a "retinol sandwich" (applying moisturizer first, then retinol, then another layer of moisturizer) can be extra hydrating and beneficial for someone who has very dry skin.
"Also, when following the logic of using hydrators like hyaluronic acid and glycerin-containing serums, then locking them in with moisturizers like ceramides and niacinamide, one may want to apply a serum or a cream that has hyaluronic acid and ceramides before retinol and then serum or moisturizer that has ceramides and niacinamide to lock in the moisture," Kobets explains.
Are there creams I shouldn't use with retinol?
Retinol doesn't pair well with anything that can over-exfoliate skin, like hydroxy acids, notes Kobets.
"It can cause more irritation, thus should be avoided the same day as a retinoid. Physical exfoliants like St. Ives Scrub feels great on the skin; however, they can damage the skin barrier and exacerbate the irritating side effects of topical retinoids."
Kobets also cautions patients to avoid combining too many new topicals when starting a regimen.
"I generally recommend avoiding heavily fragranced products, especially in sensitive-skin patients, as they can develop sensitivity to fragrances and other allergens as ingredients in many topicals," she says.
Another ingredient Kobets advises not to mix with retinoids is benzoyl peroxide, as it has been said to deactivate each other when used together. But there's an exception: "In my opinion, if you are using benzoyl peroxide as a spot treatment, it should be okay," she says.
How long after retinol can I apply moisturizer, and why?
"I tend to recommend using topical retinoids at night, especially if patients are hydrating more, which may not mesh with makeup and feel greasier in the morning," Kobets says.
Another reason to use a topical retinoid at night, she adds, is that most of them get inactivated by the sunlight, and some even have questionable activity in the sun.
In this day and age, although we do need to invest time in our mind and body health, no one wants to spend hours applying creams before bed. Kobets explains, "It is okay to apply a moisturizer right after a retinoid if it feels like it has all been evenly distributed and absorbed into the skin."
Meet our experts
Dr. Nava Greenfield, MD, is a board-certified dermatologist at Schweiger Dermatology Group in New York. She also works with REN Clean Skincare as a third-party expert. Greenfield is a member of the American Academy of Dermatology and has been published in several medical journals, such as The Journal of Dermatological Treatment and the Journal of Women's Dermatology and Pediatrics.
Dr. Ranella Hirsch, MD, FAAD, is a board-certified dermatologist based in Boston. She has expertise in cosmetic and laser dermatology and serves on the boards of several dermatology journals, including Dermatology Times, Cosmetic Dermatology, The Dermatologist and Cutis.
Dr. Kseniya Kobets, MD, MHS, FAAD, is Director of Cosmetic Dermatology at Montefiore Einstein Advanced Care in Westchester, New York. She specializes in treatments for acne, acne scarring, rosacea, hair restoration and more.
Dr. Mary P. Lupo, MD, is a board-certified dermatologist and clinical professor of dermatology at Tulane University School of Medicine. She practices in New Orleans, Louisiana.
Dr. Alan Parks, MD, is a board-certified dermatologist and founder of DermWarehouse, as well as Eastside Dermatology & Skin Care Center in Columbus, Ohio. He focuses on cosmetic and surgical dermatology, laser treatments, Botox cosmetic services, and skin cancer surgery.
Dr. Troy Pittman, MD, FACS, is a board-certified aesthetic plastic surgeon based in Washington, D.C. He offers the full spectrum of plastic surgery procedures and is internationally recognized for his expertise in the aesthetic and reconstructive surgery of the breast and body.
Dr. Liia Ramachandra, Pharm.D., Ph.D, is a former pharma executive and skin care expert based in Canoga Park, California. She is the CEO and founder of skin care brand Epilynx.
Dr. Joshua Zeichner, MD, FAAD, is a board-certified dermatologist and Director of Cosmetic and Clinical Research at Mount Sinai Hospital's Department of Dermatology in New York City. He has expertise in cosmeceuticals, cosmetic dermatology, and treatments for acne, rosacea and more. Zeichner is also the medical advisor for Jori Skincare.