Chef notes
Caramel corn is one of the most beloved fall snacks, and for good reason. This sweet treat combines freshly popped popcorn in a blanket of caramel that gets spiked with apple brandy and toasted almonds. It's the perfect combination of sweet, crunchy and nutty all in one bite. 
People have been eating sweetened popcorn for centuries, but it wasn't until the 1870s that caramel corn officially got its name. Two German brothers by the names of Frederick and Louis Rueckheim moved to Chicago and opened a popcorn store where they began experimenting with different flavor combinations. This led to the brothers developing a recipe for popcorn covered in a mixture of molasses and peanuts, which sent customers in a frenzy. The story goes that upon trying this new creation one customer said, "that's a cracker Jack!", which at the time meant something of great quality. The name stuck and the brothers' creation became legendary at fall harvest festivals and ballgames alike. 
While molasses was traditionally used, today caramel corn is typically  made with  a more traditional caramel sauce using sugar and corn syrup. 
Technique Tip: This recipe calls for the biggest mixing bowl you own, but if you're limited on options,  you can divide the mixture between two medium bowls, or use a large pot.
Swap Option: Cinnamon is a traditional spice in caramel corn, but you can add in other fall spices like ground cardamom, nutmeg and cloves. This recipe calls for almonds, but you could also use other types of nuts such as peanuts, hazelnuts and pecans, or simply leave them out.
Ingredients
8

tablespoons (1 stick) unsalted butter

2

tablespoons light corn syrup

1

cup packed light brown sugar

1/4

teaspoon ground cinnamon

3/4

teaspoon baking soda
1

tablespoon apple brandy or rum

1

teaspoon pure vanilla extract

12

cups unsalted popped popcorn

2

cups coarsely chopped toasted almonds
Preparation
1.
Preheat the oven to 250 F. Line a large rimmed baking sheet with parchment paper or a silicone liner.
2.
Melt the butter and corn syrup in a large stockpot over medium heat, then whisk in the sugar and cinnamon. Cook, stirring occasionally, until the sugar is fully dissolved and the liquid comes to a simmer.
3.
Whisk in the baking soda — the caramel will foam up and lighten in color. Cook, whisking frequently, for 2 minutes.
4.
Whisk in the brandy or rum and vanilla extract and continue to cook, whisking frequently, 2 minutes more.
5.
Pour the popcorn and almonds into the largest mixing bowl you own. Carefully pour the caramel into the bowl and stir until the popcorn and almonds are evenly and thoroughly coated.
6.
Spread the caramel corn in an even layer on the baking sheet. Bake for 15 minutes.
7.
Cool on the baking sheet for at least 15 minutes, then break into bite-size pieces with your hands before serving.
How to shop TODAY recipes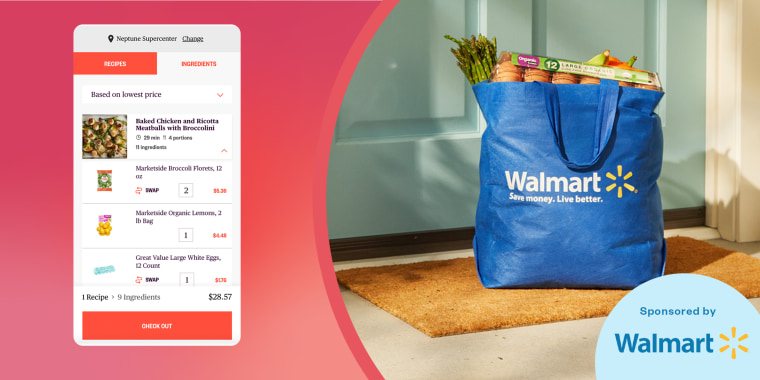 How to shop TODAY recipes
Here's everything you need to know about the cool new feature.
Learn More