Ingredients
1

pound Brussels sprouts, trimmed and halved

1/3

cup plus 3 tablespoons extra-virgin olive oil
kosher salt and freshly ground black pepper

1/3

cup finely grated Parmesan cheese

2

oil-packed anchovy filets
1

clove garlic, smashed and peeled

1/2

teaspoon grated lemon zest, plus 3 tablespoons fresh juice

1

teaspoon Dijon mustard

1

teaspoon Worcestershire sauce
Chef notes
Brussels sprouts can be a lackluster side dish on their own. With a proven technique to make them extra crisp, crumbles of toasty Parmesan cheese and an umami-packed sauce that gets drizzled on after roasting, this recipe for Caesar-Roasted Brussels Sprouts is sure to please even the sprout skeptics in your life. 
The key to getting crispy Brussels sprouts that are golden all over is to start them in a preheated pan. Let the pan heat up in the oven while you're preparing the rest of your ingredients, then spread the sprouts into an even layer on the hot pan (take care not to overcrowd the pan!) Once the sprouts are tender and roasted to perfection, toss them with a savory Caesar dressing. It has all of the components that go into a traditional Caesar salad — anchovies, garlic, lemon, Worcestershire sauce — Adding the dressing after the sprouts are cooked helps maintain as much of that umami flavor as possible, since roasting with the dressing will cook off much of the flavor and leave the sprouts a little bitter. While you're at it, double the dressing recipe and you'll be ready to put Caesar salad on the menu next week.
No one can argue that the best part of this dish isn't the crispy frico cheese crumbles that adorn the sprouts. Making crispy cheese is deceptively easy. Simply sprinkle some finely grated Parmesan or pecorino into an even layer in a nonstick skillet and wait for each side to turn golden brown — waiting is the hardest part. Good luck getting these onto the final dish before you snack on all of them (maybe make extra to go along with the bonus dressing?)
Technique Tip: Arrange the sprouts cut-side down on the baking sheet. Giving the surface area of each sprout direct access to the hot sheet pan will help them crisp up quickly. 
Swap Option: Cousin to Brussels sprouts, cabbage is a great swap — cut up wedges of green cabbage into about 1-inch pieces and roast the same way. 
Preparation
1.
Preheat the oven to 425 F with a rimmed baking sheet on the bottom rack; heat for at least 15 minutes.
2.
In a large bowl, toss Brussels sprouts with 3 tablespoons oil, ½ teaspoon salt and ¼ teaspoon pepper. Carefully remove the baking sheet from the oven and arrange sprouts in an even layer, cut-sides down. Roast, tossing once, until tender and browned in places, about 25 minutes.
3.
Meanwhile, sprinkle grated Parmesan cheese into a thin, even layer in a medium nonstick skillet. Cook over medium heat until the cheese is set and golden on the bottom, about 5 minutes. Using a spatula, carefully flip cheese and cook, pressing to flatten, until golden on the second side, about 2 minutes more. Transfer to paper towels and let cool completely (it will crisp up as it cools).
4.
Finely chop anchovies and garlic, then use the back on the knife to mash into a paste. Transfer to a small bowl and whisk in lemon zest and juice, mustard and Worcestershire sauce. Gradually whisk in remaining ⅓ cup oil until thick and emulsified; season with ⅛ teaspoon each salt and pepper.
5.
Once sprouts are cooked, drizzle with dressing and toss to coat. Crumble cheese over the top and serve.
How to shop TODAY recipes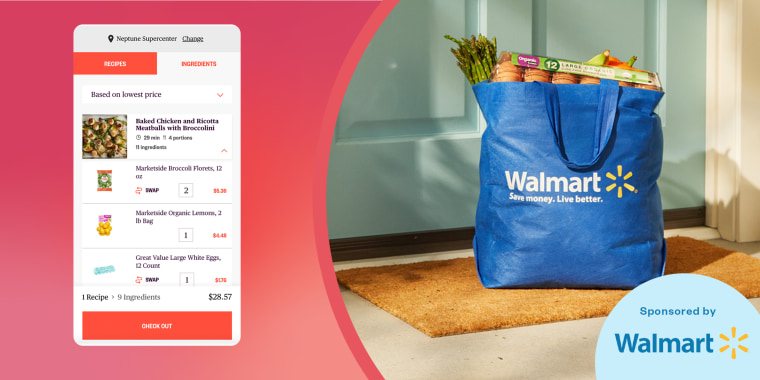 Here's everything you need to know about the cool new feature.