In the third season premiere of Hulu's "The Kardashians," Kim Kardashian opened up about the drama surrounding the end of her relationship with Ye, the rapper formerly known as Kanye West.
Though he legally changed his name to Ye in October 2021, Kardashian called him Kanye throughout the episode. Kardashian filed for divorce from the rapper in February 2021. In the months and years that followed, the two would go on to have a very public falling out.
In the episode, Kardashian candidly spoke to her mother, Kris Jenner, about the emotional toll her ex was causing her at the time.
"Even through all the craziness of everything that Kanye says about us, I never comment, I never post," she said in the scene. "He has made up the most insane narrative about you in the tape and we stay silent ... through all the lies, all the stuff."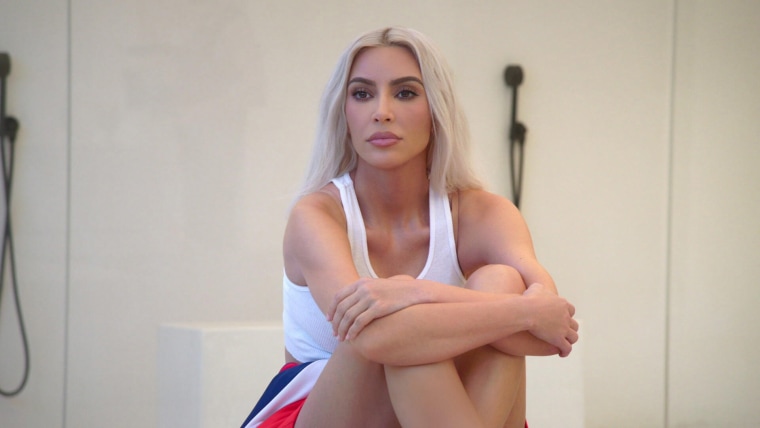 She went on to say that she had been keeping quiet to try to protect their shared children — North, 9, Saint, 7, Chicago, 5, and Psalm, 4.
"All his shenanigans — I don't even know what the f--- to call it — is going to be far more damaging to the kids one day than my tape will ever be," she said, referring to her sex tape, the plot line of a prior season. "And I have to sit here and not say anything ever. Because I know one day my kids will appreciate that and I know that's the best thing for them."
Kardashian's comments echo those from a February 2022 legal filing in which she said Ye had caused her "emotional distress."
"I very much desire to be divorced. I have asked Kanye to keep our divorce private, but he has not done so. Kanye has been putting a lot of misinformation regarding our private family matters and co-parenting on social media which has created emotional distress."
In the past, Ye has accused Kardashian of preventing him from seeing the children and criticizing her parenting publicly online. He slammed Kardashian's then-boyfriend, Pete Davidson, and posted racial slurs about then-"Daily Show" host Trevor Noah.
More recently, Ye has come under fire online for a series of antisemitic comments. His Twitter account is currently suspended and he seemingly deactivated his Instagram earlier this year.
In an interview scene, Kardashian lamented that she is "f---ing exhausted" from dealing with the situation and trying to keep it together. In the scene, she teared up while talking to her mother.
"For once, can everyone just get their s---- together around me so I can f---ing lose it? Just once. I just want to lose it once. I want to have a bad day and I can't. I can't even be overwhelmed and have a bad day because no one else has their s--- together," she said, emotional. "I just feel bad, you know, and I don't know why I feel bad. I don't know what to do. I don't want to be a part of this narrative. And it's like, when is this ever going to end? Like, it never will."
"And I'm stuck with this forever," she said, sadly.
Kardashian also complained that her whole marriage, Ye had accused her of having an affair with the rapper Drake, which she denied.
She added that her kids always want to listen to Ye's music and she obliges, cheering them on.
"I'm like, 'He's the best!' and I put it on and we're singing along and inside I'm, like, dying because I will be his biggest cheerleader to them forever and one day they see for themselves," she said. "I'll answer whatever they want me to."
She also wondered how it might affect her mom.
"I get heartbroken for my mom that she has to deal with so much from people from so many times, coming for her," she told the camera.
Later, in an interview with the show's producers, she added that everything since their split has been "so intense."
"I don't want to be engaged in a public feud with him. I feel like I have to do something, especially when it involves other people and it hurts other people. Like, hurt me, just keep it with me," she said.
Back in the scene, Kris Jenner jumped in to comfort her.
"You finally decided you couldn't take it anymore ... you did the only thing you could do," Jenner said.