Kim Kardashian West filed for divorce Friday from Kanye West after more than six years of marriage, according to the Los Angeles Superior Court public information office. A rep for Kardashian West also confirmed the filing.
The divorce filing comes after months of public signs of splintering between the 40-year-old reality star and the 43-year-old rapper. In January, TODAY confirmed via a source close to the family that the famous couple had been living separately for a few months and were undergoing couples counseling to work on some of their issues.
Kardashian West and West have four children together: North, 7, Saint, 5, Chicago, 3, and Psalm, 1.
The former couple announced their engagement in October 2013 after more than a year of dating, with Kardashian West's mother, Kris Jenner, calling them "a match made in heaven." West famously rented out AT&T Park in San Francisco to pop the question, presenting his bride-to-be with a 15-carat diamond ring from jeweler Lorraine Schwartz.
The pair married the following May in a private ceremony in Florence, Italy, with chart-topping Italian tenor Andrea Bocelli serenading the bride and groom.
It was West's first marriage and Kardashian West's third. She was previously married to music producer Damon Thomas from 2000-2004 and to pro basketball player Kris Humphries in 2011. She filed for divorce from Humphries 72 days after marrying, but the divorce was not finalized until 2013.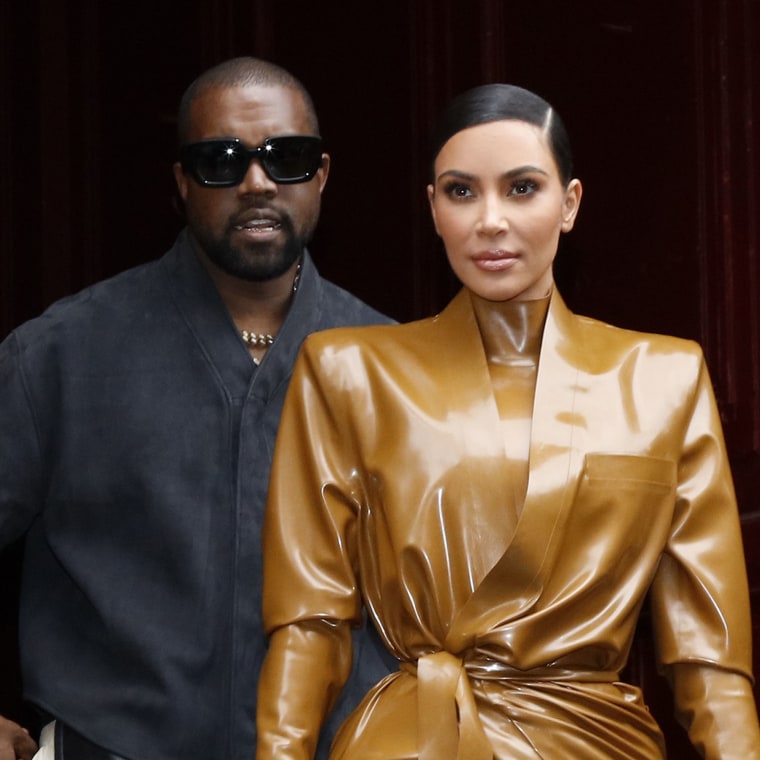 In July 2020, the "Keeping Up with the Kardashians" star made a rare public acknowledgment of her husband's increasingly erratic behavior after the rapper, who has been diagnosed with bipolar disorder, issued a series of troubling since-deleted tweets, including one that said his wife was trying to have him hospitalized.
"As many of you know, Kanye has bi-polar disorder," she wrote in messages in her Instagram stories. "Anyone who has this or a loved one in their life who does, knows how incredibly complicated and painful it is to understand.
"I've never spoken publicly about how this has affected us at home because I am very protective of our children and Kanye's right to privacy when it comes to his health. But today, I feel like I should comment on it because of the stigma and misconceptions about mental health."
In one of West's bizarre tweets, he wrote, "Kim tried to bring a doctor to lock me up with a doctor," before deleting it. He also claimed the movie "Get Out" was based on him and made a request for his mother-in-law to call him.
West also claimed in a tweet that he was trying to divorce his wife.
After announcing earlier in July he was running for president, West also gave a rambling speech during a campaign rally in Charleston, South Carolina, during which he broke down crying when saying that he and Kardashian West nearly terminated their first pregnancy.
"Those that understand mental illness or even compulsive behavior know that the family is powerless unless the member is a minor," Kardashian West wrote in her message to fans. "People who are unaware or far removed from this experience can be judgmental and not understand that the individual themselves have to engage in the process of getting help no matter how hard family and friends try."
Days later, West apologized to his wife for his behavior.
"I would like to apologize to my wife Kim for going public with something that was a private matter," he wrote on Twitter. "I did not cover her like she has covered me. To Kim I want to say I know I hurt you. Please forgive me. Thank you for always being there for me."
By Kardashian West's 40th birthday in October, it seemed the two had found their stride again. West honored his wife by presenting her with a hologram of her late father, attorney Robert Kardashian, as a gift.
Kardashian West shared a video of the hologram on Twitter, calling it "the most thoughtful gift of a lifetime" and "a special surprise from heaven."