First comes love, then comes a baby, now comes ... marriage? That appears to be the case for Kim Kardashian and Kanye West, who according to E! News, got engaged Monday night on her 33rd birthday.
"A match made in heaven," Kanye's future mother-in-law Kris Jenner said of the newly-engaged couple. "I am so happy for both of my kids, Kim and Kanye."
E! says that West rented out AT&T Park in San Francisco for the occasion, and reportedly got down on one knee to propose with a 15-carat diamond ring from jeweler Lorraine Schwartz. The field's screen flashed the sign "PLEEEASE MARRY MEEE!!!" while a 50-piece orchestra played songs including Lana Rey's "Young and Beautiful" and (natch) Kanye's "Knock You Down." Cue the fireworks.
Friends and family had filled the dugouts, and after Kardashian said "yes," they raced out to embrace the couple.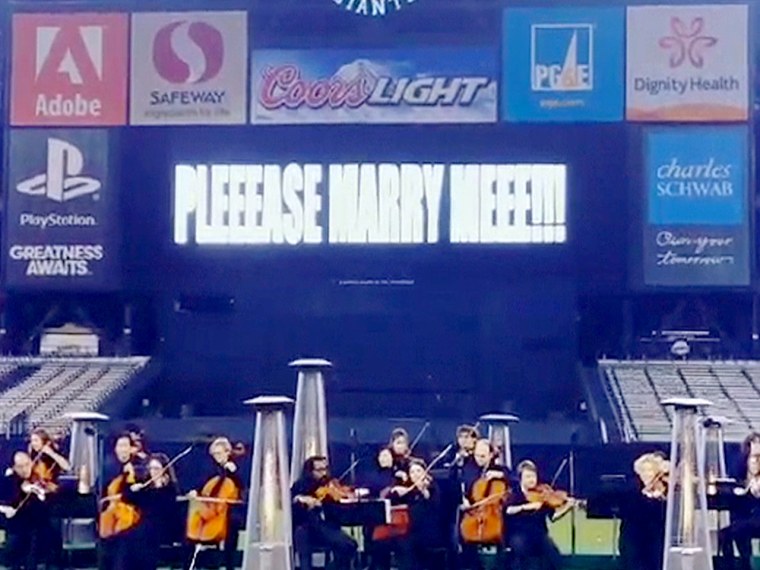 Rumors about when the pair would wed have been circulating for some time, but the couple (who became parents on June 15 when baby North arrived) were in no rush. Kardashian told Cosmopolitan in February that "(Marriage) is something I know that we both want in our future, but I don't have this sense of urgency about it. I have this best friend who understands me and helps me through all my tough experiences, and vice-versa, you know? It just feels like this is it for me."
The wedding will be the first for West, who was engaged to designer Alexis Phifer in 2006; they ended their engagement in 2008. It will be the third for Kardashian, who was married to Damon Thomas from 2000-04, and Kris Humphries for 72 days in 2011 before they split. Their divorce was finalized this June.
Monday evening, hairdresser and Kardashian friend Clyde Haygood posted a photo of Kardashian showing off her new rock, and wrote, "Guess what just happened!!!!! #kimye":
And on Tuesday morning, Kardashian made her first social media mention of the big news when she uploaded a ring photo to Instagram.