A journey that began with Queen Elizabeth's 1947 wedding to Prince Philip in the first season will come to a close with a drama-filled storyline from the modern British royal family in the sixth season of "The Crown."
Season Five depicted events between 1992 and 1997, including the marital turmoil and eventual divorce between Princess Diana and then-Prince Charles.
The show also covered the emotional interview Diana gave the BBC in 1992 about life in the royal family, and Queen Elizabeth's "annus horribilis" that included three of her children separating from their partners and a fire at Windsor Castle.
So what time period will the final season be covering? Here's what to know.
When does Season 6 of 'The Crown' come out?
The first part of the highly anticipated final season of the Netflix hit will be released on Nov. 16, followed by the second part coming out on Dec. 14.
What time period in the royal family's history will Season 6 cover?
Based on casting and interviews with writer and creator Peter Morgan, the final season will cover the late '90s period through the courtship period between Prince William and Catherine, Princess of Wales, leading up to their engagement in 2010.
Here's a breakdown of a possible timeline of events.
Princess Diana's tragic death
The final episode of Season Five hints at Diana's relationship with Dodi Fayed following her divorce from Charles by showing her and sons William and Harry being invited to a holiday getaway at his father's home in Saint-Tropez, France.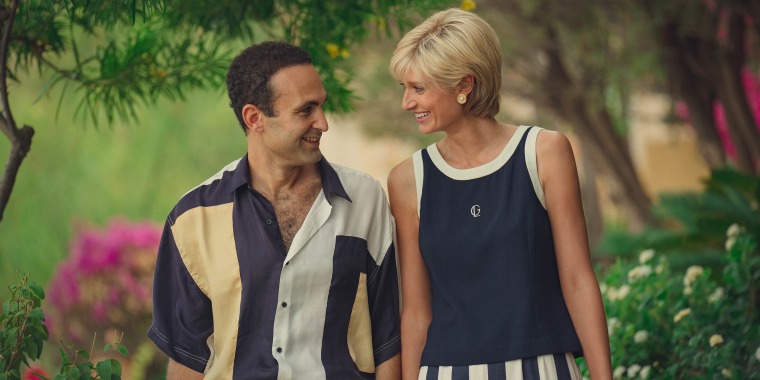 The new season tackles their relationship and then Diana's tragic death in a 1997 car crash, in which she and Fayed were killed in Paris after driver Henri Paul lost control in the Pont de L'Alma tunnel. Witnesses saw multiple paparazzi pursuing the Mercedes-Benz on motorcycles before the crash, and Paul was found to have a blood alcohol level that exceeded France's legal limits.
"When you're in those scenes, like the particular ones ... of being chased and being handled and trapped in a small space, all of that is such a physical, visceral experience," actor Elizabeth Debicki told TODAY.com about filming the chasing scenes. "It sort of is happening to you and you just have to let yourself react to it."
The actor added, "If you put any human in that situation, they would find it equally unbearable, and want to get out of it as quickly as possible."
Diana's death prompted a global outpouring of sadness and became one of the biggest news events of the 1990s. Prince Harry has also spoken and written about its ongoing effects on him to this day.
The heartbreaking moment of a young Harry and Prince William walking behind Diana's coffin during the funeral procession from Kensington Palace to Westminster Abbey in London could certainly figure into the storyline.
The late Princess of Wales will once again be portrayed by Debicki, who received an Emmy nomination for her performance in Season Five.
Will and Kate's love story
The budding romance between Prince William and Kate Middleton in the early 2000s will also feature into the storyline.
Meg Bellamy and Ed McVey make their debut on "The Crown" and will play the royal couple during their days together at the University of St. Andrews in Scotland, which William attended from 2001-05.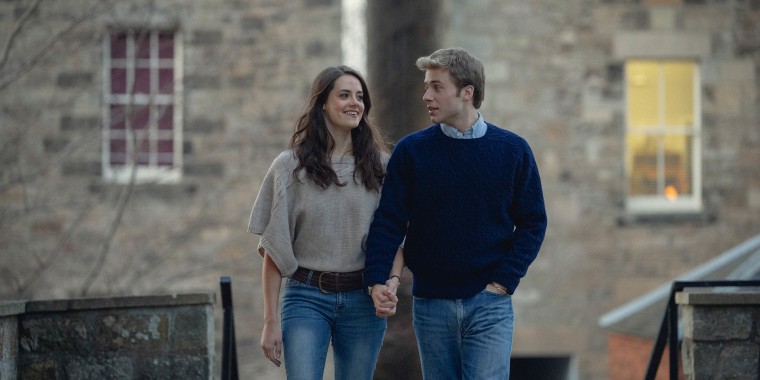 It was in 2002 that he met Middleton, whom he married in 2011 and shares three children with.
"We were friends for over a year first. It just sort of blossomed from then on," William said in their first joint interview in 2011.
Photos from this season show Bellamy and McVey as the young lovebirds holding hands on the college campus.
As for Prince Harry, he will be played by Luther Ford, but is not central to the storyline.
"I do little bits of dramatization of Harry but mainly only in relationship to William," Morgan told Variety.
Morgan told Parade last year that he has no plans to dramatize Harry's relationship with the former Meghan Markle or their split from the royal family.
The wedding of King Charles and Queen Camilla
Sticking to the mid-2000s timeline would also mean portraying the 2005 wedding of now-King Charles III and Queen Camilla.
Dominic West returns to portray Charles, and Olivia Williams is back as Camilla. The royal couple went public with their relationship two years after Diana's death and were married in 2005.
The multiple deaths in the royal family
Other possible subjects include the tenure of former prime minister Tony Blair, and Queen Elizabeth's emotional losses.
In 2002, she lost her mother, Queen Mother portrayed by Marcia Warren, who died at 101. Queen Elizabeth also witnessed the death of her sister, Princess Margaret (Lesley Manville), who died at 71 from a stroke. Imelda Staunton returns to play the queen in the final season.