Andy Cohen is getting real about the "Real Housewives of New Jersey" Season 13 reunion.
On the April 24 episode of "Radio Andy," Cohen said the reunion was so chaotic that it would make "very compelling television."
"There were a ton of new allegations being made," he said while discussing the cast, which consists of Teresa Giudice, Melissa Gorga, Dolores Catania, Jackie Goldschneider, Margaret Josephs, Jennifer Aydin, Danielle Cabral and Rachel Fuda.
But one argument in particular that put Cohen through the wringer was a disagreement between Teresa and her sister-in-law, Melissa, which is nothing new to the "RHONJ" audience.
Melissa and her husband, Joe Gorga, who's Teresa's brother, did not attend Teresa's wedding to Luis Ruelas last summer. The on-and-off again feud appears to be at its worst right now between the siblings. While we don't know exactly why the two didn't attend Teresa's wedding, in recent episodes, the "Housewives" have been discussing a rumor that Melissa cheated on Joe, which Melissa denies.
"I've got to tell you, the level, I won't even say vitriol, I will just say hate between Teresa and Melissa, it's — I mean, the gloves are off," Cohen said. "I've never seen anything like it. And the way the two of them were going back and forth, it was that thing of neither wanted the other to have the last word in any petty fight."
Cohen said it was so bad that he struggled to get control of the room, and at one point, he almost walked off the set because he was "so annoyed" by the bickering.
He said there was even a point when he lost his patience with Teresa.
"I apologized to her later. I didn't yell at her," he said. "But I think I lost my s--- with her in a way that I haven't maybe ever. And I think it maybe relates to being a parent of a toddler."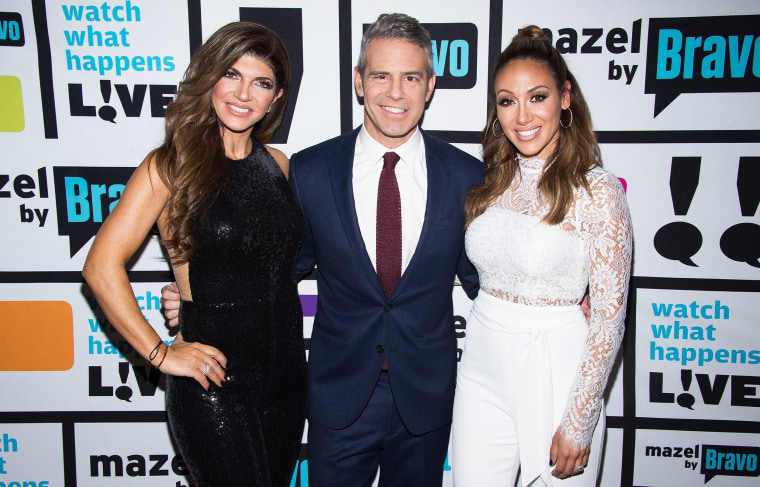 All in all, Cohen said the reunion was "very long," and it took him awhile to process once the cameras stopped rolling.
"It was a lot," he said.
"I guzzled two tequilas after that reunion," Cohen added. "And I woke up at 3:30 in the morning — that's how long it took me then to process all of the s--- that I had heard going on. I sent the longest email at about 4:15 in the morning to all the producers with all my thoughts of the reunion, suggestions."
Fans can watch the drama unravel on "The Real Housewives of New Jersey" every Tuesday at 9 p.m. ET on Bravo.
Bravo is part of our parent company, NBCUniversal.