Travis Kelce's record-breaking football performance over the weekend has received the admiration of one Taylor Swift.
The tight end's Kansas City Chiefs took on the Miami Dolphins on Nov. 5 in the first-ever NFL game in Frankfurt, Germany. Kelce put up modest numbers, 14 yards on three catches.
But the yardage increased his overall receiving yards to 10,941, making him the all-time leading receiver in Chiefs franchise history. Kelce surpassed Hall of Famer Tony Gonzalez's previous record of 10,940.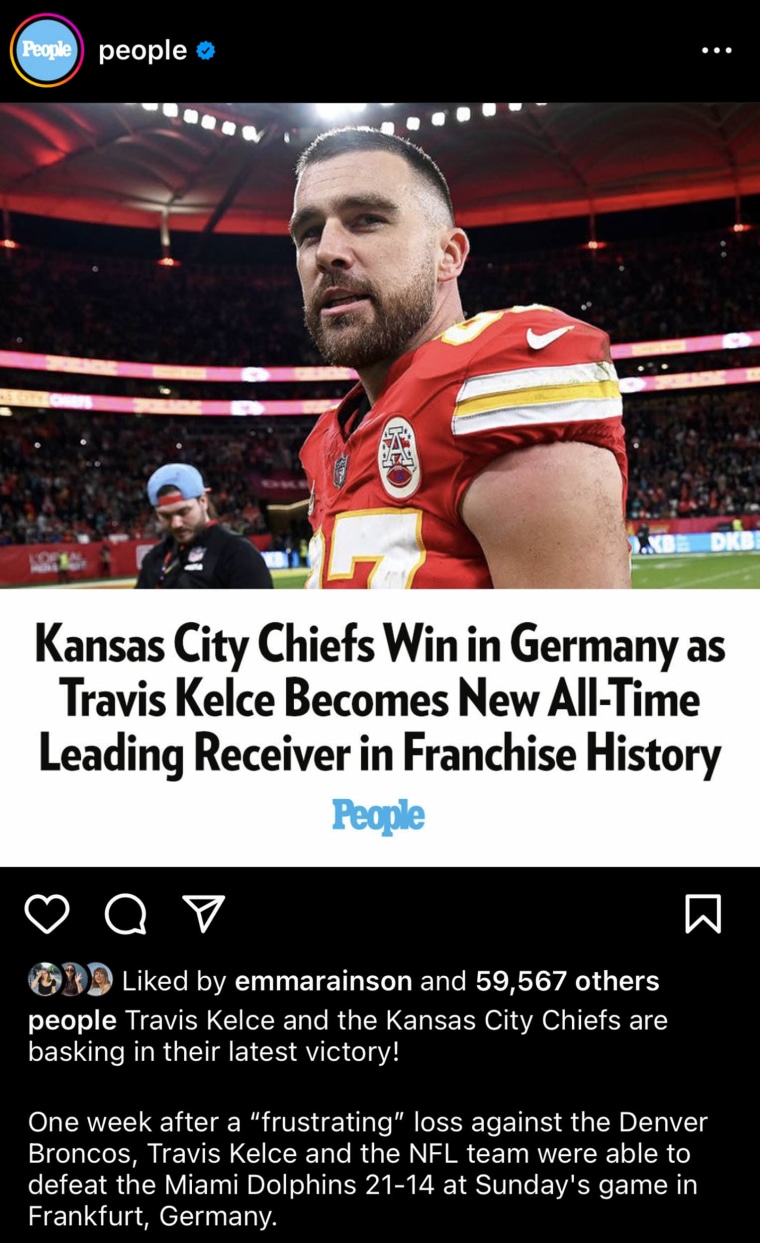 People Magazine's Instagram post marking the accomplishment was liked by Swift's account.
Swift and Kelce have been romantically linked since September, when she first started attending his football games.
While neither has publicly confirmed their relationship, they have been publicly open with displays of affection.
Their rumored love has enamored fans, as evidenced by the comment section of this Instagram post.
"LIKED BY TAYLOR SWIFT," a fan commented on the post.
"It's all that Taylor love he's getting," another person commented.
"The queen @taylorswift is here supporting a king," someone else wrote."
Fans have previously correlated Kelce's performance to Swift's attendance at games using statistics. An Oct. 28 article from the Associated Press pointed out that Kelce averaged 108 yards receiving in games Swift had attended by that point, and 46.5 in games she didn't.
There are no reports that Swift attended the game in Germany. She is currently on a short break from her tour, but her next concert date is Nov. 9 in Buenos Aires, Argentina.
Kelce's career milestone comes as Swift is making history of her own. She broke her own record as the artist with the most Spotify streams in a single day in the hours following the release of her album "1989 (Taylor's Version)" on Oct. 27. Her "Eras Tour" is credited with boosting the economy. Her concert film is the highest-grossing domestic and global concert film of all time.
As Swift and Kelce hit career crescendos, fans cheer them on.
"It's an interesting time for Taylor & Kelce. They are both at supremely high career success points. What joy!" a fan commented on the post celebrating Kelce's record-breaking performance.