In "Barbie," director Greta Gerwig helped bring Barbieland to life with the help of an all-star cast that included Margot Robbie, Ryan Gosling, Issa Rae, America Ferrera and more. 
Fans expected to see multiple familiar faces throughout the movie, but there was one surprise cameo that all the actors, particularly Ferrera, managed to keep a secret. 
"Barbie" focuses on Barbie (and Ken's) journey into the real world where she meets Ferrera's character, Gloria, and her teenage daughter, Sasha, played by Ariana Greenblatt. Despite the recent disconnect between Gloria and Sasha, the mother-daughter duo team up with Barbie to help her return to Barbieland. During their escape from the real world, Gloria takes a moment to wonder if her husband will be fine without her. 
The movie then cuts to reveal Gloria's spouse, played by Ferrera's real husband Ryan Piers Williams, busy practicing his Spanish, unaware his wife and daughter are traveling to another dimension.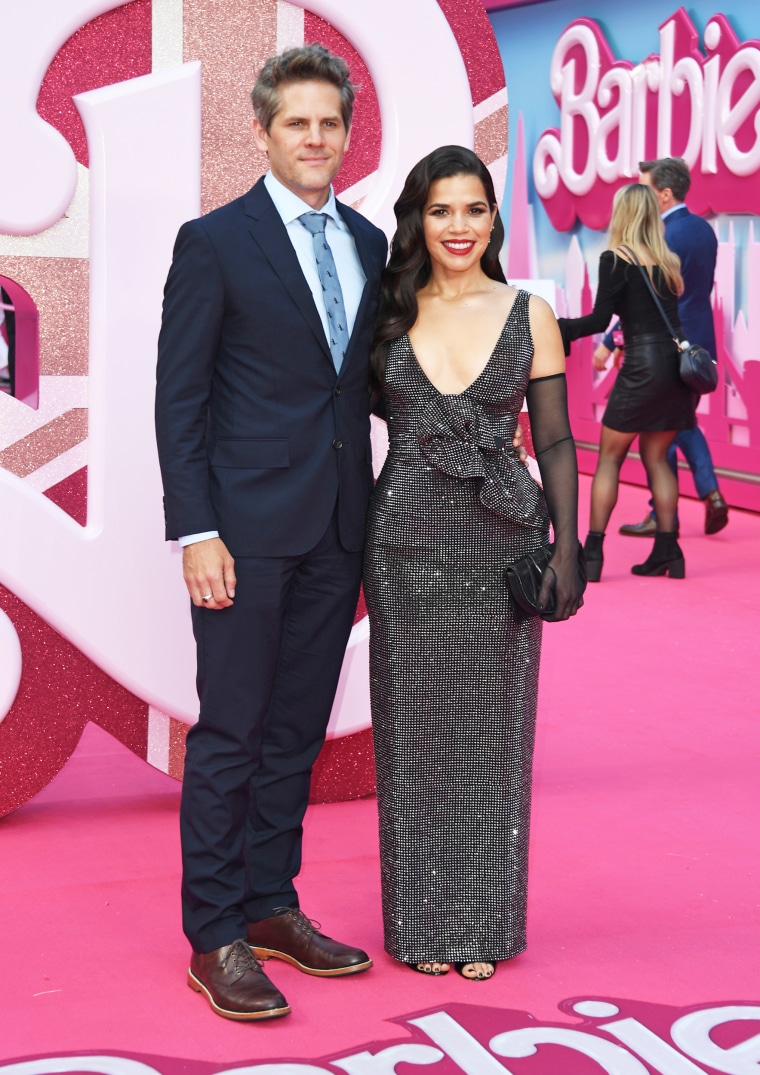 Williams — who is also an actor, writer and director — makes another cameo at the end of the movie. While sitting in a car with Gloria, Sasha and Barbie, Williams' character tries to give Barbie some encouraging words using his new Spanish skills. "Estoy orgullosa de ti," he says, attempting to tell Barbie he is proud of her. He adds, "Sí se puede," which doubles as a reference to Ferrera's 2002 Disney Channel movie, "Gotta Kick It Up!" 
Ferrera, and the rest of the cast and crew, kept her husband's involvement in the movie hidden until theatergoers watched their funny interactions on the big screen. However, fans who follow Ferrera, 39, on Instagram might have noticed she posted pictures of her attending "Barbie" premieres around the world with Williams, 42. She also commented "My favorite Ken" on one of his posts, a clue about his brief appearance in the movie. 
Read on to learn more about Ferrera and Williams' relationship, their sweet social media tributes to each other and their two children: 5-year-old son Sebastian and 3-year-old daughter Lucia. 
They met when Ferrara was in college
Ferrera and Williams' love story began on June 27, 2005, shortly after Williams cast Ferrera, in his first short film called "Muertas." Although Ferrera was already a rising star in Hollywood, she was a student at the University of Southern California at the time. 
The "Superstore" star reminisced about first meeting the director, who also attended USC, in an Instagram post in June 2020. 
Beside a throwback photo of the two of them, she wrote, in part, "15 years ago today, these baby faces fell hard and fast in love. They grew up together. They built a life together."
She added, "You have always felt like home to me @ryanpierswilliams since our first 9-hour-meeting over enchiladas & refried beans. I love our crazy adventure in this life together." 
They got married in 2011
While Ferrera landed a leading role in "The Sisterhood of the Traveling Pants" franchise and starred in "Ugly Betty," Williams continued to write, direct and produce films. 
The two got engaged in July 2010, according to People. They tied the knot on June 27, 2011, exactly six years after they fell in love. 
Cosmopolitan UK reported at the time that the couple said "I do" at the home of "Ugly Betty" co-star Vanessa Williams and that some of Ferrera's other former cast members, like Rebecca Romijn and Blake Lively, were in attendance. 
Ferrera celebrated their 12-year wedding anniversary on June 27, 2023. 
Ferrera uploaded a picture from their reception that showed the recently pronounced husband and wife cutting their cake together. 
"Happy Anniversary to my emergency contact.  My person and home for 18 years," she gushed in the caption. "Damn we look young here @ryanpierswilliams #12married." 
They share two children together
In January 2018, the longtime couple announced they were expecting their first child together. Ferrera shared a photo of them wearing blue and red 2018 glasses as she held up a baby onesie that read, "Más besos (por favor)," which translates to more kisses please. 
"We're welcoming one more face to kiss in 2018! Wishing you #MásBesos in the New Year!" she captioned the snap. 
Their son, Sebastian, was born in May 2018. Ferrara announced his arrival in a since-deleted Instagram post. She uploaded a picture of the baby boy's little foot and wrote, "When 2 become 3 ... Welcome Sebastian Piers Williams — aka Baz! Mom, Dad, and Baby are happy, healthy and totally in love!" 
The family kicked off 2020 with another baby announcement. On May 4, 2020, in a now-deleted Instagram post, the proud mom revealed she gave birth to their second child, daughter Lucia. 
"LUCIA MARISOL WILLIAMS arrived on May 4th to give me my Mother's Day hugs and kisses herself," she said beside a photo of their baby girl's hand. "Mama, Dada & Big Brother are over the moon to welcome her bright light to our family."
Williams celebrated becoming a parent again on his page, as well. "Mama, Dada & Big Brother are over the moon to welcome her bright light to our family," he said in a deleted post. "Please meet the newest member of our family, Lucia Marisol Williams. She came just in time for Mother's Day. Everyone is healthy and happy!"
Ferrera and Williams do not share photos of their children on social media. The last post of the family of four was uploaded in August 2021. The "How to Train Your Dragon" star posted a group picture from their vacation to Mexico and covered the toddlers' faces with sunflower emojis. 
"Took some time to stop and smell the flowers in San Miguel de Allende. Found 2 super cute ones we're definitely bringing home," she joked in the caption. 
Their life together now
Williams and Ferrera frequently celebrate each other and their love on social media. Before "Barbie" hit theaters, Williams sent a supportive message to his wife on Instagram. 
On July 13, he shared a photo of them posing for pictures at the film's European premiere in London. "I can't wait for you all to see America in this film!" he cheered and added flames and heart-eye emoji.
The "Barbie" star shared a snap from the premiere, too. She included an adorable caption: "My favorite & forever Ken, you cute." 
Now that Hollywood writers and actors are on strike, the pair have been visiting the picket lines together. 
On July 19, Ferrera and Williams showed their support for the SAG-AFTRA strike alongside fellow "Barbie" star Ana Cruz Kayne.
"New York is a union town!" Ferrera wrote next to a photo of the trio holding "SAG-AFTRA on Strike!" signs in the Big Apple. 
For his post, Williams said, "The energy was on fire today on the picket line in NYC! Proud to be in the fight for better contracts for my fellow SAG and WGA members!" 
Comcast — the corporation that owns TODAY's parent company, NBCUniversal — is one of the entertainment companies represented by the Alliance of Motion Picture and Television Producers.