Ahead of the Jonas Brothers' pair of sold out performances at Yankee Stadium kicking off their world tour, TODAY went behind the scenes to see how Kevin, Joe and Nick Jonas prepare for their career-spanning show.
NBC News correspondent Jacob Soboroff got an inside look at how the three brothers spend time before performing nearly 70 songs from five of their studio albums.
"We're out there playing 67 songs. It's a gauntlet," Kevin Jonas says while looking out at Yankee Stadium. "This is definitely by far the most ambitious thing we've ever tried to do."
The Jonas Brothers pre-show huddle
The brothers shared their pre-show huddle with Soboroff, which they said no one had ever been a part of before besides themselves.
"I say, 'Every note matters,'" Nick Jonas says.
"I say, 'Every person matters,'" Kevin Jonas adds.
"I say, 'What we do matters,'" Joe Jonas finishes.
And then the group goes, "Let's get it!"
Why the Jonas Brothers turned down the chance to play at Yankee Stadium years ago
The brothers, who have sold 20 million albums and reached more than 13 billion streams, explained why Yankee Stadium is a venue they hold close to their hearts.
"We couldn't really afford to come to games, but I think the Yankees would donate tickets to a bunch of different churches, so we could get access," Nick Jonas says of coming to games as a child. "We would sit way up in the nosebleeds, so it's full circle to be back here playing a show."
The brothers said it is true they turned down an opportunity to play the stadium earlier in their career because they didn't think they could sell it out.
"We genuinely thought there's no way we could sell this place out," Joe Jonas says. "It feels a little bit more special than it would back then, 20 some years almost into our career, to be able to have fans that support us this much."
The pair of shows at Yankee Stadium started their massive world tour, sponsored by EVO, and the brothers are taking it to 20 countries.
Kevin Jonas reflected on their success, 20 years into their career, on stage before the show began with Jacob.
"So you come out here, and you look out, and then you realize, you're like, 50,000 people, sold out, two nights, in a place that we said no to many years ago," he says.
How Nick Jonas created the set list
Nick Jonas brought Jacob to the soundboard, where he explained how their 100-plus person crew brings "the dream to life" and ensuring everything sounds right.
He also shared the process behind choosing the 67-song setlist.
"I spent literally three, four months building this thing out with our team, song by song, where we could tell the story we wanted to tell about the journey we were on at that point in our life and career," he says.
Joe Jonas shows off his dressing room
Joe Jonas gave Soboroff a look at his dressing room, which he said he designed himself, featuring a lot of artwork inspired by "The Simpsons."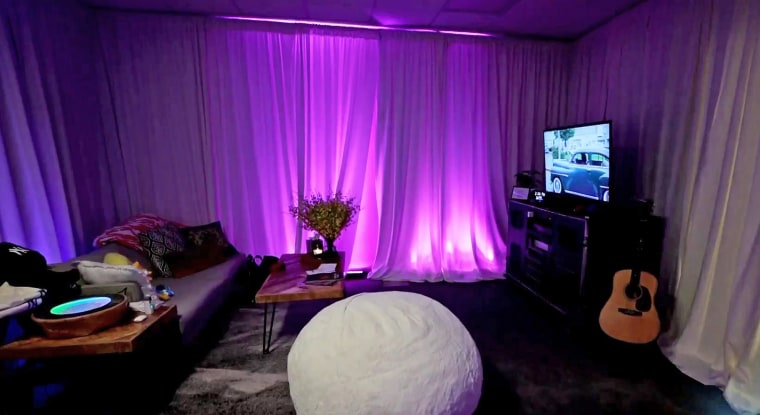 "Actually, I'm slowly trying to make this room look like the Simpsons' living room," he says, showing off the art pieces, which feature himself and his wife, Sophie Turner. "Somebody did Simpson art of me and Sophie."
As his favorite movie, "Back to the Future," played on TV, he shared why he adds such a personal touch to his life on the road.
"I've got a bunch of toys and trinkets. I think it's healthy to remind myself to have fun on and off stage," he says. "I spend a lotta time in here, so I wanna make sure it feels like home."