In Erika Jayne's latest era, she's betting it all on blonde.
The "Real Housewives of Beverly Hills" star and pop artist is taking Las Vegas by storm with her upcoming residency at Mandalay Bay's House of Blues, giving fans an immersive experience that'll leave them feeling ... XXPEN$IVE. 
Viewers have watched Erika traverse her musical career for the last seven seasons of "The Real Housewives of Beverly Hills," with this gig bringing her to her biggest stage yet.
Erika has been in the spotlight for legal challenges surrounding her filing for divorce from husband Tom Girardi in November 2020. In December 2020, both were sued by class action firm Edelson P.C. for fraud and embezzlement. The lawsuit alleged Girardi and his law firm embezzled millions of dollars intended for surviving relatives of the Lion Air 610 plane crash in 2018. The lawsuit also alleged Erika filing for divorce was "simply a sham attempt to fraudulently protect" the couple's money from "those that seek to collect on debts owed by Tom and his law firm." On "RHOBH" in 2021, Erika denied the allegations and that her divorce was a "sham." 
Erika was dismissed from the suit in 2022. That same year, Erika won a case against Girardi's former colleagues who sued her for fraud in 2020, according to The Los Angeles Times. "L.A. County Judge Richard Fruin found no evidence Monday of wrongdoing on Jayne's part," The LA Times reported at the time. In March, Girardi pleaded not guilty to charges against him in Chicago and Los Angeles, Reuters reported.
TODAY.com caught up with Erika ahead of her residency to learn what fans can expect and to uncover some tidbits about the next season of "RHOBH."
This interview was edited and condensed for clarity.
Your residency is called "Bet It All On Blonde." What does that phrase mean to you?
An absolute shot at a new life. I think that this show is really a great way to rebuild, to go forward in life. There's nothing that I love more than performing, and I'm super excited to be in Las Vegas, to have this residency, which is wonderful. It's a great opportunity to go forward in life.
A lot of work goes into building a residency: What's been your favorite part of the preparations? We're in rehearsals right now. … I'm actually talking to you from the studio. The best part actually starts next week when we start rehearsing onstage, which is a big deal. We build a stage here in Los Angeles before we move to Las Vegas, so you start to really see the numbers come to life. Right now, everything's drawn out on the floor, steps and things like that, but when we get to the stage next week, it all starts to come together, and it's really impressive.
What are you most excited to sing?
I'm excited about the new material that's coming out. We have about three new songs that we are performing that I really enjoy. I think they fit seamlessly into the show. I think the audience will really enjoy them. Again, the thing about Erika Jayne's show is that it's based on six words — fantasy, love, escape, glitz, glamour and fun — and that's what people will be seeing in Las Vegas. Also, good costume changes, we have 5 1/2 costume changes, lots of good hair and makeup, and two background singers, which I never had before. So I'm super excited about that. It's coming up really fast, and I'm very excited.
What can you tease about the new music?
I'm always going to be in the pop dance vein, so it's good energy. It's like club bangers, you know, that's what I love the most. I love it when people move, I like when people dance. So that's what these songs are about.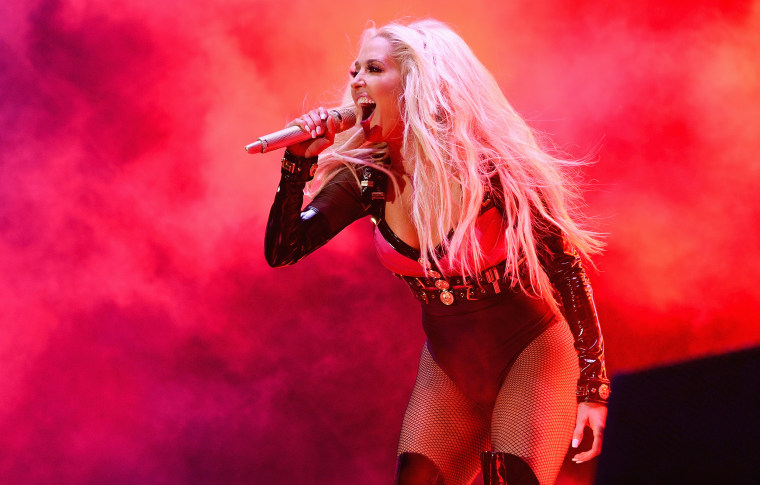 You said your residency will run through BravoCon. Do you have any special performances planned for that weekend?
Yes, I can't give it away other than that I'll be there.
What songs from other "Housewives" do you find catchy?
Everything Kandi (Burruss) writes is really good. Kandi's had a great, long career, and her music is really good.
Of course Jennifer Lawrence is invited to the show. I'm just happy to be moving forward, and if she wants to come, that would be fabulous.
Let's talk about the next season of "RHOBH." On "Watch What Happens Live with Andy Cohen," you said your castmate Sutton Stracke stirs the pot the most on the upcoming season. Who does she beef with the most?
She and Kyle (Richards) really get into it, and she kind of gets into it with everybody. But Kyle really.
On "WWHL," you also said that on a scale from one to 10, you were a "negative five" when it came to your excitement about Denise Richards making a cameo on the upcoming season of "RHOBH." There have been a lot of rumors about her cameo: What made it so wild?
(Laughs) You'll have to see it. Honestly, when she comes to Kyle's dinner party, I don't want to give away too much, (but) I was just so confused at why she was mad at me. Because I hadn't seen her in like several years. So I was like "Denise, I don't understand what you're mad at," like my whole life has blown apart. I'm not really concerned about what happened four years ago, I don't remember it. She was very serious. I couldn't keep it together, I had no idea what she was talking about. I'm sorry to laugh, but it was just so insane.
Kyle recently said that a dinner party on Season 13 rivals the "Dinner Party from Hell" from "RHOBH" Season One. What made it so crazy?
I wasn't at the dinner party from hell, but I feel like Kathy Hilton's dinner party (during Season 11) was at least hell for me. (At the most recent dinner), we were intoxicated because the chef cooked with THC, so while Denise is yelling at me, I'm high, so I kept laughing. I was feeling really good. The only thing I was mad about is that she ruined my buzz. Like Denise, stop yelling at me, I'm high, leave me alone.
Your friend group with Kyle, Dorit Kemsley, Lisa Rinna and Teddi Mellencamp, the "Fox Force Five," has gone through periods of conflict and resolution. What's the latest? Is the group chat active again?
We're still friendly, we just haven't been able to see each other. Everybody's busy and got pulled in different directions, but we're still friendly. … I just want to say something about the "Fox Force Five." We lost people (on the cast during Season Nine). We had to make a show out of five people, that was it. When you lose key players, it's difficult. Never forget, this is entertainment, so we're looking toward each other, and that's how we became tight because we had to pull it off. I don't think people quite understand that, I think that they (fans) think we were being mean girls and shoving everybody else out. The truth is we had to come together to make the trip a success for viewers. That's what was really going on, it wasn't like we decided we didn't like everybody else. We've gotten a very bad rap about that, and that's not true.
Heather Dubrow from "The Real Housewives of Orange County" just bought a place in Beverly Hills. Would you want her on the cast of "RHOBH"?
She's great. I'm sure she'd be great on the show.
Reflecting on all that you've experienced, what would you tell a younger version of yourself?
Hell is coming, but you'll be OK.
To close us out, what's the best part of being Erika Jayne?
Freedom, just freedom to be me. ... I'm just super grateful. I'm very excited to have this residency in Las Vegas, one of my favorite cities. To be able to get onstage and perform is where I am happiest and the most present. It's an absolute dream. Please come to the show, I think everybody's going to enjoy their time at the show, and that's what we're here to do — bring the party!