Queen Bey made a special appearance during the 2023 Macy's Thanksgiving Day Parade!
Beyoncé herself wished her fans a happy Thanksgiving on Nov. 23 before sharing an exclusive trailer for "Renaissance: A Film By Beyoncé," the highly-anticipated film based on her iconic "Renaissance World Tour."
"Hey it's Beyoncé, wishing you and your family a happy Thanksgiving and I'm so honored to share with you the first look at the new 'Renaissance' film trailer," she said.
The clip showed behind-the-scenes footage, as well as video from her performances, set to her song "Summer Renaissance."
"We are creating our own world, this is my reward. No one can take that away from me," Beyoncé said in the voiceover.
"Renaissance: A Film By Beyoncé," which is set to be released Dec. 1, takes fans behind the scenes of Bey's globetrotting tour. According to a press release about the film, the project is expected to "accentuate the journey of 'Renaissance World Tour,' from its inception to the opening show in Stockholm, Sweden, to the grand finale in Kansas City, Missouri."
"It is about Beyoncé's intention, hard work, involvement in every aspect of the production, her creative mind and purpose to create her legacy, and master her craft," the announcement reads.
Here's everything we know about the film.
Watch trailers for "Renaissance: A Film By Beyoncé"
The "Single Ladies (Put a Ring on It)" singer previously dropped a trailer for the movie on Oct. 2 teasing what's in store in the film.
"When I am performing, I am nothing but free," she says over clips of her prepping backstage. "The goal for this tour was to create a place where everyone is free and no one is judged."
The singer released another trailer on Nov. 9, which captured some of the on stage and behind-the-scenes moments of the global tour in the nearly two-minute clip.
"I close my eyes and travel through realms of space and time. Reality holds no power or control of my state of mind. Assembly line frequency as I tap my MPC," she said, before sharing a poignant message with fans.
"In this world that is very male dominated, I've had to be really tough to balance motherhood and being on the stage," she said. "It just reminds me of who I really am."
How to get tickets?
Fans can buy tickets now at BeyonceFilm.com, amctheatres.com and Fandango.com, as well as at Cinemark, Regal, Cinepolis and Cineplex. Tickets in the U.S. start at $22.
Beyoncé teased the news right before her last "Renaissance World Tour" show in the U.S.
Her production and entertainment company, Parkwood Entertainment, had teased the announcement on Instagram Oct. 1. A mysterious 14-hour countdown reminder was uploaded to the account's Instagram story, building anticipation as Beyoncé finished her last show on the U.S. leg of her "Renaissance World Tour" the same day in Kansas City, Missouri.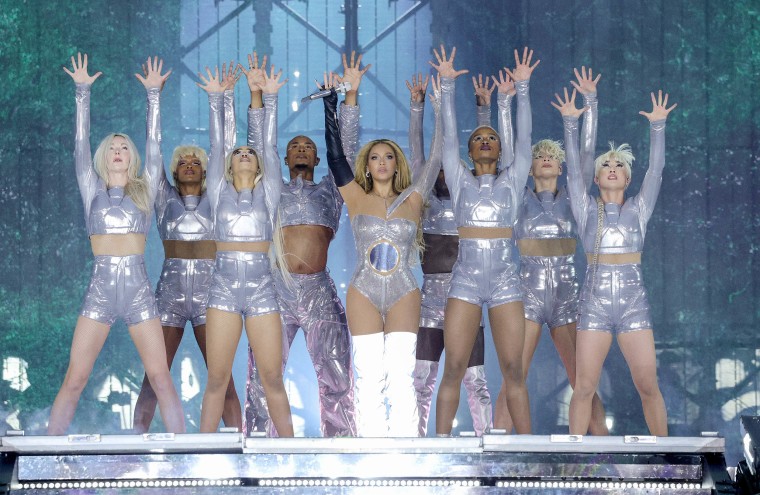 Then, in the early hours of the morning on Oct. 2, the news of the 42-year-old music superstar's movie was shared with her fans, while noting the massive success of her tour. 
"Received with extraordinary acclaim by International and US media alike, Beyoncé's outstanding performance during 'Renaissance World Tour' created a sanctuary for freedom, acceptance, and shared joy," the statement read.
Multiple outlets reported that the "Cuff It" singer was in talks to bring her "Renaissance World Tour" to the big screen before she officially confirmed the news. The film is possibly the long-awaited "Renaissance" visuals that fans have been requesting since Beyoncé released the Grammy-winning album in July 2022. 
It also marks the first time Beyoncé is releasing a concert film in theaters. She previously partnered with Netflix in 2019 for her movie "Homecoming," which documented her historic performance at the 2018 Coachella music festival. 
A year later, her musical "Black Is King" premiered on Disney+ as a visual companion to the soundtrack "The Lion King: The Gift." She directed, co-wrote and executive produced the movie. 
The "Renaissance World Tour" began in May in Stockholm, Sweden, and included stops in Paris, London and Barcelona before arriving in the U.S. in July. The music icon wowed audiences every night with her flawless vocals and extravagant chrome stage outfits.
Daughter Blue Ivy Carter, 11, whom Beyoncé shares with husband Jay-Z, also joined her mom on stage for a few songs and nailed her choreography. 
What's been said about the film following the LA premiere
On Saturday, Nov. 25, TODAY Editorial Director Arianna Davis walked the "chrome carpet" in Los Angeles to capture a behind-the-scenes look at the premiere of "Renaissance: A Film by Beyoncé." She gave her review in an essay for TODAY.com.
"Ultimately, the 'Renaissance' tour film feels like a gift," she writes. "During both the tour and also in the movie, Beyoncé emphasizes that she wanted this album and its ensuing world tour to offer a safe space for all kinds of people to feel liberated."
As someone who attended one of Beyoncé's live shows on her "Renaissance World Tour," Arianna writes that the film gives fans the "opportunity to relive it all over again."
"(Beyoncé) opens up like never before on the toll performing has taken on her body, revealing she had surgery on her knee that required intense rehabilitation just one month before her first show. 'I'm not a machine,' she reiterates several times, a necessary reminder that while she makes everything look effortless, the reality is far from it," Arianna writes.
Variety's Steven J. Horowitz called the film "dazzling," complete with "slick performances" and moments that "lift the curtain on what inspired both the album and tour."
"Written, produced, and directed by Beyoncé herself, the two-and-a-half-hour movie revisits the meticulous show that she says took four years to create, highlighting what the public saw in real-time and on social media (i.e. the heavy choreography, the surgical-cut vocal runs), but also the hesitations and self-doubt she faced while assembling it," he wrote.
Horowitz continued, "Throughout 'Renaissance,' as ever, Beyoncé is in complete control of her narrative — that impression of flawlessness doesn't happen by itself, and despite the film's intimacy, we never truly get a glimpse behind the curtain. It's satiating enough — there are tears, laughter and reflections — and delivers morsels of what it takes to be one of the biggest stars in music. It's satisfying without being indulgent, but most of all, it's a monument to Beyoncé's status as one of pop's most enduring figures, and everything it takes to get there."