Pauly Shore was the butt of a joke at the 95th Academy Awards. And that's OK by him.
"Two actors from 'Encino Man' are nominated for Oscars," host Jimmy Kimmel said during his monologue on the March 12 broadcast.
"What an incredible night this must be for the two of you and what a very difficult night for Pauly Shore."
Kimmel, of course, was referring to Brendan Fraser and Ke Huy Quan, who would each go on to win Oscars. Shore took the slight in stride when he reacted to the jab on Twitter on March 13.
"I don't know if you guys saw the @TheAcademy Awards last night, but @jimmykimmel poked fun at me in the monologue," he captioned a clip of Kimmel making his joke.
"I loved it. But what I REALLY loved is that my old buddies from back in the day, Brendan Fraser and Ke Huy Quan, took home the Oscars! Never quit on your dreams."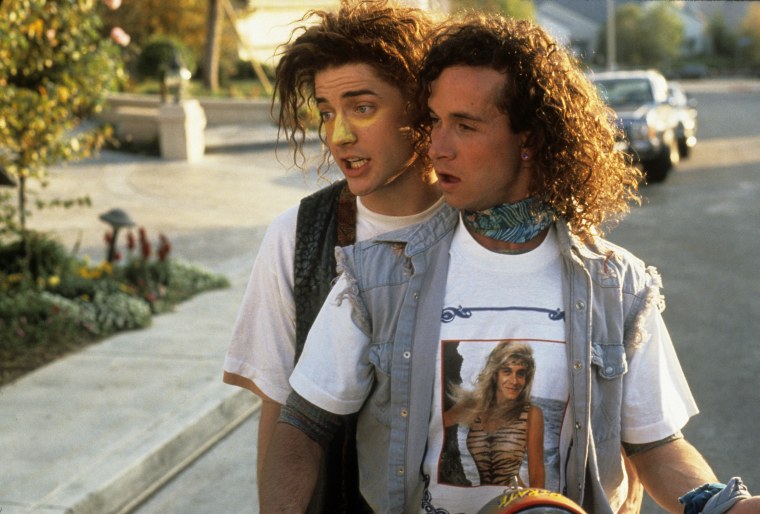 Fraser and Quan represent two of the most feel-good wins at this year's ceremony. Fraser won best actor for "The Whale," while Quan took home best supporting actor for "Everything Everywhere All at Once."
The trio worked together in "Encino Man," the 1992 teen comedy about a caveman who is thawed out after thousands of years, only to become a popular high school student.
The movie is one of Fraser's earlier films, while it came after Quan, who had a supporting role, had achieved childhood stardom with "The Goonies" and "Indiana Jones and the Temple of Doom."
Fraser and Quan would both disappear from the spotlight, only to resurface this past year. They each addressed how far they had come while accepting their Oscars.
"I started in this business 30 years ago," Fraser said in his speech. "And things, they didn't come easily to me, but there was a facility that I didn't appreciate at the time, until it stopped."
Quan, who left movies for nearly two decades because he couldn't get cast, also urged people to never give up.
"Dreams are something you have to believe in," he said. "I almost gave up on mine."
"To all of you out there, please keep your dreams alive," he added.