There's a funny moment in a Season 3 episode of "The Office" in which childish and dimwitted accountant Kevin bluntly sums up his gambling strategy.
"If someone gives you 10,000-1 (odds) on anything, you take it. If John Mellencamp ever wins an Oscar, I am going to be a very rich dude," he says.
Never has that logic seemingly been more apparent than at this year's Academy Awards, when the pageantry of Hollywood's biggest night crossed paths with the Cinderella quality of NCAA March Madness.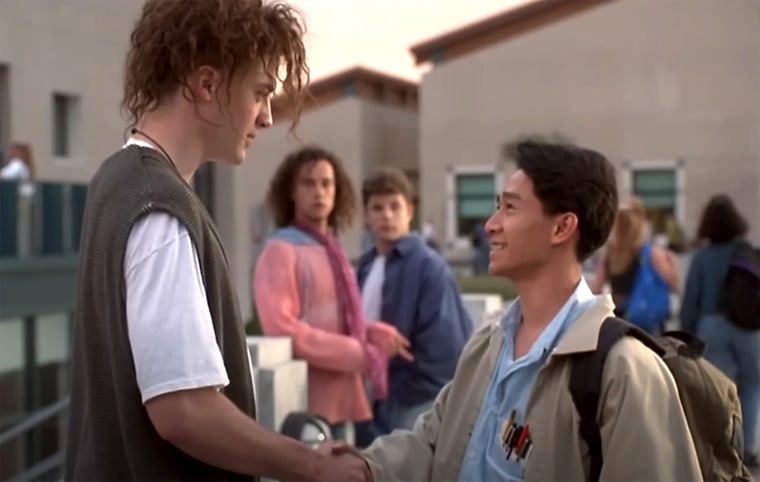 If you had Data from "The Goonies" ever winning an Oscar on your bingo card, we call foul. But, yes, Ke Huy Quan — whose other most notable credit also came four decades ago as a child actor, when he played Short Round in "Indiana Jones and the Temple of Doom" — did just that, taking home the best supporting actor award for "Everything Everywhere All at Once," capping a return to the mainstream no clairvoyant could have seen coming and punctuating it all with a brilliant acceptance speech.
"When I had to step away from acting, those dreams dissipated," he told the 3rd hour of TODAY the day he was nominated for his Oscar. "And I did not think that one day it would find its way back."
Quan, 51, went years on the outside looking in, no longer in movies, finding it difficult for an Asian actor to get work. There's a certain symmetry to Quan and Brendan Fraser, 54, climbing back up the ladder and conquering Hollywood all over again in the same year.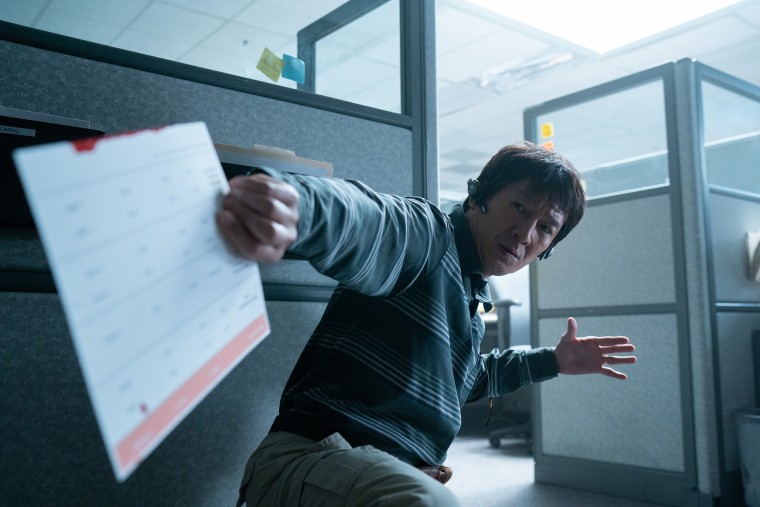 Perhaps it's no coincidence, then, that they both starred in 1992's "Encino Man," Fraser as an ascending star, Quan in a supporting role as his on-camera career, forged in childhood, began to slow. Oscars host Jimmy Kimmel even had fun with the fact they had resurfaced on such a big stage.
"Two actors from 'Encino Man' are nominated for Oscars," he joked during his monologue. "What an incredible night this must be for the two of you and what a very difficult night for Pauly Shore."
Before the Oscars, Quan and Fraser reconnected in January at the Critics Choice Awards, where they both picked up trophies as their Oscar momentum picked up speed.
"He put his hand on my shoulder and he said this, he was still here," Quan told reporters about seeing Fraser again, according to People. "I will never forget those three words and it's actually right."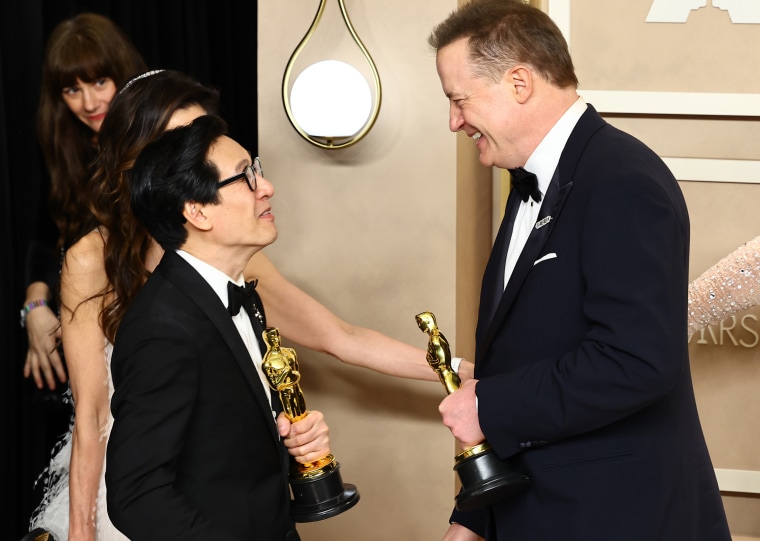 Fraser, of course, won the best actor Oscar for "The Whale." After starring in "The Mummy" franchise and hits like "Crash" and "George of the Jungle," he simultaneously continued to work while seemingly disappearing from the public eye.
"I was also kind of on a merry-go-round and I wanted the music to stop," he told Sunday TODAY's Willie Geist in February. "It can get to be a bit much. Then, you get off the merry-go-round and you're wondering, 'Wow, gee, it's quiet around here. Maybe I should get back to work.'"
The actor realized how far he had come.
"I started in this business 30 years ago," Fraser said in his Oscars acceptance speech. "And things, they didn't come easily to me, but there was a facility that I didn't appreciate at the time, until it stopped."
"The Whale" was directed by Darren Aronofsky, who has a track record when it comes to navigating this type of terrain: He directed Mickey Rourke in 2008's "The Wrestler." Rourke represented a different kind of reclamation project, but he nailed the title role in an Academy Award-nominated performance that sounded the alarm he was still a talent. It's not totally dissimilar from Fraser.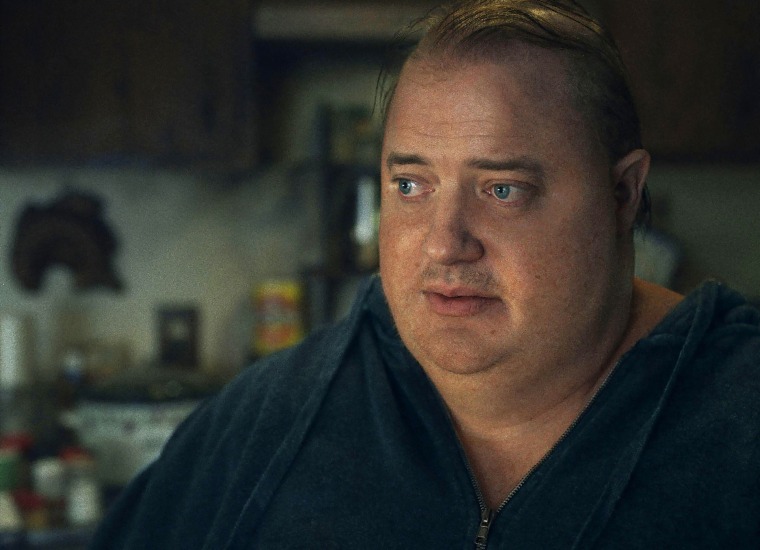 "I've never been that far away, but I did step out of the spotlight for a spell there, to sort some things out in my life, to take stock of who I am, where I'm going and what my aspirations are," Fraser told Sunday TODAY.
The Oscars represent a majesty that most of us will never come close to feeling, with the glitz and glamour of movie stars on full display. And while it feels as if stars like Cate Blanchett and Leonardo DiCaprio collect nominations and trophies the way a long-haul trucker racks up miles under the tread of tires, there's something refreshing and awesome when someone crashes the party.
Quan went two decades between roles and enrolled in film school to start a career behind the camera. He has followed a path blazed not just by Rourke, but also Jackie Earle Haley, a popular 1970s actor who starred in "Breaking Away" and "The Bad News Bears" movies only to fade from the spotlight before resurfacing in 2006 in an Oscar-nominated performance in "Little Children."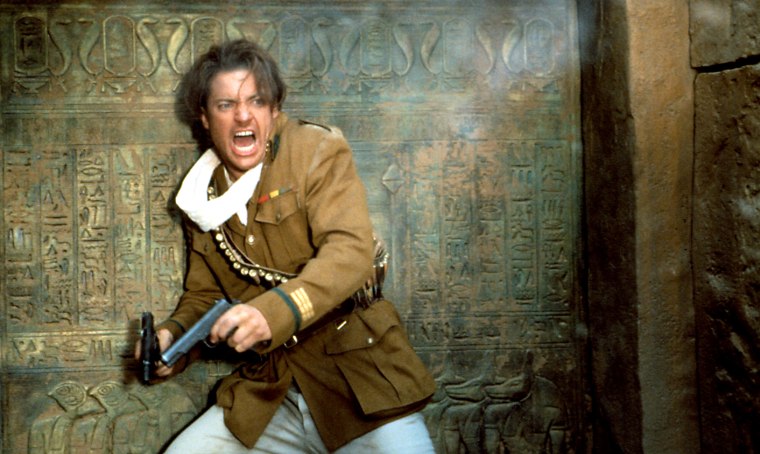 Neither Rourke nor Haley won an Oscar. Quan, who also won a Screen Actors Guild Award and a Golden Globe Award, finished the job and put an exclamation point on his comeback, his effervescent personality seemingly, ahem, being everything everywhere on talk shows in recent weeks, a reminder to '80s kids that the boy they loved then is the embodiment of potential fulfilled, adulthood achieved.
But it's not just a comeback. Quan is an underdog, even if it's hard to believe someone who worked with Steven Spielberg, George Lucas and Harrison Ford can earn that title. But that's what he is, and therein lies a part of his appeal. Goonies never say die, fans will remember from the movie. Neither do our hopes. Quan held on to his vision through an age when it seems like it's too late, or even foolish, to do so.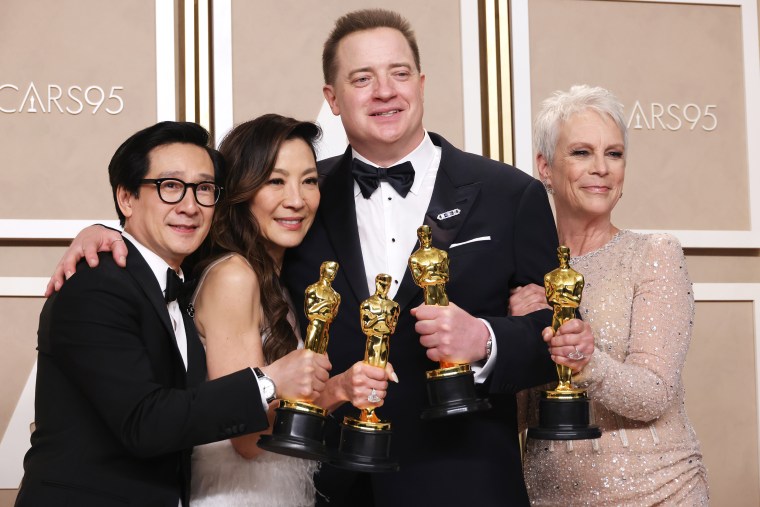 "Dreams are something you have to believe in. I almost gave up on mine," he said in his stirring acceptance speech.
"To all of you out there, please keep your dreams alive," he added.
Those remarks echo previous comments he made in the weeks leading up to the Oscars.
"I hope my story inspires people to not give up and to continue to pursue their dreams and one day it will happen to them, just as it happened to me," Quan told the 3rd hour of TODAY.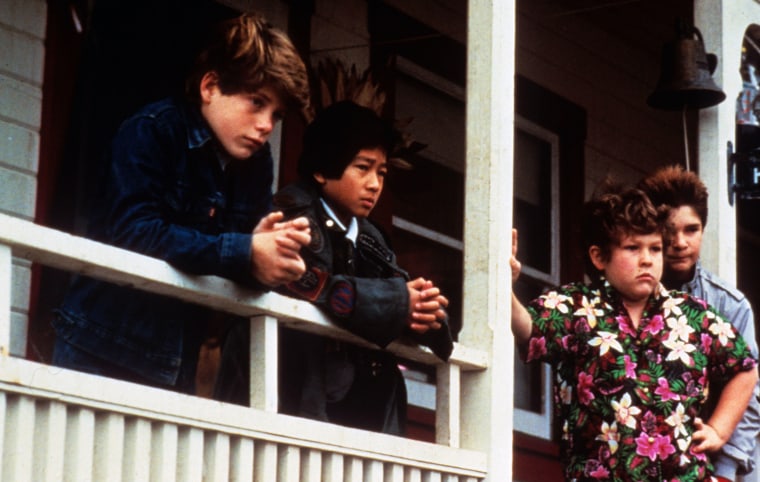 Fraser, too, has embraced the moment and his place in it, years after he first became a superstar. He thunderously announced his return after receiving a six-minute standing ovation at the Venice Film Festival for his work in "The Whale." In addition to his Oscar and Critics Choice Award, he won a Screen Actors Guild Award. He understands the wisdom accrued with time and how leaving the limelight helped shape him, with people cheering him on.
"I feel fortunate that for whatever it is that's happening right now that it didn't happen 20, 25 years ago because I would not have been licensed to operate that equipment at that time in my life. It would've been too much, too soon," he told Sunday TODAY.
Fraser and Quan may have been ships in the night over 30 years ago when they made "Encino Man," but it's funny how you can circle back. In 2023, they are on top of the world, Oscar winners, underdogs, comeback kids — comeback men.
Related: