Brendan Fraser is giving fans a behind-the-scenes peek at how he transformed into Charlie, the character he played in Darren Aronofsky's 2022 psychological drama "The Whale."
The 54-year-old actor wore a prosthetic suit to play Charlie, an English teacher who has become severely obese since the death of his partner. Fraser earned his first Academy Award nomination for his performance.
In a sped-up video posted to the movie's official Instagram page, Fraser sits in a chair as the movie's makeup artists apply fake skin over his face and neck. The actor is seen scrolling on his phone as the team of artists — who scored their own Oscar nod in the best makeup and hairstyling category — painstakingly completes the transformation.
"The Whale," which is based on a play of the same name by Samuel D. Hunter, follows as reclusive Charlie, struggling with body shame, tries desperately to reconnect with the estranged daughter he hasn't seen in years.
Fraser opened up about the literal and metaphorical weight of wearing prosthetics for the role during an August 2022 interview with Vanity Fair.
"The torso piece was almost like a straight jacket," said Fraser, "with sleeves that went on, airbrushed by hand, to look identical as would human skin, right down to the hand-punched hair."
The prosthetics added between 50 to 300 pounds of extra weight depending on the scenes Fraser was filming, making the role as challenging physically as it was psychologically.
"I learned quickly that it takes an incredibly strong person inside that body to be that person," said Fraser. "That seemed fitting and poetic and practical to me, all at once."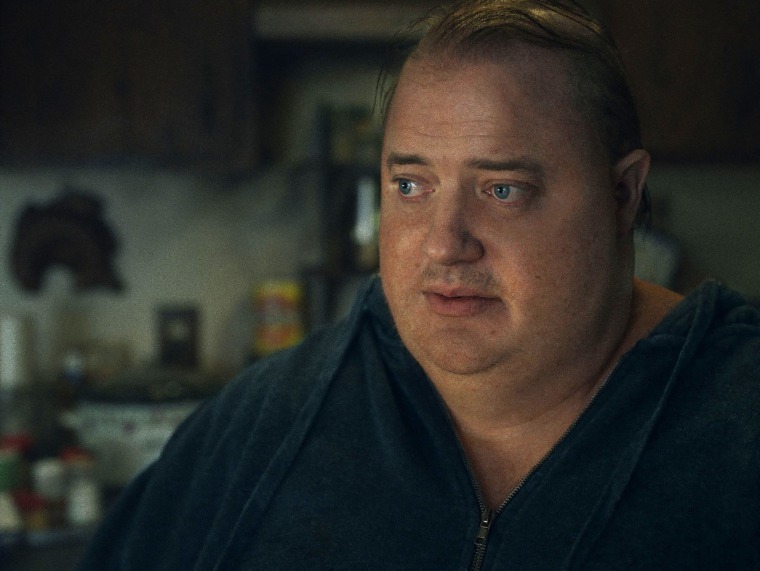 The "Mummy" star, who took on the role after a yearslong retreat from Hollywood, told Vanity Fair that he was captivated when he first saw the suit. "It was that beautiful and that arresting," he said.
"I looked at other body suits that had been used in comedies over the years, usually for a one-note joke," he added. "Whether intended or not, the joke is, it defies gravity. This was not that."
To prepare for the role, he consulted with the Obesity Action Coalition to understand Charlie's experience as best he could. He also spoke to people who have undergone bariatric surgeries.
During his own interview with Vanity Fair, Aronofsky said his goal was for viewers to forget about prosthetics and believe fully in the character of Charlie.
"Unfortunately, so many characters portrayed in the media who are living with obesity are treated awfully — either they're humiliated, made fun of, or just living in squalor," Aronofsky said. "That was never Charlie. Obesity is just part of what Charlie is. After 10 minutes of spending time with Charlie, that's the breakthrough that we hope the film has (for viewers)."
In a Sunday Sitdown interview with Willie Geist airing this weekend on Sunday TODAY, Fraser says the attention he's received for his performance in the film has been "humbling."
"Now Dad's cool," he said of his kids' reaction to his Oscar nomination. "We'll see how long that lasts."