Who knew a country tune about revenge for adultery could be used to sell hunting apparel?
Mike Fisher, that's who!
The retired hockey star, who's been married to country pop superstar Carrie Underwood since 2010, has released a parody version of his wife's classic 2006 tune "Before He Cheats" and we have to say it's pretty cute.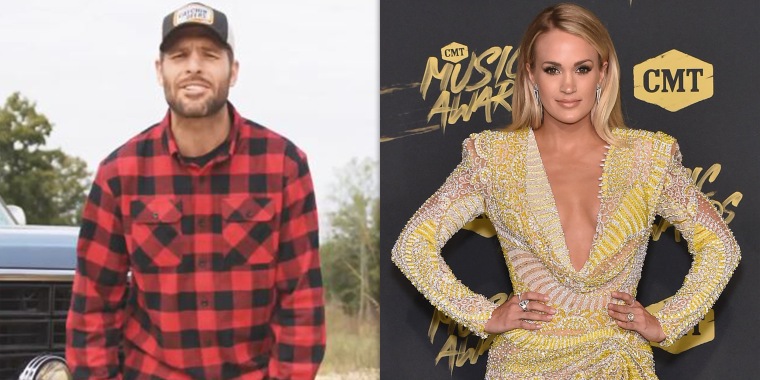 "Before She Bleats," which was posted on Facebook Monday, is actually meant to promote Fisher's Catchin' Deers line of hunting apparel, which he cofounded with friend Austin Casselman. But it's so much more than an ad.
The song focuses on hunting and refers to the noise some female deer make when it's time to mate. Instead of "Maybe next time he'll think before he cheats," Fisher sings, "Maybe next time she'll think before she bleats."
We get to see Fisher driving around singing, in his truck singing, and out in a field singing during the short video wearing the line's Bonfire Flannel shirt jacket. So what was Underwood's reaction?
"I think most people know she's not a hunting fan, so I think she wanted to be able to plead the 5th and then be surprised," Fisher told Entertainment Tonight.
He added that he was lucky he didn't have to ask permission from his wife. "Carrie didn't write the song — we didn't have to go through her, thank goodness," he said. "She might not have approved it."
We can understand that: Underwood's a vegan and animal lover, while Fisher is a proud hunter.
"Opposites attract," he said. "My wife is the best. She puts up with my hunting and she loves me."
And possibly Underwood is a little distracted with her own business these days: she's about to go back on the road for her Cry Tour Pretty 360 Tour, and the couple is expecting their second child. (Isaiah, their first-born, is 3.)
"She's doing great," Fisher reported. "We just moved. So, we've been packing and getting settled in our new house."