Carrie Underwood got a front-row seat to the most entertaining sports-related event in Nashville on Friday.
A day after her husband Mike Fisher's Predators team was eliminated in the NHL playoffs, Underwood captured adorable video of the couple's 3-year-old son, Isaiah, shaving off his daddy's postseason beard. Or, rather, attempting to shave his daddy's beard.
"Not the hair," a laughing Fisher can be heard telling his son as Isaiah brought the device a little too high for comfort in the video posted on his wife's Instagram page.
"Prediction: This won't end well," Underwood captioned the post.
But Isaiah showed he had an offensive game-plan to tackle his father's dense beard — the result of hockey players' superstition during the playoffs.
"Dada, shave your face so it will be all gone," Isaiah explained.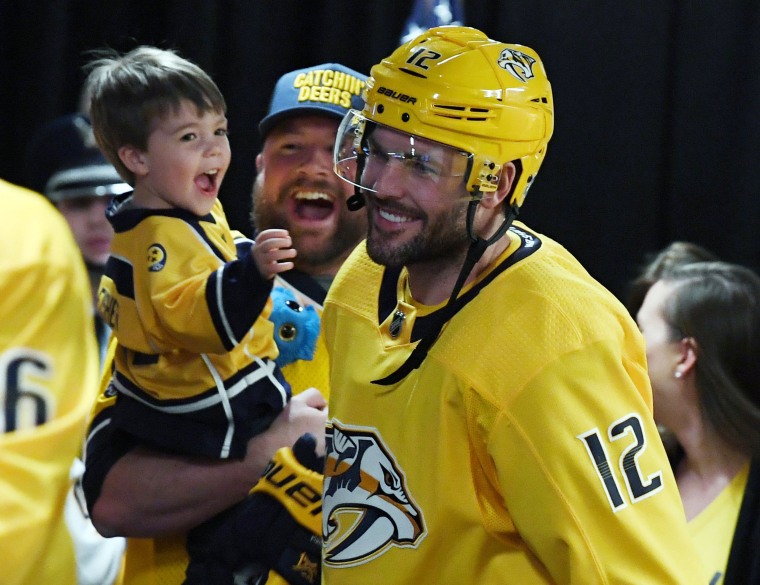 After a couple of seconds and maybe a couple of hairs later, Isaiah pronounced his work done. "That's good, now it's little," he said.
Fisher, 37, returned to the Predators this season after retiring last summer, determined to take another shot at bringing a championship to Nashville. But Thursday's elimination in Game 7 of the team's second-round series against the Winnipeg Jets ended that dream.
Underwood tweeted a message of support, pronouncing her husband the "greatest hockey player alive."
"Not the ending we wanted, but we're alive & well & I get my hubby back, so I say God is good!" wrote Underwood.