John Goodman says Roseanne Barr's firing from "Roseanne" was so tough on him, he "crashed" for several weeks.
The 66-year-old Emmy winner, who played Dan Conner on the beloved sitcom, revealed that his life unraveled after ABC canceled the show's top-rated revival in May following a racist tweet by Barr.
"I mean, she is missed, definitely, but after that many years it's like a family. And last year was so miraculous and so unreal that when it went away, it was almost like a dream," he explained on Monday's "Jimmy Kimmel Live!" "I thought, 'OK, I'll be a big boy and handle this.' And I just crashed for a couple weeks."
"All kinds of weird stuff happened," Goodman revealed about the difficult time, "my wife got sick after that and then I fell down the stairs."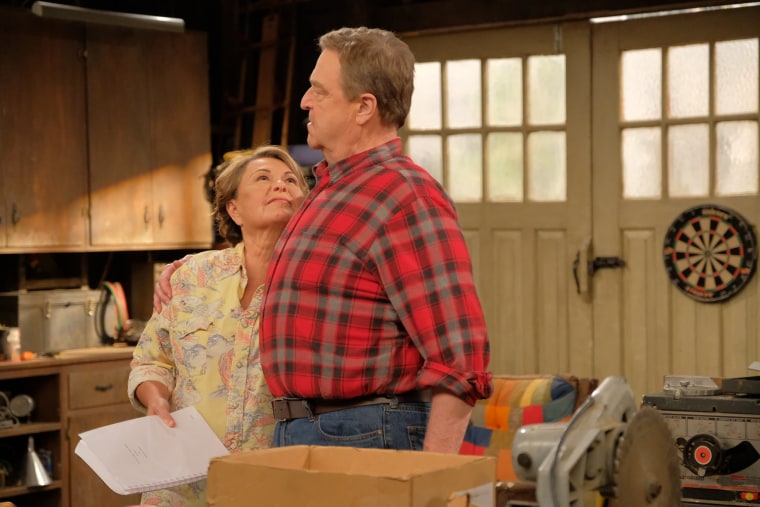 Goodman and the rest of the "Roseanne" cast — with the exception of Barr — will keep telling the Conner family story in the spinoff "The Conners," which debuts next week. But, notes Goodman, playing Dan without Barr around hasn't been the same.
"It was very weird doing the first show without her because she's my buddy," said the star. "I mean we just sit there and she'd make me laugh and I'd make her laugh, which was always fun because there's a danger of her peeing herself."
The actor also expressed his gratitude to Barr for giving up her financial stake in "Roseanne" after its cancellation so that he and the show's other stars could continue working on "The Conners."
"She gave up a lot for us to be able to do this show," he shared, "and I can't thank her enough."
During an interview with the Sunday Times in August, Goodman defended Barr, whose since-deleted tweet called Obama administration aide Valerie Jarrett the offspring of the "Muslim Brotherhood & 'Planet of the Apes.'"
"I know, I know, for a fact that she's not a racist," the actor said, adding that he was stunned by ABC's move to cancel "Roseanne."
"I'll put it this way, I was surprised at the response," Goodman said. "And that's probably all I should say about it."
"The Conners" premieres at 8 p.m. Oct. 16 on ABC.