Maybe think twice about going to the bathroom during an award show, especially if you're presenting.
While recounting a "beautiful evening" at the SAG Awards last weekend, Jenny Slate recalled a mishap during the award show while appearing on TODAY with Hoda & Jenna March 1.
After Willie Geist, who was temporarily filling in for co-host Hoda Kotb, asked about an incident prior to her presentation, Slate responded, "Oh, you heard?" adding that no one in her family would be surprised by the story.
"I thought I had more time than I had," she said. "I went to the bathroom. I got locked out of the awards. (I) immediately started panicking, like this is my nightmare."
The "Marcel the Shell with Shoes On" actor noted that she didn't even bring her purse nor had she touched up her lip makeup on her trip to the restroom.
"Then a lovely young man was like, 'They need you backstage right now!' And I was so, so frightened," she told Geist and fourth hour co-host Jenna Bush Hager.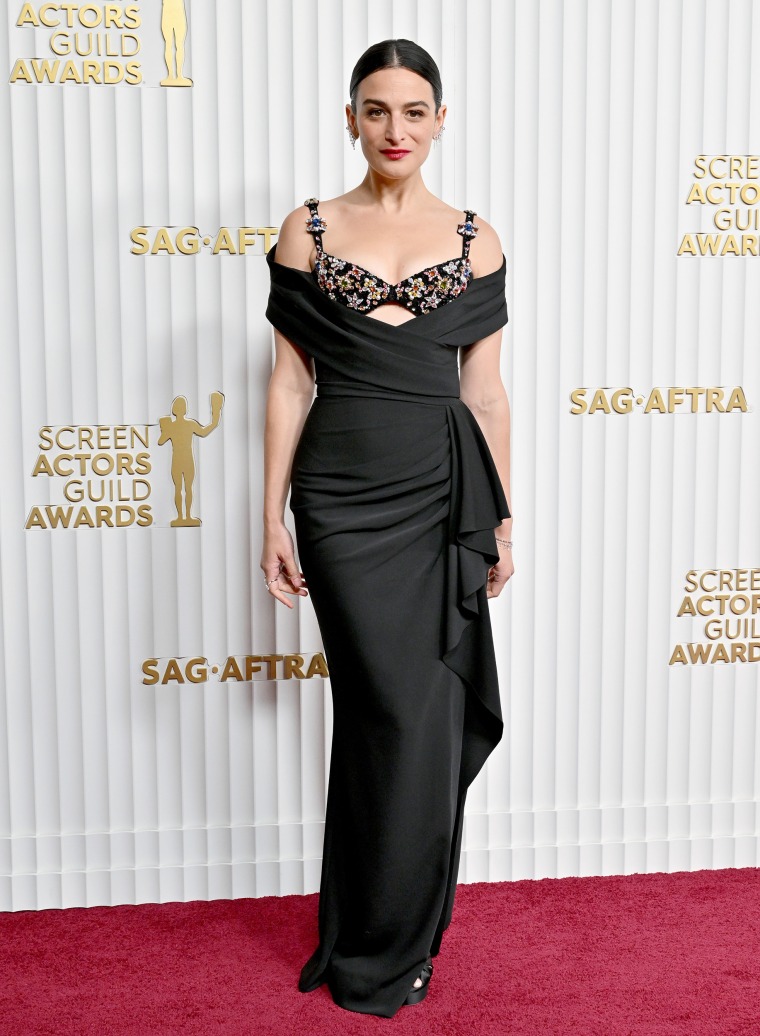 Explaining her expectations, Slate joked that she thought she'd be sipping on a glass of Champagne when someone would approach to say, "Miss Slate, your experience is about to begin."
Rather, she said the situation included more screaming and asking around for lip gloss or ChapStick, including to Mark Wahlberg. Once backstage, still amid the chaos, workers checked to make sure that everything was ready to go, including the correct envelope.
"I got really excited, but also scared," Slate said.
The 40-year-old and her "Everything Everywhere All At Once" castmates took home the SAG Award that night for outstanding performance by a cast in a motion picture. Slate played Debbie the Dog Mom in the decorated 2022 film.
She said the SAG Awards are especially meaningful, as "most of the people who won the awards are seasoned actors" who have a passion for their work.
"It just made me feel like, 'Wow, there's such a beautiful lifetime as a performer that I have ahead of me,'" Slate said. "I just felt so inspired and really, really grateful to be in the cast of 'Everything Everywhere All At Once,' and it was just really fun."
The actor isn't done with award shows either, as she prepares to hit the Oscars on March 12 for her starring role in "Marcel the Shell with Shoes On."
When asked about why her character, Marcel, seems to resonate with such a wide audience, Slate said she thinks that people "put themselves in Marcel's shoes."
"No pun intended, but he is having such a multitude of experiences and he's trying to navigate change," she said. "I don't think there's one person living who doesn't feel that."
Slate said Marcel's grandmother, Nana Connie, is inspired by her own grandmothers, one of whom shares the same name and the other mimics a related past.
"Nana Connie, in our movie, played by the incredible Isabella Rossellini, has a beautiful history, a deep, rich accent — much like my grandmother Rochelle, who was born in Havana, Cuba, and then moved to Paris and had just a beautiful accent."
The actor noted the importance of showing "our vibrant, vibrant family dynamics," particularly between a grandparent and a grandchild. "It's one that I live and love and it's a treasure," she added.