Michelle Yeoh and Jamie Lee Curtis thrilled fans Feb. 26 as they both won big at the 29th annual Screen Actors Guild Awards.
But no movie buffs were more excited for the "Everything Everywhere All At Once" stars than they were for each other.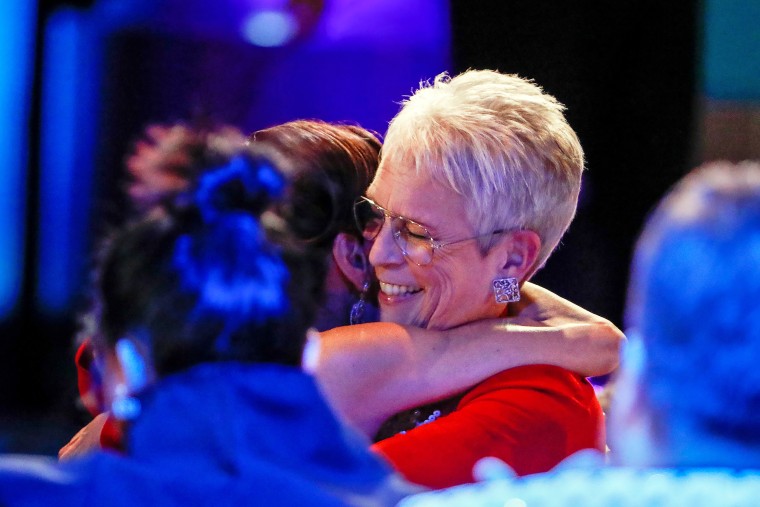 The SAG Awards, hailed as a predictor for the Academy Awards, saw Yeoh, 60, and Curtis, 64, nab awards for outstanding female actors in lead and supporting roles for their respective performances in the absurdist dramedy. And the duo launched a love fest for each other as soon as Curtis was called up to the stage for her moment in the spotlight.
Yeoh beamed and embraced her co-star and off-screen pal when Curtis was named the winner in her category, and then an overjoyed Curtis responded with a kiss on the lips for the leading lady.
Once onstage, the "Halloween" scream queen, who took a moment to joke about her "nepo baby" status as the child of Hollywood icons Tony Curtis and Janet Leigh, told the crowd that it was Yeoh's casting in "Everything Everywhere All At Once" that led her to accept her own part in the "weird" film.
It was clear she couldn't be more grateful.
"Michelle Yeoh, I love you, I love you, I love you, I love you," she said as her co-star shed a tear from the star-studded audience.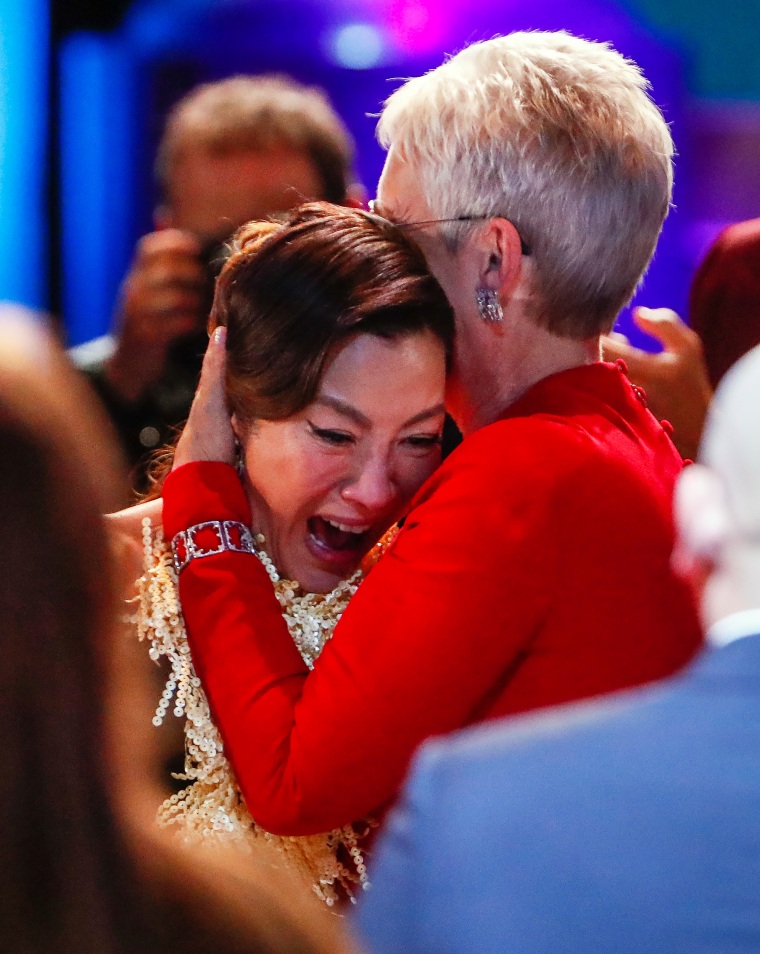 And the scene was much the same as the pair embraced again when it was time for Yeoh to accept her historic honor as the first Asian woman to win her category.
But despite all their warm regards and big support for one another, before the evening was over, the details were already a little fuzzy for one of the women.
When speaking to "Entertainment Tonight" backstage at the awards bash, Curtis was asked about the moment she locked lips with Yeoh, and she seemed as surprised to hear about it as others were to see it.
"I kissed her? Did I really?" she asked. "Well, I love Michelle Yeoh. I mean, we love each other."
However, to be clear, the smooch was strictly platonic.
"She's married," Curtis joked. "I met her husband in England. He's lovely. I also have a husband."
Yeoh and Curtis weren't the only "Everything Everywhere All At Once" winners at the SAG celebration. Daniel Kwan and Daniel Scheinert's film won for outstanding performance by a cast in a motion picture, and Ke Huy Quan won the award for male actor in a supporting role.