It's been nearly a year since Queen Elizabeth II died, and a handful of royal watchers honored her memory in a very special way.
About 20 people gathered Sept. 3 outside Buckingham Palace in central London for a mini parade of corgis, the breed of dogs that the late British monarch held dear to heart. Elizabeth was a dog mom to several corgis throughout her reign, two of which were survived, but kept within the family, after her death.
Outside the palace, the furry friends were dressed up in tiaras, crowns and royal garb, according to The Associated Press.
"I can't see a better way to remember her than through her corgis, through the breed that she loved and cherished through her life," the event's organizer Agatha Crerer-Gilbert told the AP.
"I can't still get used to the fact that she's not physically around us, but she's looking at us. Look, the sun is shining, I thought it would shine on us today," she added.
Fellow corgi owner Aleksandr Barmin agreed, adding that he can't believe that Queen Elizabeth, who died at 96, is really gone.
"It's a really hard feeling, to be honest ... it's really sad that we don't have (the queen) among us anymore," he told the AP. "But still, Her Majesty the Queen is still in our hearts."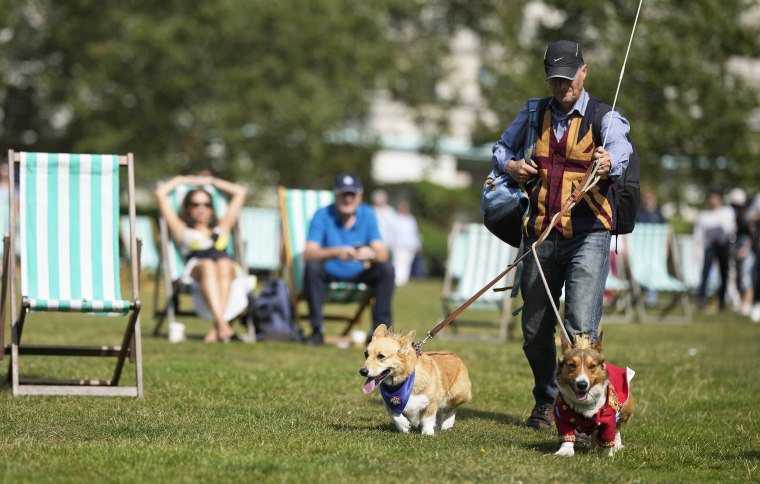 Elizabeth, who is Britain's longest-reigning monarch, received her own corgi named Susan after her late father, King George VI, introduced their first corgi, named Dookie, into the family in 1933.
Throughout her life, Elizabeth bred many dogs that descended from her beloved Susan.
After the late monarch died on Sept. 8, 2022, a source close to Prince Andrew, the queen's third child, confirmed that her corgis would move to his home in Windsor.
In October 2022, Sarah Ferguson, Duchess of York, gave fans a sweet update about the dogs when she shared pictures on her Instagram playing with the animals.
While speaking with The Telegraph, she said it was "a big honor" to bring the corgis into her home.