In the new Netflix docuseries "Harry & Meghan," Prince Harry and the former Meghan Markle share personal moments from their life — from their Instagram meet-cute to their nicknames for each other.
The documentary also provides peeks at the Duke and Duchess of Sussexes' family life in California, including footage of son Archie, 3, daughter Lilibet, 1, and their three dogs.
Here, we've gathered all of the never-before-seen family photos and intimate moments that are shared throughout the series.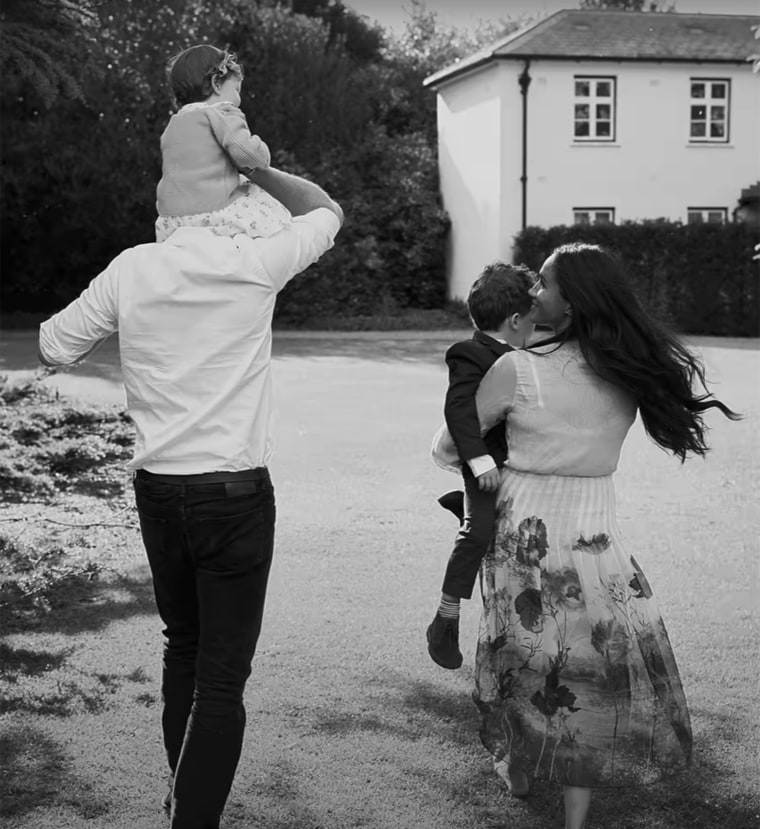 Meghan feeds chickens in their backyard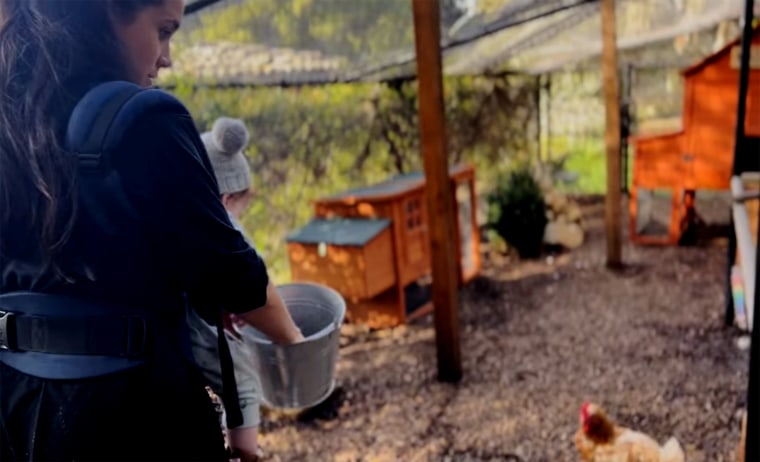 The first time their children are seen in the series, which was co-produced by the couple's own Archewell Productions, Meghan is carrying a baby on her chest while feeding the family's chickens.
Harry, Meghan and her mother celebrate Archie's birthday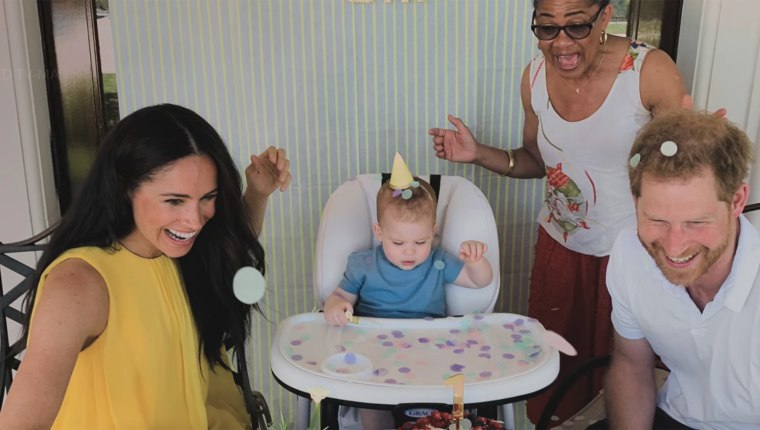 A picture of Harry, Meghan and her mother, Doria Ragland, in the first episode shows the family celebrating Archie's birthday.
Enjoying snow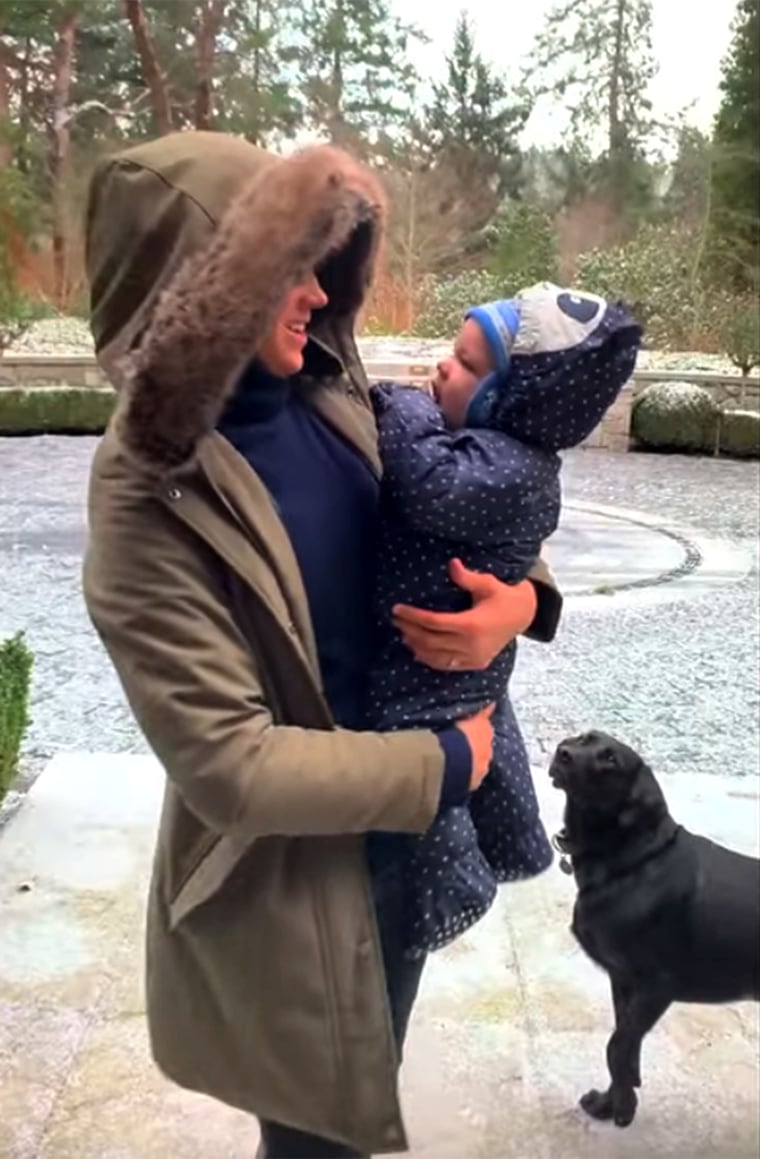 Toward the beginning of Episode One, Meghan goes outside with one of the babies in her arms.
"Look at the snow," she says.
"We've been really conscious of protecting our kids as best as we can and also understanding the role that they play in this really historical family," she says in a voiceover.
Going for a ride
Also in the first episode is footage of the prince pushing one of the babies around the house on a suitcase.
"Vroooom," Harry says as he holds the baby up.
"As a dad and as parents, I think consent is a really key piece to this," he says. "That if you have children, it should be your consent as to what you share."
Baby cooing at photo of Princess Diana
In the first episode, one of their children is seen babbling and staring at a picture of Princess Diana on the wall.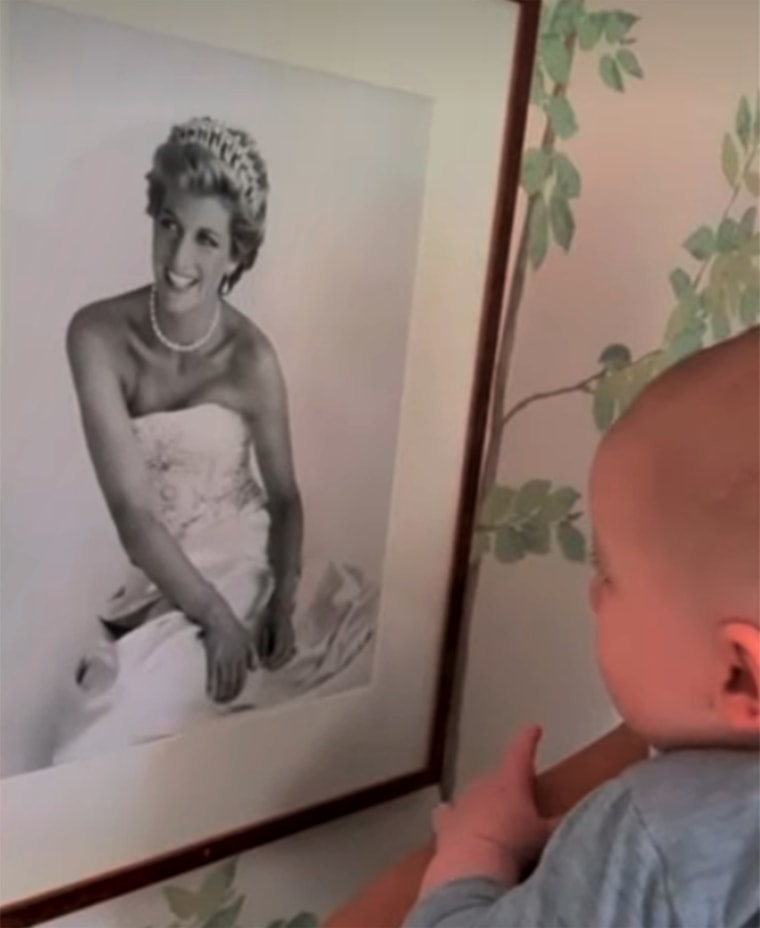 "Hey, Grandma," Meghan says with the baby in her arms. "That's your Grandma Diana."
Princess Diana's presence is felt throughout the docuseries and Harry mentions that her story affected some of his choices.
"I accept that they'll be people around the world who fundamentally disagree with what I've done and how I've done it, but I knew that I had to do everything I could to protect my family," Harry says in the documentary. "Especially after what happened to my mom."
Sweet baby kisses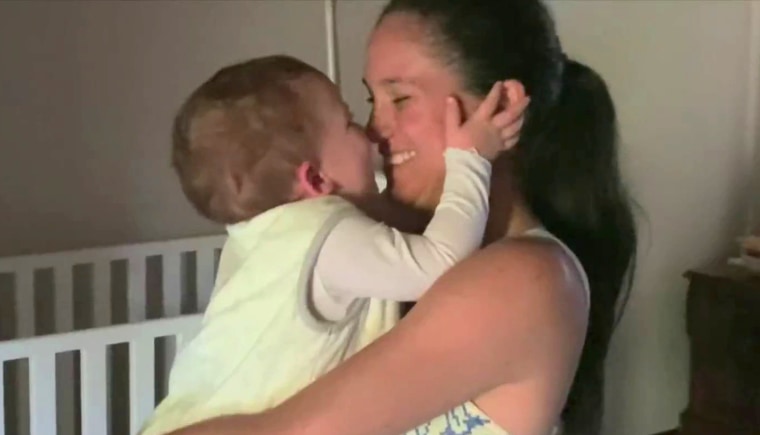 At one particularly sweet moment in the docuseries, Meghan is seen smiling wide while one of the babies grabs her face and gives her kisses.
Harry observing animals with Archie
In Episode Two, Harry and his 3-year-old son are standing on a balcony near a bird feeder that attracted hummingbirds, which for Harry, an avid bird watcher, was an incredible moment.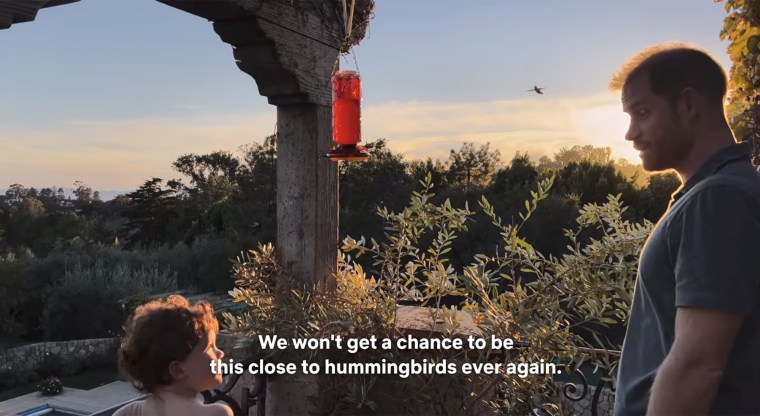 "We won't get a chance to be this close to hummingbirds ever again," Harry tells his son.
"Why?" Archie responds.
"Just watch," Harry tells him. "Because they're scared of humans. Look at them! Archie!"
"I got a dirty foot, Mama, because I was with you," Archie turns around and tells Meghan, prompting the parents to laugh.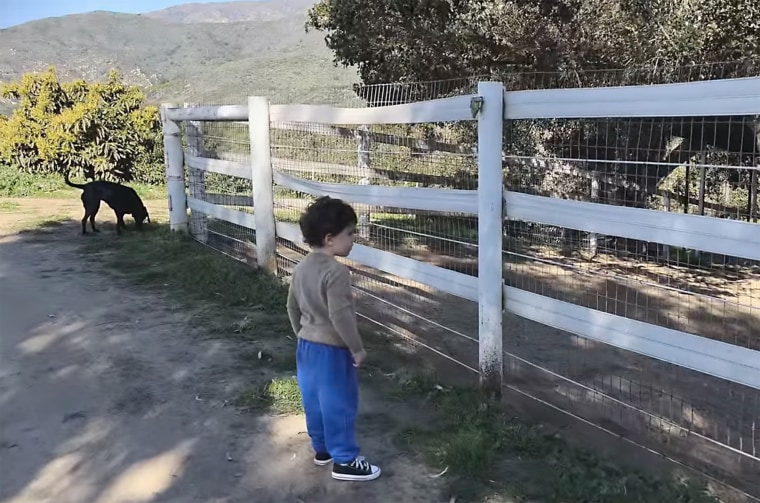 Harry reads to Lilibet
The docuseries shares a scene of Harry sitting on a white couch with Lilibet and reading her a book.
"What's that?" Harry says to Lilibet. "That is a centipede."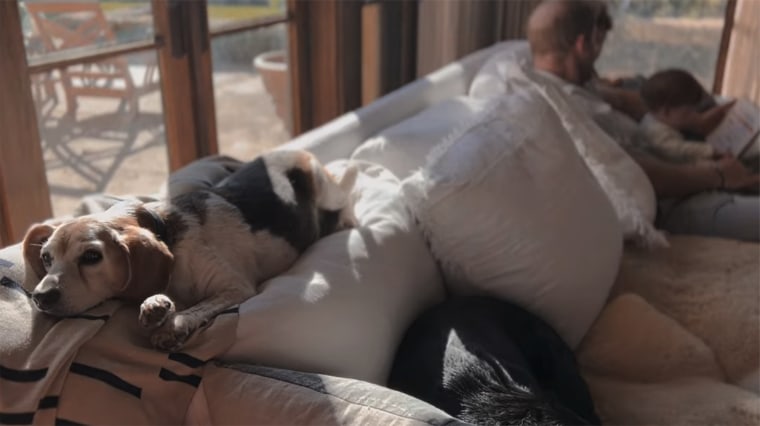 Archie gets a great view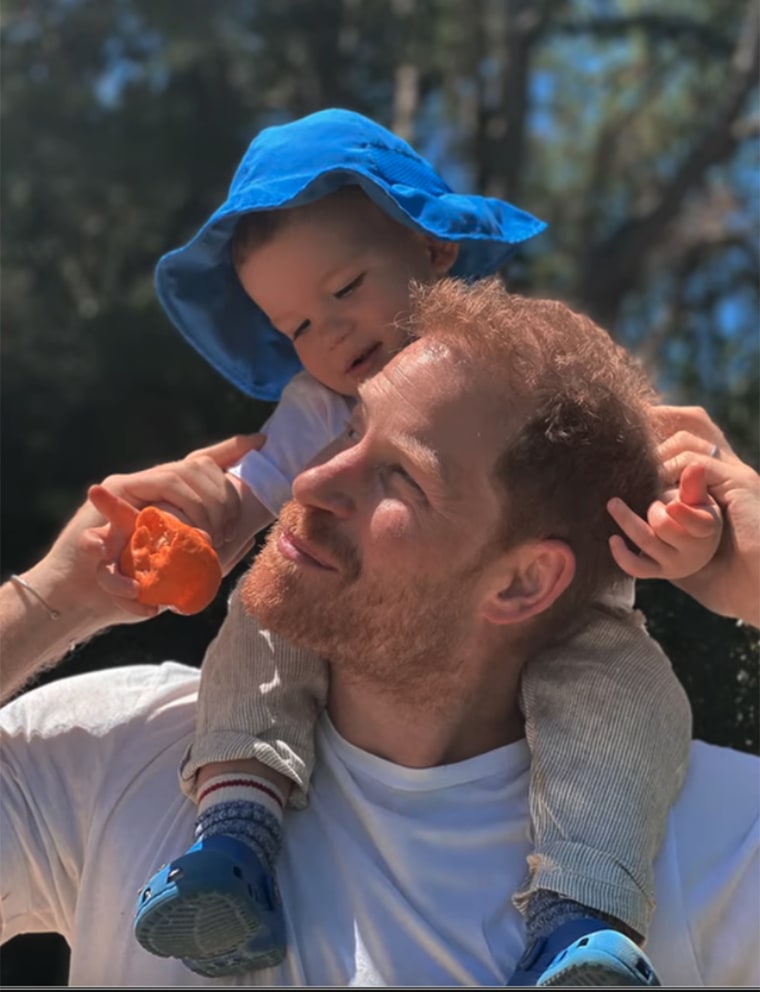 At one point, Harry shares that what's most important for him and Meghan is making sure they don't repeat the same mistakes their parents made.
"I think it's such a responsibility as human beings that if you bring a small person into this world, that you should be doing anything you can to make the world a better place for them," Harry says.
For Meghan, whose parents were also divorced like Harry's, that means being able to provide her kids with a stable home. During the episode, she recites a poem from memory that she wrote at age 12 about what it felt like growing up in two households.
"There's so much, I think, from anyone's childhood that you bring with you into the present," Meghan says while a picture of Archie on Harry's shoulders is on screen.
Archie with his nanny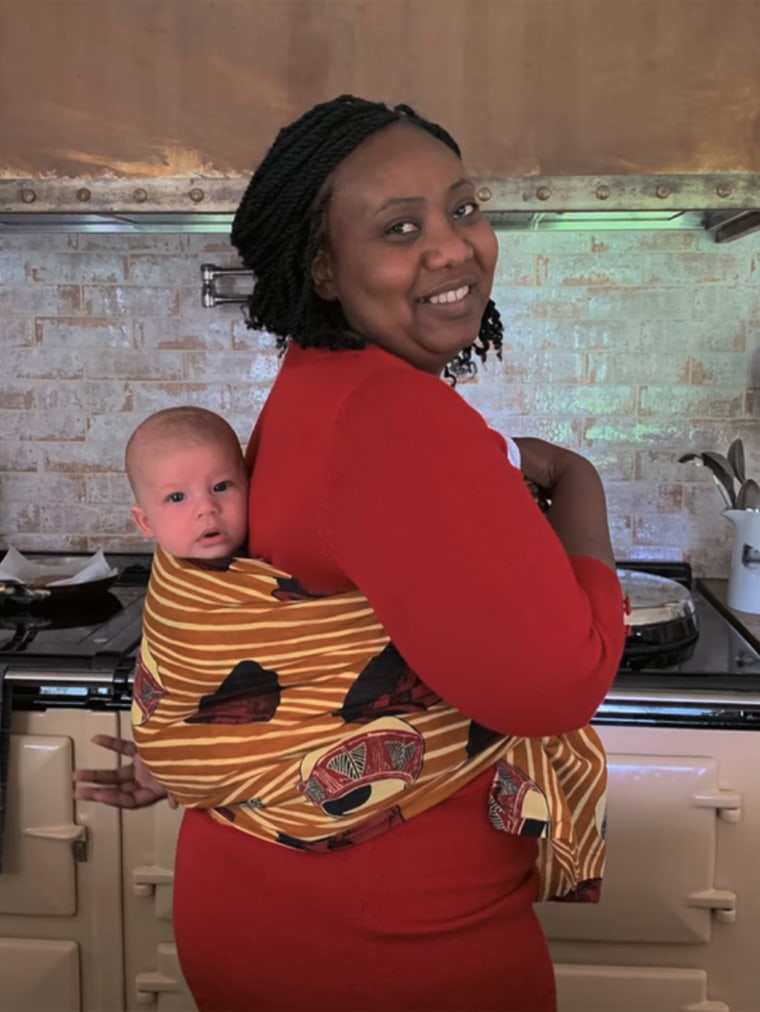 The Netflix documentary included an interview with Lorren Khumalo, Archie's former nanny, who played an important role in the family.
"(Lorren) said, 'Is it OK if I, like, tie him on my back with a mud cloth like we do in Zimbabwe?'" Meghan recalls, saying she answered, "'Yes! Let's do that!'"
Meghan's second baby bump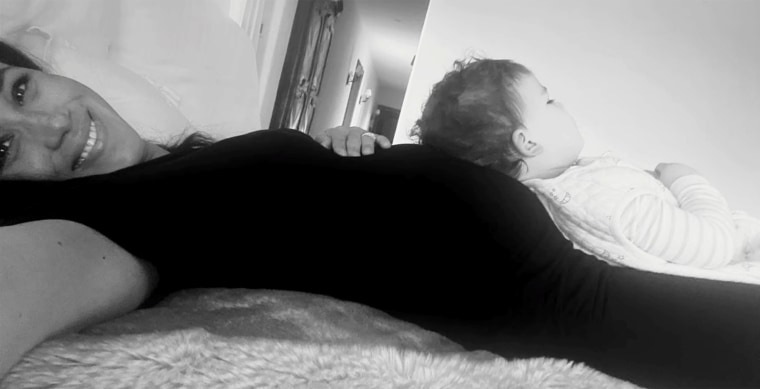 The duchess shares this sweet selfie of Archie resting on her baby bump while she was pregnant with Lilibet.
Time for a family walk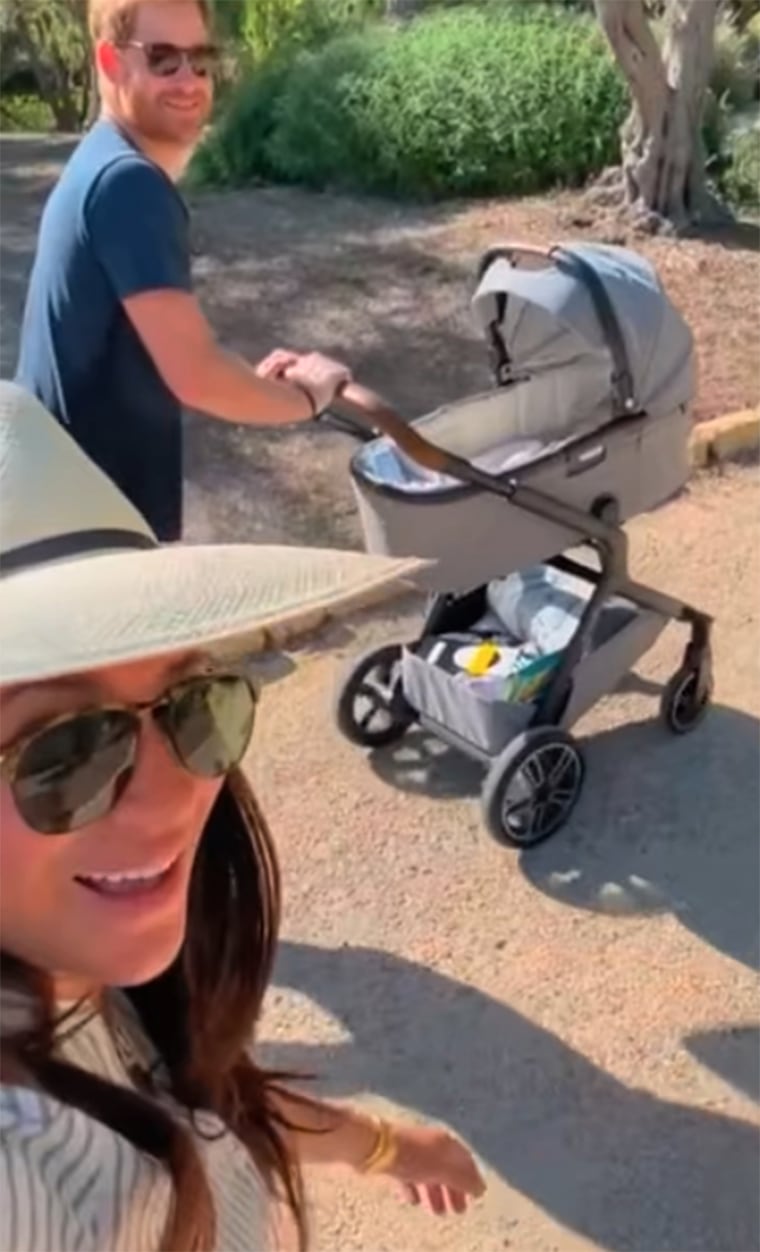 The royal couple shares snapshots of several candid parenting moments throughout the documentary, including this picture of Prince Harry pushing a baby carriage.
Cuddling under the umbrella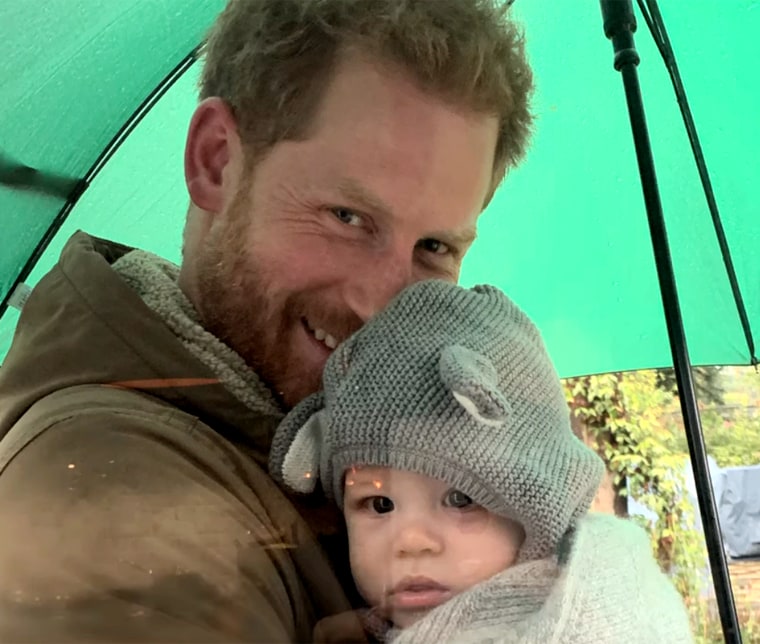 Prince Harry cradles Archie, who is seen sporting a cute outfit with knitted gray ears, in this darling moment.
Archie's bath time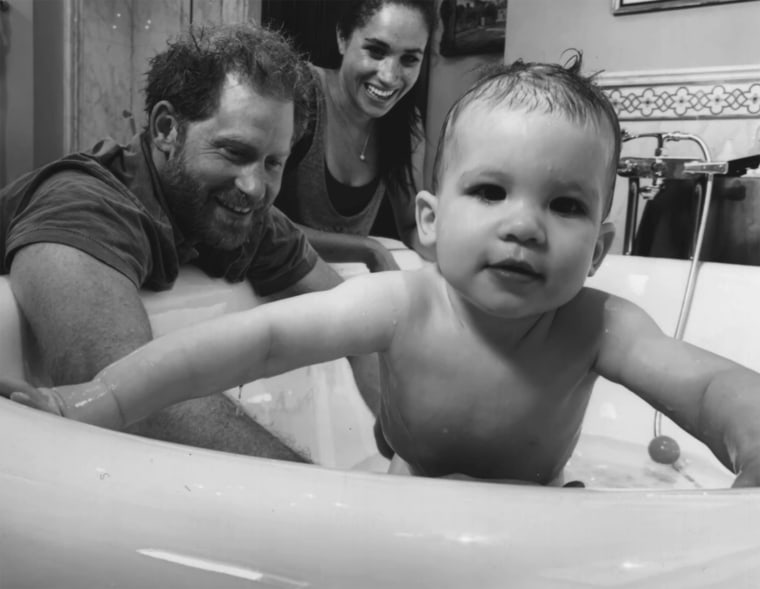 The second half of the docuseries included a cute pic of Archie having a bath.
Mealtime moment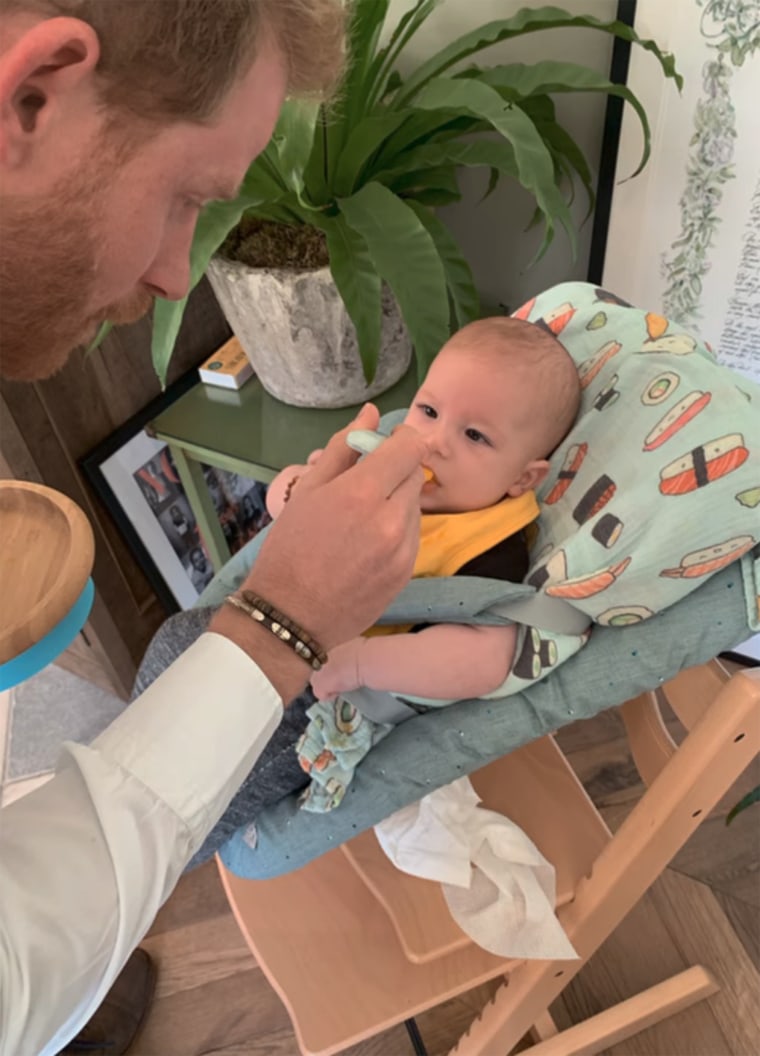 Archie gets a spoonful of food in one cute moment from the Netflix doc.
"Dear baby"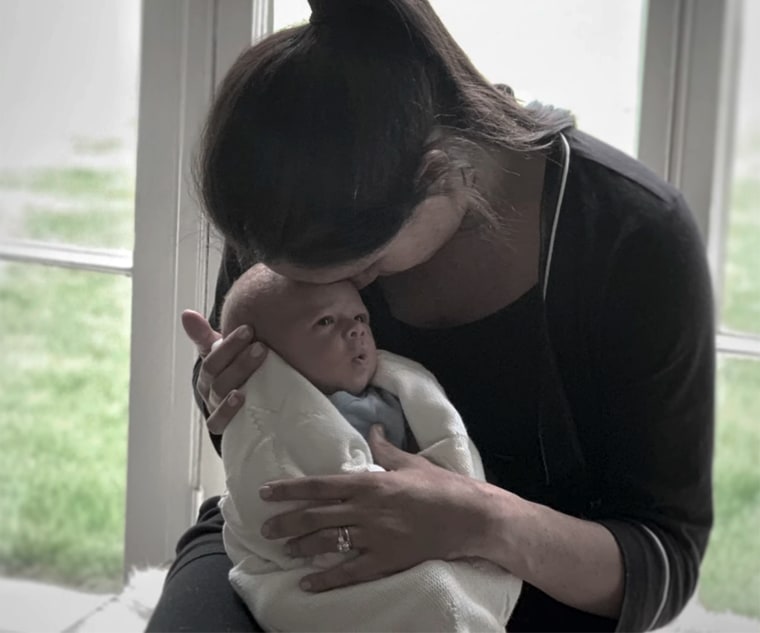 Meghan holds baby Archie in this sweet photo from the second half of the documentary.
She also opens up the excitement she and Harry felt when they found out they were expecting.
"We started journaling right when we found out we were pregnant," she says. "It was just, 'Dear Baby, we're so excited to meet you one day.' We'd take little snapshots and stick them in the journal. 'Here's an announcement that went out about you today!'"
Corn maze hugs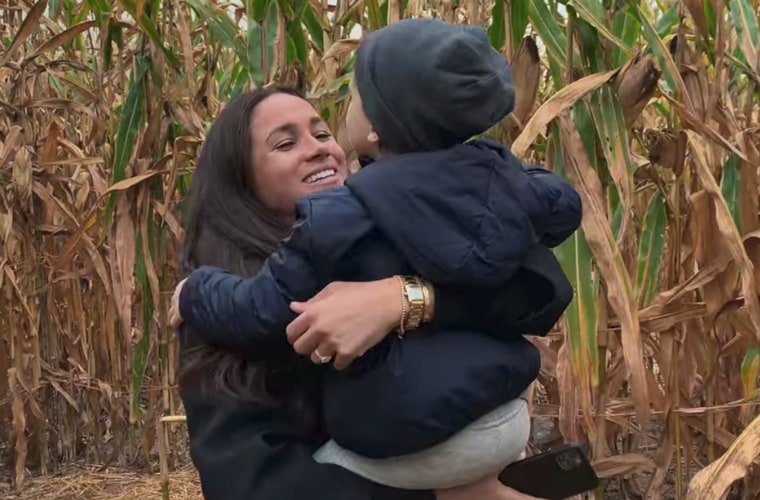 The second half of "Harry & Meghan" opens with Archie running through a corn maze, and his mom scoops him up in her arms with a smile.
Archie's giggle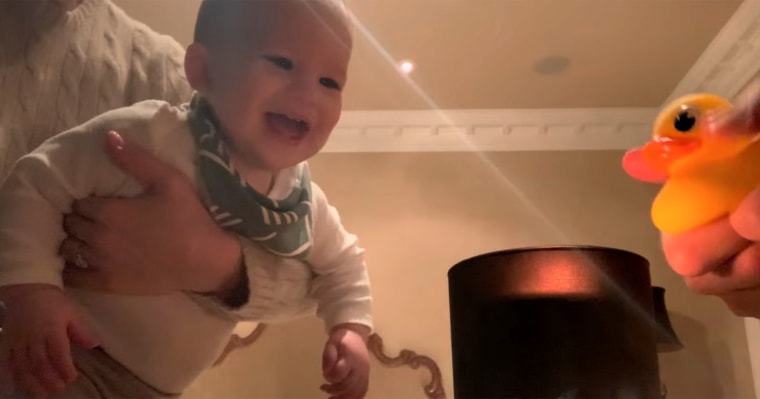 In this cute clip, Archie laughs as someone blows out a candle with some help from a rubber duckie.
Snow day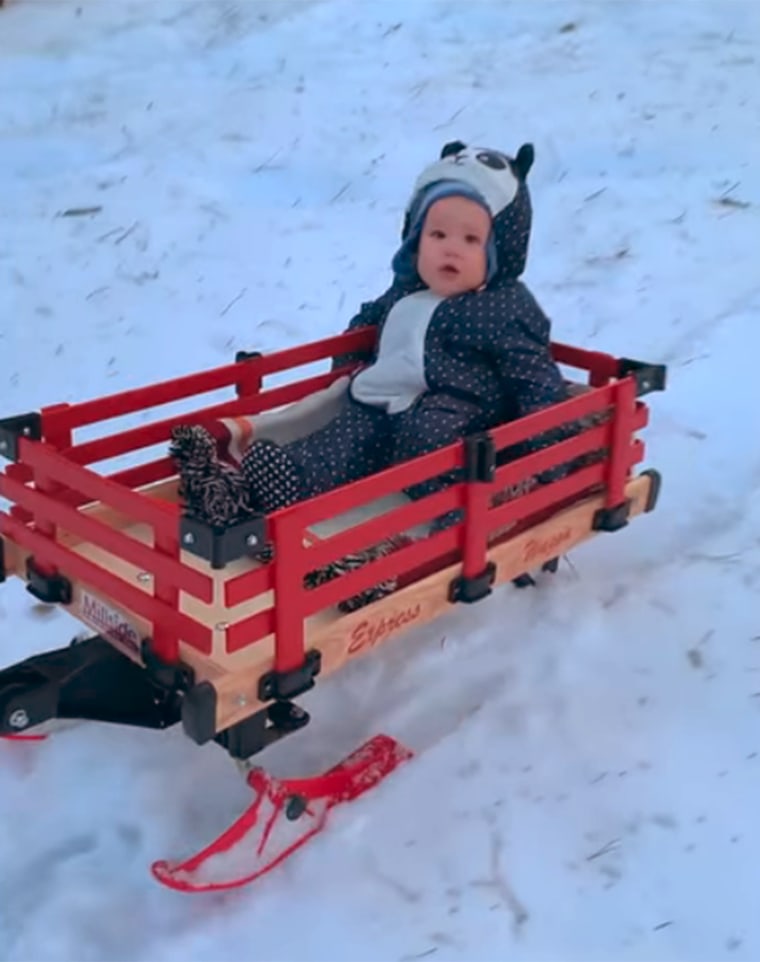 The duke and duchess share this adorable pic of one of their babies is bundled in a snowsuit and being pulled along in a red wagon.
Picking oranges with dad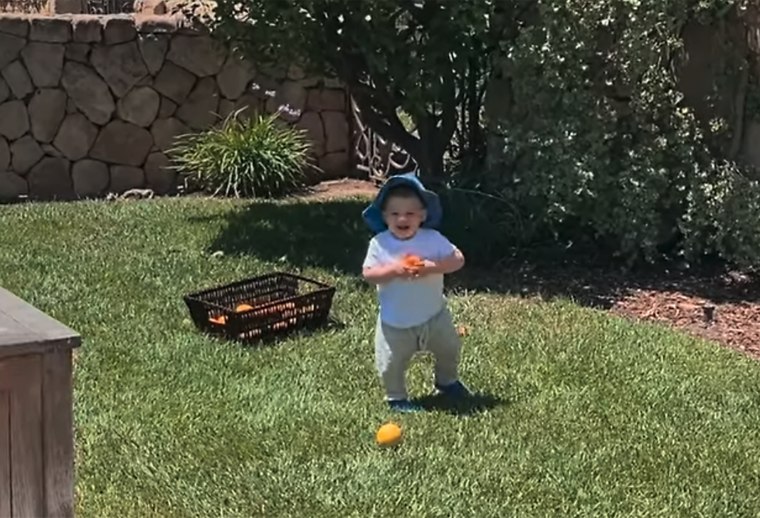 In this adorable instance, Prince Harry picks oranges on a ladder and throws them down for Archie to collect and put in a basket.
"This is the world that he knows," Harry says at another point in the documentary. "He spent his first five months in Windsor, that was it. This is home to him, this is home to Lili and this is our home."
Water games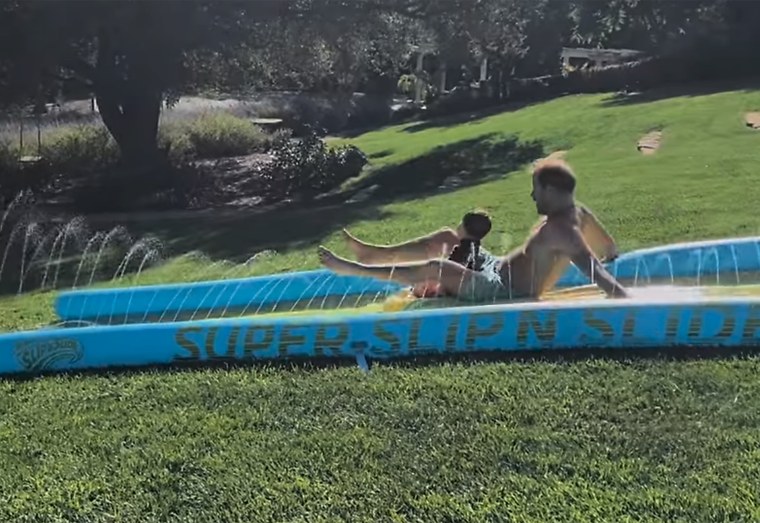 Harry and Archie slide down a water toy on what looks like their home lawn.
"The world that they see is how I would love the world to be," Prince Harry says in the documentary, reflecting on the life his family has built in California. "They don't need to worry about the things that we worry about."
Baby Lili sleeping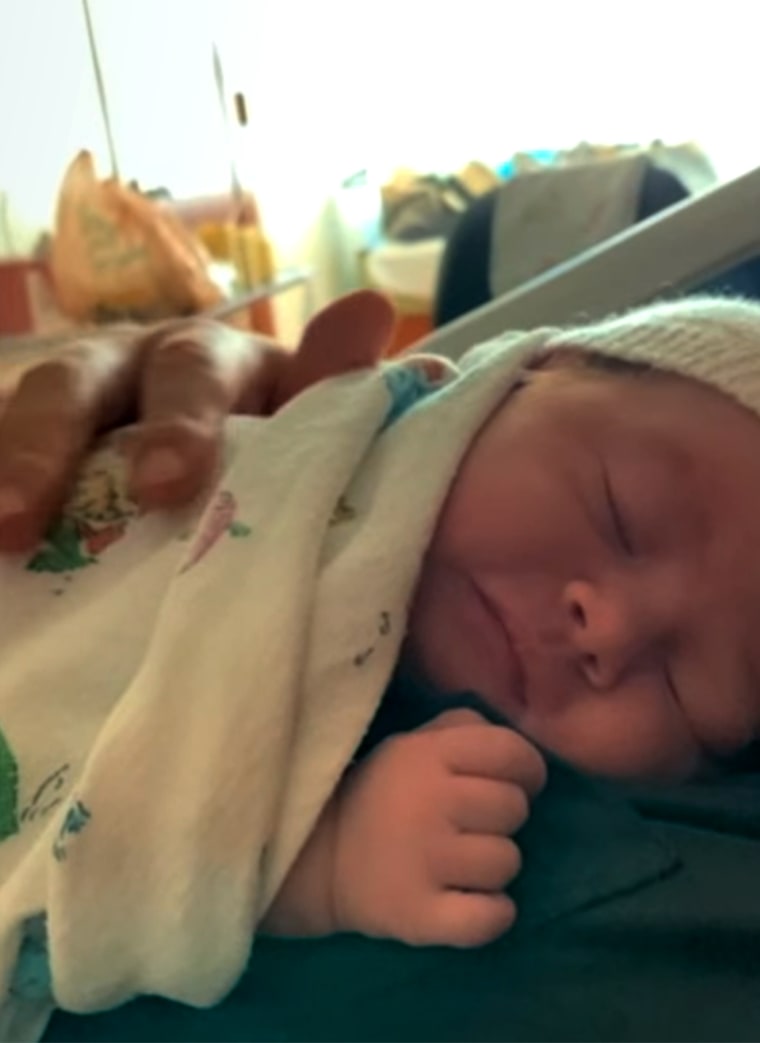 The docuseries includes precious footage of Lilibet sleeping on Meghan's chest and Harry shares a few thoughts on family resemblances.
"I think at the moment, I see a lot of my wife in Archie, I see a lot of my mum in Lili," Harry says. "She's very Spencer, like, she's got the same blue eyes … sort of like golden reddish hair."
Harry's loving moment with Lili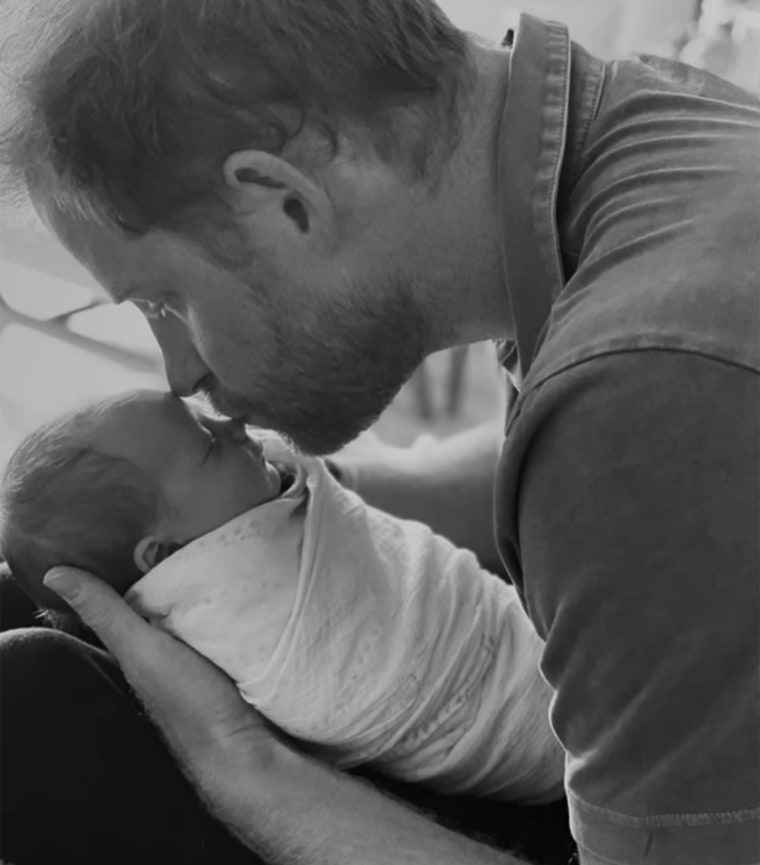 The prince shares a beautiful moment with baby Lili in this black-and-white still from the documentary.
All wrapped up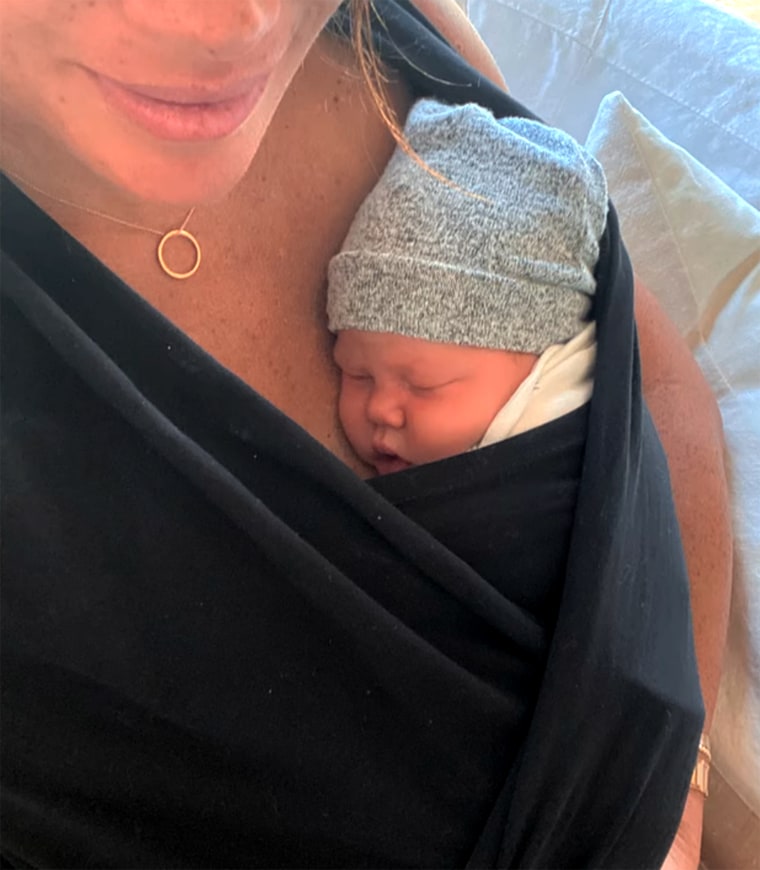 Meghan holds Lilibet close in this intimate photo shared in the documentary.
"Part of what's beautiful here is the freedom to have family moments out in the world, and I want our kids to be able to do that and to be able to travel and to fall in love," she says near the end of the six-part series. "You know, I just want them to be happy."
Lili in a custom onesie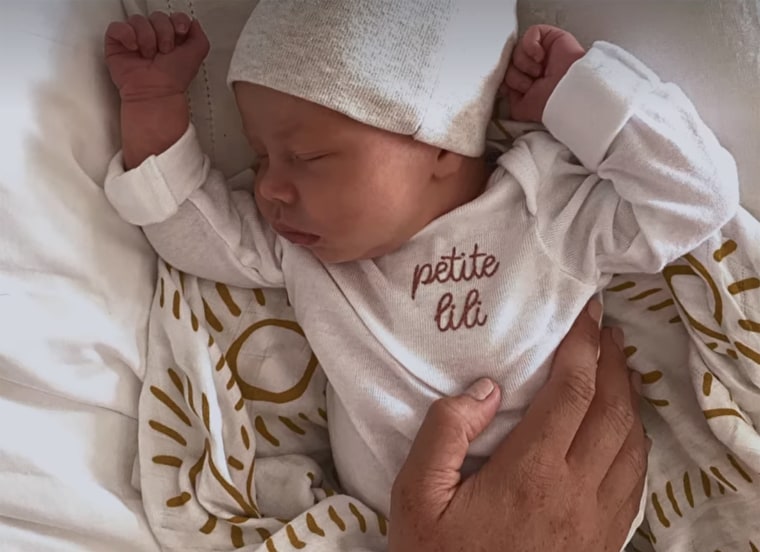 Lilibet sports an adorable outfit printed with the words "Petite Lili" in this photo shared in the documentary.
Archie plays piano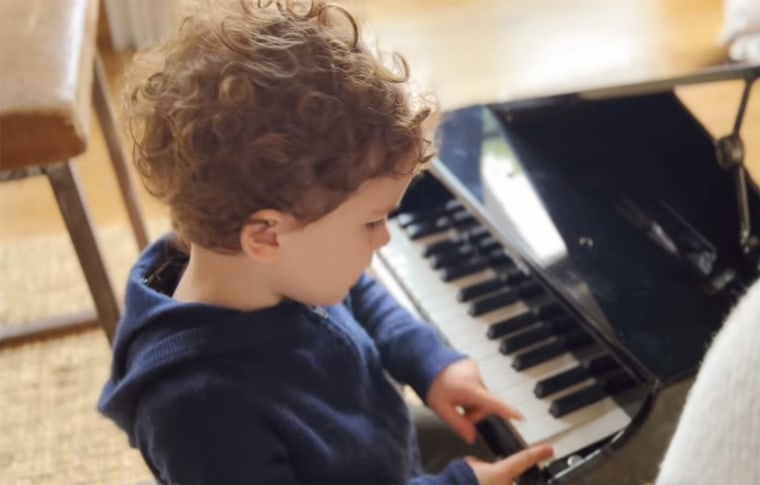 Archie shows off his musical skills in one cute moment from the documentary.
Lili's 1st birthday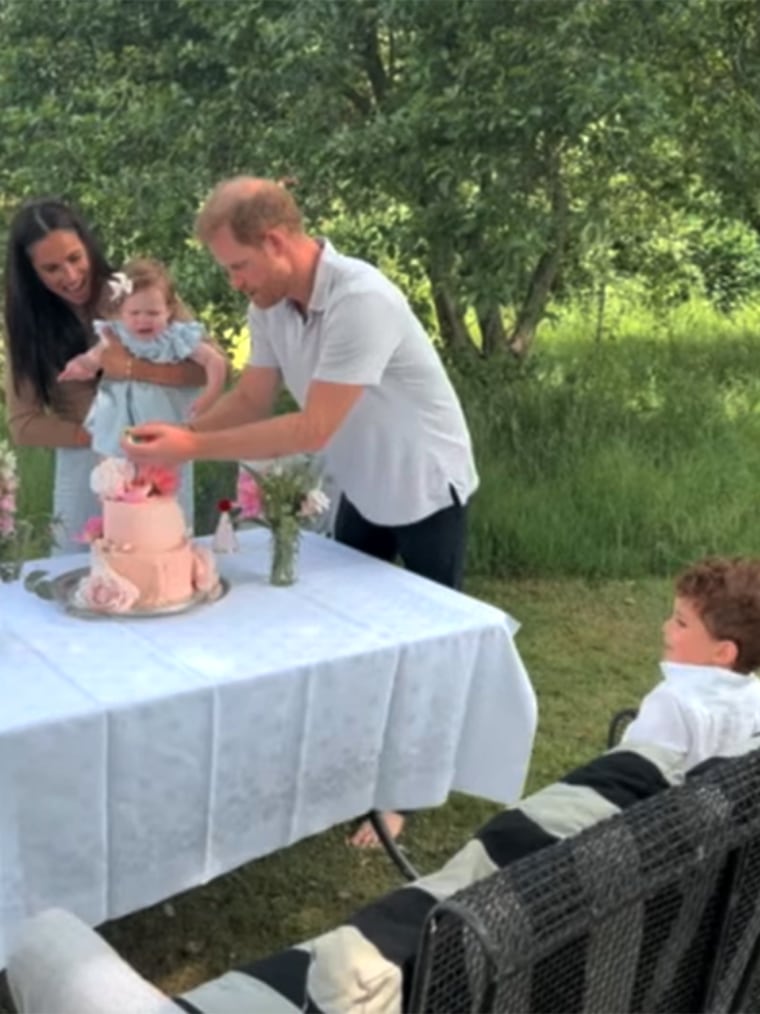 At one point in the series, the couple shows Lili her first birthday cake as Archie looks on from a nearby chair. A moment later, he comes over and helps his little sister blow out her candle.
Reading on the sofa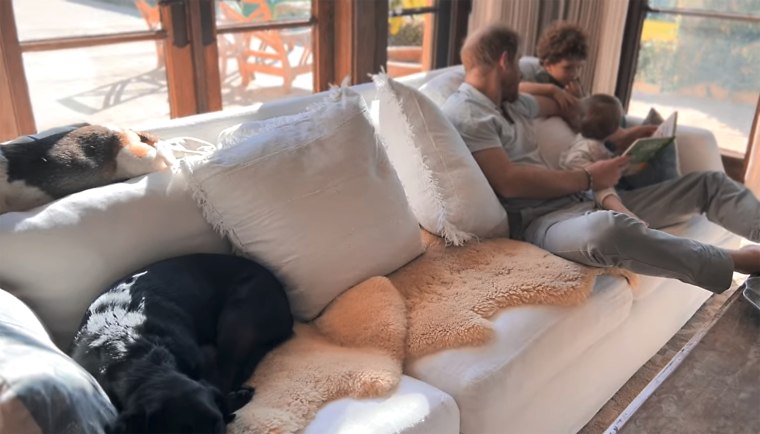 Prince Harry snuggles with both kids on the sofa as he reads them a storybook.
"One of the things we connected on really early was, you always had wanted to be a dad, and I'd always wanted to be a mom," Meghan says of herself and Harry.
Archie spends time with Meghan's niece, Ashleigh Hale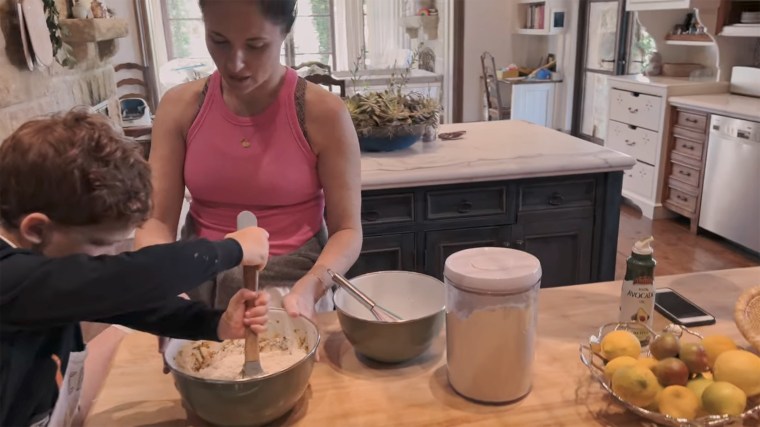 Volume II of the docuseries reveals that Meghan had reconnected with her niece, Ashleigh Hale, after feeling pressured to not invite her to the wedding.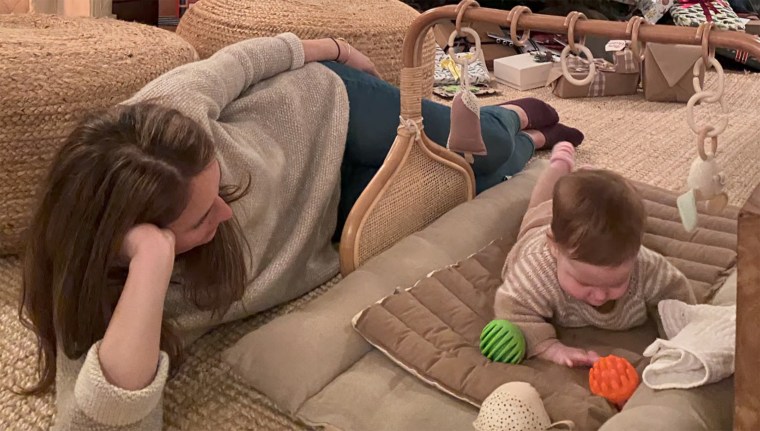 Hale shares that she is grateful to be involved in Archie and Lili's lives.
"So just kind of to experience them growing up, feeling like I'm in their life for that, has been really good," she says.
Visiting the garden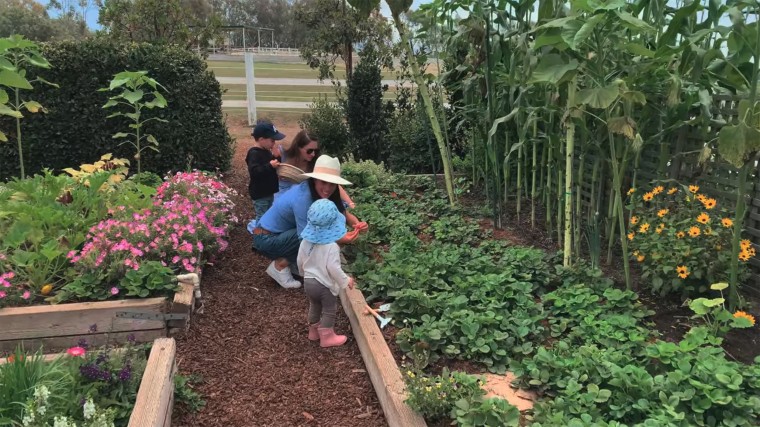 Both Archie and Lili take a stroll through what appears to be the couple's own garden in this cute family picture.
Harry and Archie play together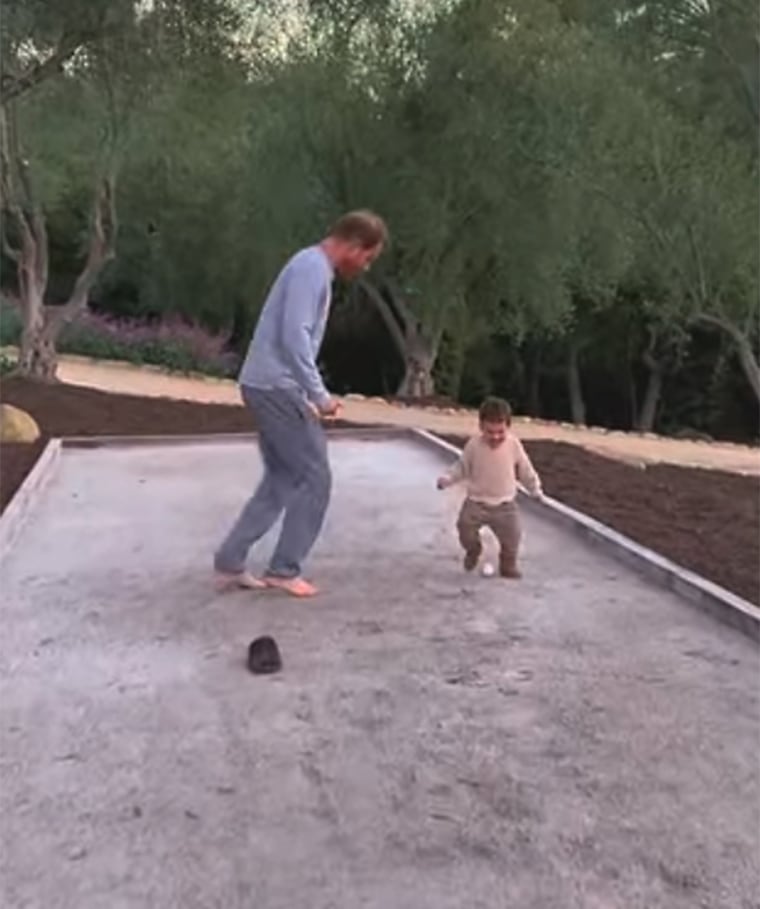 The documentary shows a more intimate, relaxed side of the royal couple, including this cute moment when Harry plays barefoot with his son.
Related: