Growing up, I always felt different. I didn't want anyone coming over to my house to play, worried they'd think there were weird smells coming from the kitchen. My grandma might offer them a strange snack. I didn't want the questions about why we didn't wear shoes in the house, or to have to explain the reason my grandma and aunts and uncles all lived with us.
Tired of being asked whether I can see, or having kids pull their eyes back in an effort to slant their eyes, I remember standing in front of the mirror with scotch tape, trying to make my eyes look bigger. I would have done anything to not be Asian. 
These are the things I never talked about — certainly not with my family. 
But decades later, I am not that same person. I have found my place, my voice, my sense of belonging. 
That's thanks, in part, to motherhood. It would crush me to think of my 11-year-old daughter walking around with all the shame and loneliness that I carried. We have an open dialogue about everything and anything. 
My daughter, Claire, is so confident in who she is. She's given presentations at school about Tet, also known as the Lunar Year. She can't wait to visit Asia. She's obsessed with anime and would love to go to Japan. (As a kid, I wanted to go to Paris and London). She has worn the traditional Vietnamese ao dai to class and likes using chopsticks with her leftover noodles or rice for school lunches. All things that would've had me wincing. She's even willing to learn Vietnamese phrases and tries to teach her dad, who is Cuban American. In fact, she makes fun of him for incorrect pronunciation. "Papa, that's not right," she'll scold, as she giggles. "He's saying it wrong, Mom."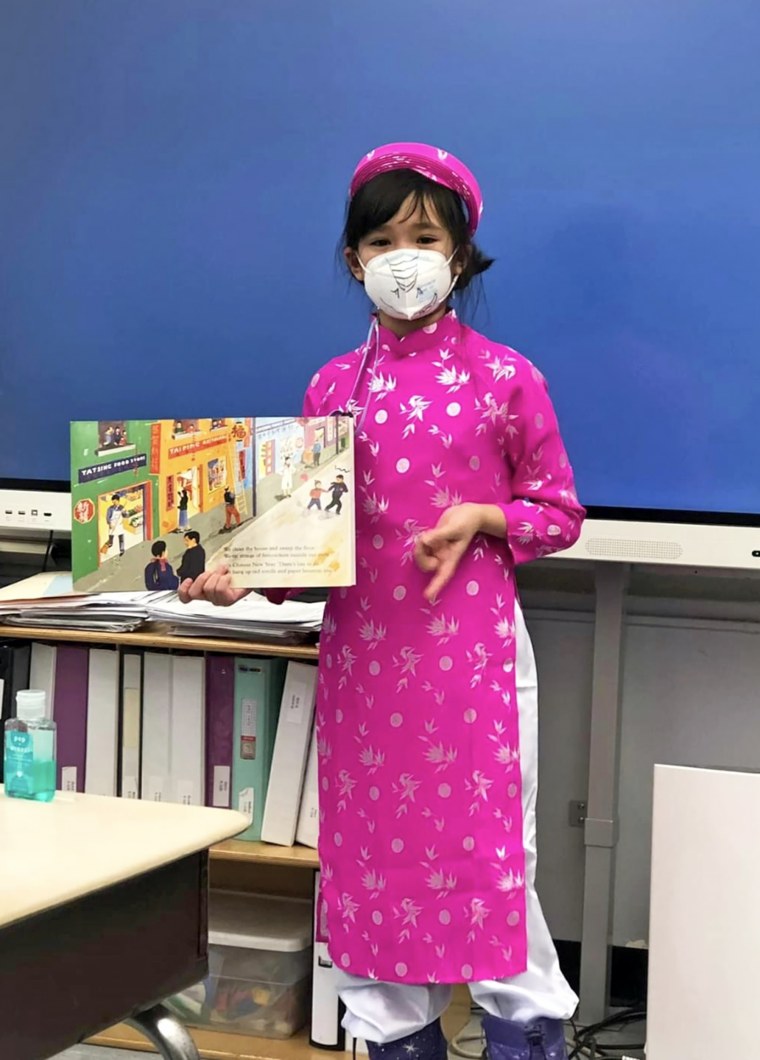 The world is a different place today. We celebrate diversity and pride in our cultural richness and traditions. We're allowed to fully embrace all parts of us. For the longest time, I just wanted to be a journalist, but I've come to realize that being a woman, a mom, a wife, a product of immigrant parents and a Vietnamese American, all shape the person that I am. It's what makes me whole, and you really can't separate the parts. 
I am also being seen and heard. Not just me, but the Asian American Pacific Islander community as a whole. 
A big part of that is seeing stories told by people who look like me, with stars that look like my family members.
Everyone has been talking about Netflix's "Beef," starring Ali Wong and Steven Yeun. Mindy Kaling's final season of  "Never Have I Ever" is coming to  Netflix, and Disney +'s "American Born Chinese," featuring Ke Huy Quan and Michelle Yeoh, will soon be available. On the big screen, "Joy Ride," an all-Asian-girl comedy, hits theaters in July. On Broadway, "Here Lies Love" opens in June — all of the principal roles are Filipino. Readers loved Min Jin Lee's "Pachinko" and Jenny Han's "To All The Boys I've Loved Before." Both turned into successful series on Apple TV+ and Netflix, respectively.  
When "Crazy Rich Asians" came out in 2018 — the romantic comedy directed by an Asian American, Jon M. Chu, with an all-star Asian cast including Michelle Yeoh, Constance Wu and Henry Golding, and based on a popular book written by an Asian author, Kevin Kwan — I was nervous and excited. Please be good, please be a hit.
Seeing it on the big screen, I was caught off guard by how emotional I was. I choked up seeing someone who looked like me, seeing families looking and doing things like mine. Simple things. Characters using chopsticks, eating foods I ate. Seeing elements of my culture on display on the silver screen brought me joy.
I went back to the theater over and over again. And I loved that the film didn't just serve an Asian audience. Everyone could relate to its themes. It turned out to be a mega hit, striking box office gold worldwide.
But any hope for change came to a screeching halt when the pandemic hit. As everyone worried about their health, Asians everywhere also questioned their safety and security after being blamed for the coronavirus. President Trump called the virus "Wuhan flu" and "Kung flu." Viral videos surfaced of Asians being attacked and beaten, some with deadly consequences. 
According to STOP AAPI Hate, almost 11,000 acts of hate against Asian Americans and Pacific Islanders were reported between March 2020 — the start of the COVID-19 pandemic — and December 2021. The Center for the Study of Hate and Extremism reported that anti-Asian hate crimes increased 339% nationwide in 2021, compared to 124% the year before. 
If there is a silver lining to that dark period, it's the signs of progress. Three years later, our community is heading into a golden era for change. There's a palpable sense of activation, activism and awakening. For too long, we've been bound by our cultural inhibitions. Don't make waves. Don't get noticed. Keep your head down. Keep quiet. But during this hateful period, we started using our voices, speaking out, standing up to the hate and the violence. Several AAPI-run nonprofits, including Gold House, The Very Asian Foundation and The Asian American Foundation have risen to prominence for their work advocating, advising and aiding the AAPI community.  
Stars like Michelle Yeoh and Ke Huy Quan have served as ambassadors for this newly found Asian pride. Having pride in yourself and your culture doesn't have to come at a cost to anyone else. It's not saying you're better than anyone else, but that you've earned a seat at the table. Yeoh and Quan became international household names for their roles in "Everything Everywhere All at Once," a movie with an Asian-led cast that generated much buzz during awards season. Every time Yeoh or Quan took to the podium and accepted an award, I found myself getting misty-eyed. Finally, someone who could be my sister, brother, auntie, uncle, cousin. My friend. 
My Asian pride swelled to an all-time high during this year's Oscars. Yeoh took home the best actress award as the first Asian woman to win, and Quan walked away with the Oscar for best supporting actor. At one point, #OscarsSoAsian was trending. Their wins had me cheering and crying all at once. We're talking ugly crying. My daughter didn't get it. "Mom, why are you crying?" she asked. I tried to explain to her why I was so emotional — why this mattered so much — and all I got was an eye roll and this response: "They're on the TV all the time."  
She froze me. In her lifetime, it has gotten better. She is not the same kid I was, too embarrassed to invite friends over to play and show off who I was, too ashamed to be honest, let alone proud, of my Asian American identity. She wears her identity openly.
So today, I'm hopeful my 6th grader is right — that seeing Asian faces on the screen, stage and in books, really is no big deal at all.