Michelle Yeoh just became the first Asian actress to win the academy award for best actress.
She took the stage on Sunday night very emotional and began her speech with a shoutout to people watching her win the coveted award, inspired by what she accomplished.
"For all the little boys and girls who look like me watching tonight, this is a beacon of hope and possibilities. This is proof — dream big and dreams do come true," Yeoh said. "And ladies, don't let anybody tell you you're ever past your prime."
"Never give up," she said, as her cast members cheered in the audience.
The Academy Awards have been given out since 1929 and Yeoh is only the second woman of color ever to win the award. Halle Berry was the first, after taking home the award for her role in 2001's "Monster's Ball."
Yeoh thanked the team behind the film and dedicated the award to her mother.
"I have to dedicate this to my mom, to all the moms in the world, because they are really the superheroes," she said. "Without them, none of us would be here tonight."
Yeoh added that her mother is 84 and she will be taking the famous statuette home to her in Malaysia.
"Thank you to the academy, this is history in the making!" she concluded her speech.
In the film, Yeoh plays Evelyn Quan Wang, a mother who runs a struggling laundromat and has fraying relationships with her husband and daughter. Then, she learns that the universe is at risk and only she can save it.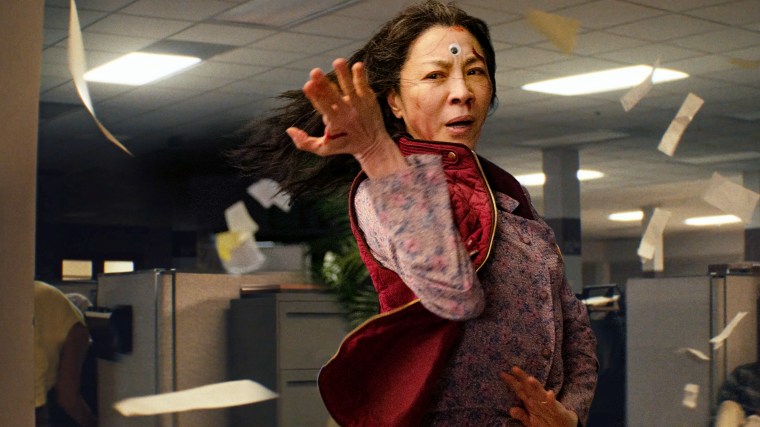 In total, "Everything Everywhere All At Once" won seven Oscars on Sunday night. In addition to Yeoh's win as best actress, the film took home awards for including best picture, best director, best editing, best supporting actor, best supporting actress and best original screenplay.
Yeoh's speech echoed that of her costar, Ke Huy Quan, who cried earlier in the evening accepting his award for best supporting actor.
"They say stories like this only happen in the movies. I cannot believe it is happening to me. This is the American dream," he said, giving his 84-year-old mother watching at home a shoutout.
"Mom, I just won an Oscar," he exclaimed.
Quan, 51, originally rose to fame decades ago in "Indiana Jones and the Temple of Doom" and "Goonies." He then faded from the spotlight but said his wife encouraged him to keep following his dreams, saying "one day my time will come."
"Dreams are something you have to believe in. I almost gave up on mine," he said, encouraging others to never stop believing in themselves. "To all of you out there, please keep your dreams alive."
In January, Yeoh also won a Golden Globe for best performance by an actress in a motion picture. In her speech, she noted that portraying a woman fighting for her family had resonated with her in this role.
"I was given this gift of playing this woman who resonated so deeply with me and with so many people because, at the end of the day in whatever universe she was at, she was just fighting. Fighting for love for her family," Yeoh said. "And this is also for all the shoulders that I stand on, all who came before me who look like me, and all who are going on this journey with me forward. So thank you for believing in us."