Before Taylor Swift and Travis Kelce cozied up together during a whirlwind few days in New York City last weekend, another "momentous" moment happened: The pop star met the tight end's dad, Ed Kelce.
When Swift attended the Kansas City Chiefs game against the Denver Broncos on Oct. 12, she and Ed Kelce were seen during the broadcast laughing together while watching the game from a luxury box.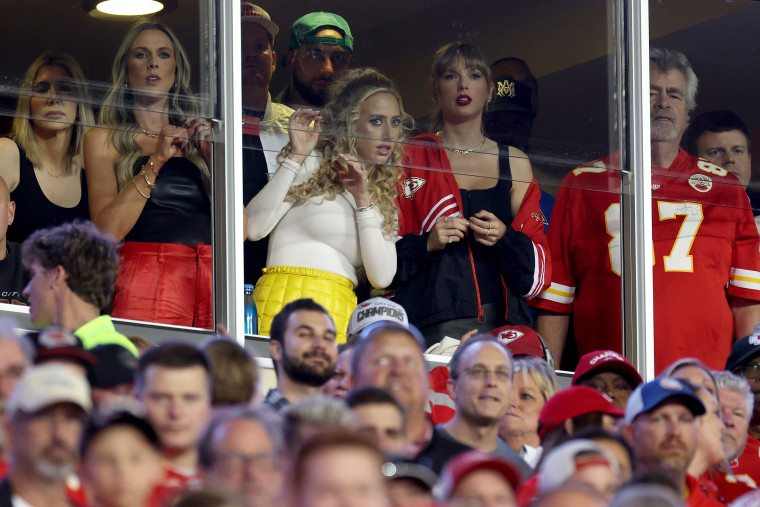 During this week's "New Heights" podcast episode, which Travis Kelce hosts with brother Jason Kelce, the duo addresses the latest familial interaction — jokingly giving their dad a hard time.
"This is a terrifying conversation," Travis Kelce said at the thought of his dad talking to Swift. "I felt terrible. I felt terrible for Taylor."
Jason Kelce added, "If you hear Dad talking to anybody and you can't hear what's happening, who knows where that conversation's going."
The Chiefs star then took the conversation into a more positive direction, saying the two have the "best f--- dad in the world."
"It was nice because Mom has been getting quite a bit of the spotlight, so it was cool to see dad on the Jumbotron or on the TV for a little bit," the Philadelphia Eagles center says.
Looking at a photo of the two of them chatting, Travis Kelce said his dad was "just absolutely pumping her up," adding, "He started listening to her music a little more. He started doing some stuff."
Jason Kelce joked, "He's probably saying, 'I've taken all of your CDs out at the local library and I burned them into my computer, because that is legal as a taxpaying citizen.'"
After much laughter back and fourth, Travis Kelce finally thanked his dad for "not making me look bad."
This isn't the first time Swift has enjoyed a Chiefs game accompanied by the Kelce family.
On Sept. 24, Swift watched the Chiefs-Chicago Bears game sitting next to Donna Kelce, as the two were spotted chatting and laughing together.
"I mean, I think the secret's out," one NFL commentator said over the clip, referring to the rumored relationship between Swift and Kelce.
While visiting Studio 1A for her TODAY appearance Oct. 6, Mama Kelce would hardly give co-anchors Savannah Guthrie and Hoda Kotb an inch when they inquired about the possible romance.
"It's fairly new, so I don't like to talk about it," she said at the time. "It's just one of those things where you know, obviously everybody saw me. I was in the boxes with with her and it's just another thing that's amped up my life."
When they pressed further about the relationship, Donna Kelce responded, "I honestly can't tell you. It's just too new."