/ Source: TODAY Contributor
Twelve-year-old Dillon Workman got the most precious gift of all from Santa this year, and it came a few weeks early.
Dillon, who lives in Cleveland, had just taken a seat on Santa's lap at a local mall when someone tapped him on the shoulder. He turned around and there was his mom, Navy Reserve Petty Officer Julie Workman, home for the holidays after spending the last 11 months on deployment to Bahrain.
When Workman learned she'd be coming back to the U.S., she and Dillon's aunt, Jessica Workman, held a brainstorming session to find the perfect way to surprise him.
Jessica had an idea: Since Workman was coming home after Thanksgiving, Santa would be holding court at SouthPark Mall in Strongville, Ohio, where Jessica works.
She spoke with the mall administrators, and they arranged to have Julie surprise her son as he posed for his photo with Santa.
Never miss a parenting story with TODAY's newsletters! Sign up here
Dillon has grown since his mom's been deployed, and his legs are almost longer than Santa's. But he posed gamely for the photo; Santa was in on the secret, but Dillon was definitely caught off guard. He knew his mom was coming home, but he didn't know when. And suddenly, there she was.
"He didn't say anything at first," Julie Workman told TODAY Parents. "Then he asked, 'Where did you come from?'"
SouthPark Mall's marketing director, Ed Jaroszewic, caught the sweet reunion on video for the family.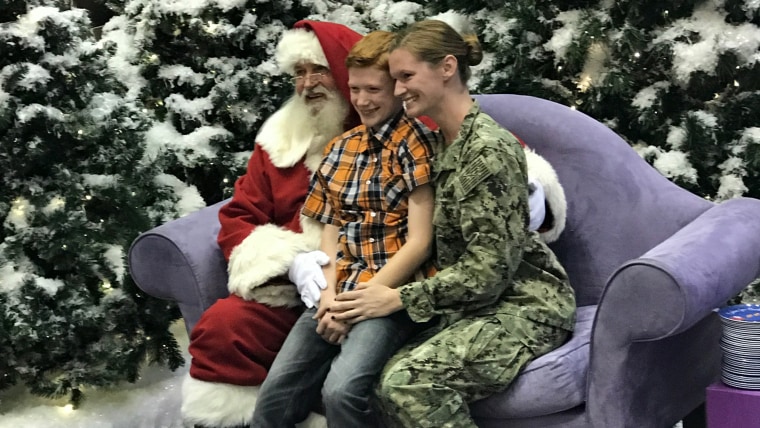 "I didn't know if I should wait to hug her until the picture was over or not," Dillon said.
Workman, who's home to stay, said she came back to find a "whole new young adult," someone who's almost as tall as she is (5-foot-9) and very different from the boy she left in Ohio just short of a year ago.
Dillon said he's enjoying being with his mom, "doing the little things and hanging out, stuff most people get to do on a daily basis."
Dillon's gift didn't fit in Santa's sack, but he can certainly say that Santa brought him what he wanted most of all this year.