Thanksgiving is one of the best holidays of the year.
After all, what's there not to like about turkey, gravy and pumpkin pie? Then again, Turkey Day requires us to mingle with family and if we're being honest here, sometimes things around the appetizer tray or dinner table can get a bit interesting when relatives are involved.
When that happens, a dad joke or funny Thanksgiving quote might be just what you need to help get the crowd laughing. To ensure you're well-stocked with one-liners to use at a moment's notice, we've got collected a list of the very best.
Given that holiday gatherings can sometimes be dicey at best, we've compiled the amusing words of comedians, talk show hosts and others to remind you that you aren't alone.
For instance, Jerry Seinfeld once said, "There is no such thing as fun for the whole family."
Or as Johnny Carson quipped, "Thanksgiving is an emotional holiday. People travel thousands of miles to be with people they only see once a year. And then discover once a year is way too much."
Whether you break out one of these funny Thanksgiving Day quotes at the table or use an Instagram caption, it's all in good fun.
Whichever you choose, one thing's for sure, these clever Thanksgiving messages will have everyone in stitches.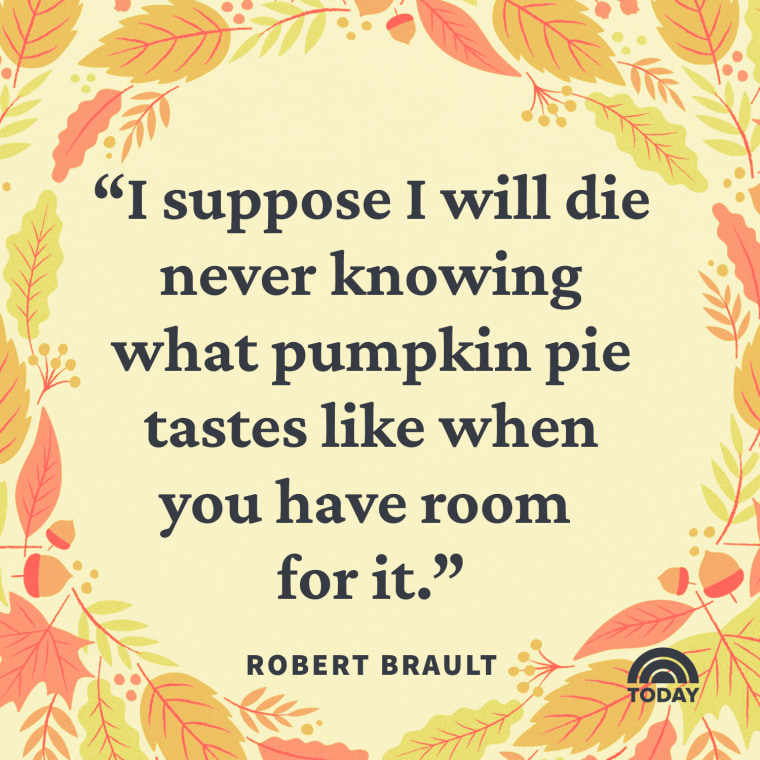 "Even though we're a week and a half away from Thanksgiving, it's beginning to look a lot like Christmas." — Richard Roeper
"Some family trees bear an enormous crop of nuts." — Wayne Huizenga
"There is no such thing as fun for the whole family.¨ — Jerry Seinfeld
"The capacity for friendship is God's way of apologizing for our families." — Jay McInerney, "The Last of the Savages"
"I cook with wine, sometimes I even add it to the food." — W.C. Fields
"After all, the best part of a holiday is perhaps not so much to be resting yourself, as to see all the other fellows busy working." — Kenneth Grahame, "The Wind in the Willows"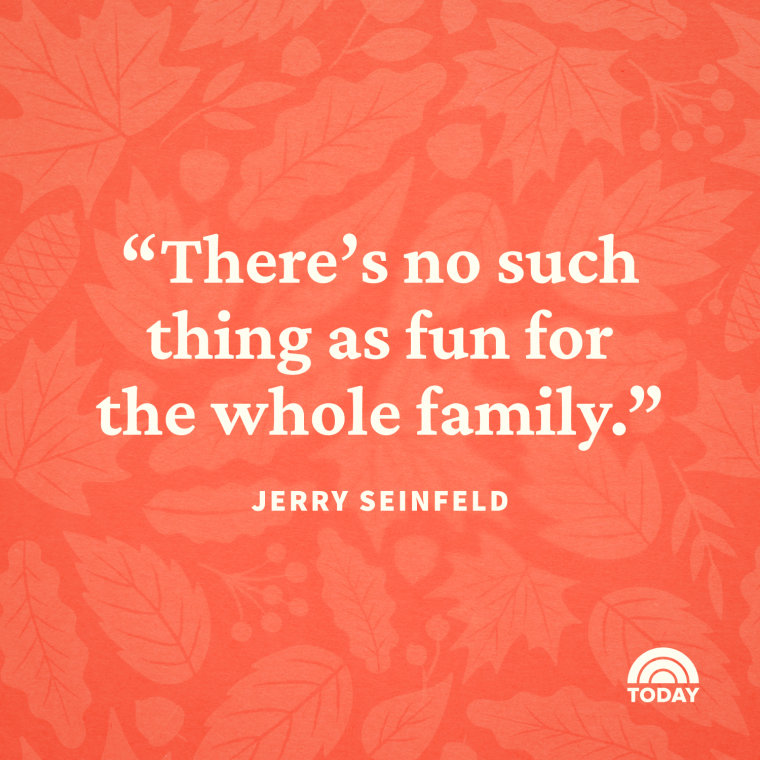 "Turkey for me, turkey for you. Let's eat the turkey in my big brown shoe." — Adam Sandler, "The Thanksgiving Song"
"I haven't even finished eating all of my Halloween candy!" — Sally Brown, "A Charlie Brown Thanksgiving"
"One should never do anything that one cannot talk about after dinner." — Oscar Wilde, "The Picture of Dorian Gray"
"Nothing says holidays, like a cheese log." — Ellen DeGeneres
"Every Thanksgiving I bring the champagne, because in my family we all know what our strengths are." — Gloria Fallon
"I love spending Thanksgiving surrounded by all these great friends I met in the Best Buy parking lot." — John Lyon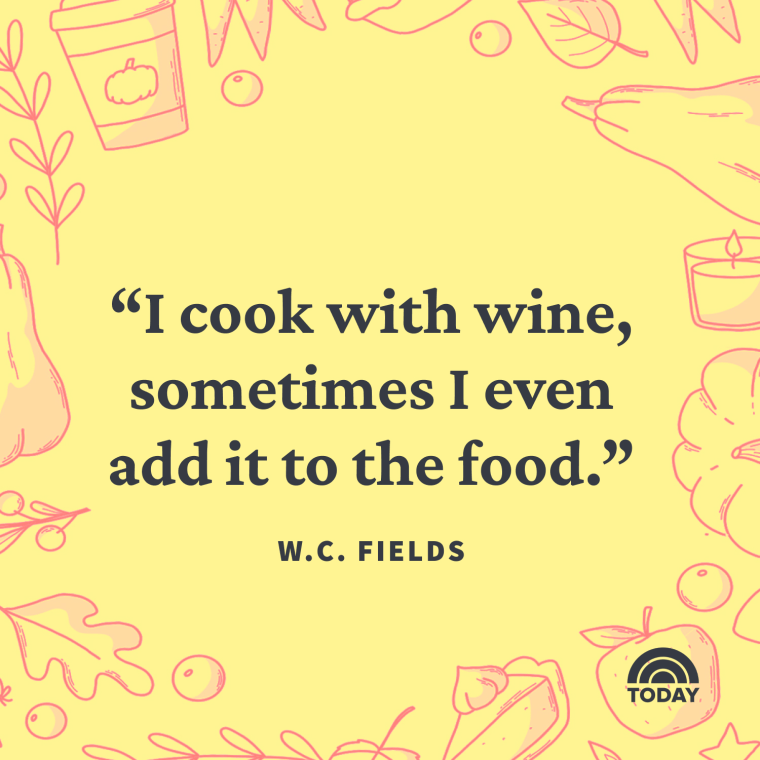 "Tomorrow is Thanksgiving! It's the day you forget about all the fighting and division in the world and just focus on all the fighting and division in your family." — Jimmy Fallon
"Thanksgiving is an emotional holiday. People travel thousands of miles to be with people they only see once a year. And then discover once a year is way too much." — Johnny Carson
"The average time for eating a Thanksgiving dinner is 12 minutes, which, incidentally, coincides with halftime." — Erma Bombeck
"Thanksgiving, man. Not a good day to be my pants." — Kevin James
"I love Thanksgiving traditions: watching football, making pumpkin pie and saying the magic phrase that sends your aunt storming out of the dining room to sit in her car." — Stephen Colbert
"I can't cook a Thanksgiving dinner. All I can make is cold cereal, maybe toast." — Charlie Brown, "A Charlie Brown Thanksgiving"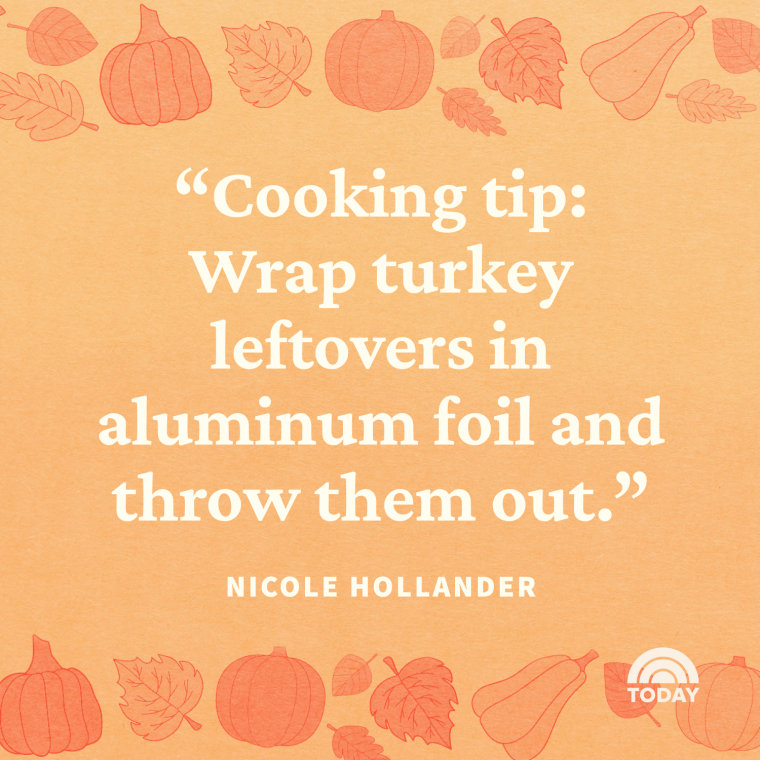 "You can tell you ate too much for Thanksgiving when you have to let your bathrobe out." — Jay Leno
"An optimist is a person who starts a new diet on Thanksgiving Day." — Irv Kupcinet
"Thanksgiving is so called because we are all so thankful that it only comes once a year." — P.J. O'Rourke
"It wouldn't be Thanksgiving without a little emotional scarring." — Timothy Burke, "Friends"
"If you start drinking now, Thanksgiving could be a lot of fun." — Conan O'Brien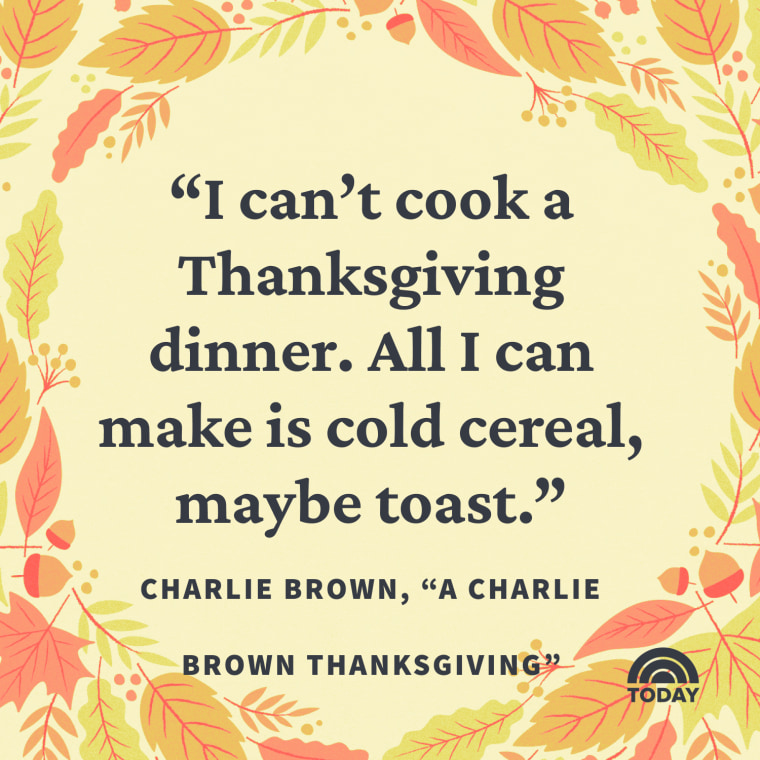 "I like football. I find it's an exciting strategic game. It's a great way to avoid conversation with your family at Thanksgiving." — Craig Ferguson
"After a good dinner, one can forgive anybody, even one's own relations." — Oscar Wilde
"I'm from Canada, so Thanksgiving to me is just Thursday with more food. And I'm thankful for that." — Howie Mandel
"Happy Thanksgiving! This year I'm thankful that your family is so annoying you're checking Twitter instead of talking to them." — Stephen Colbert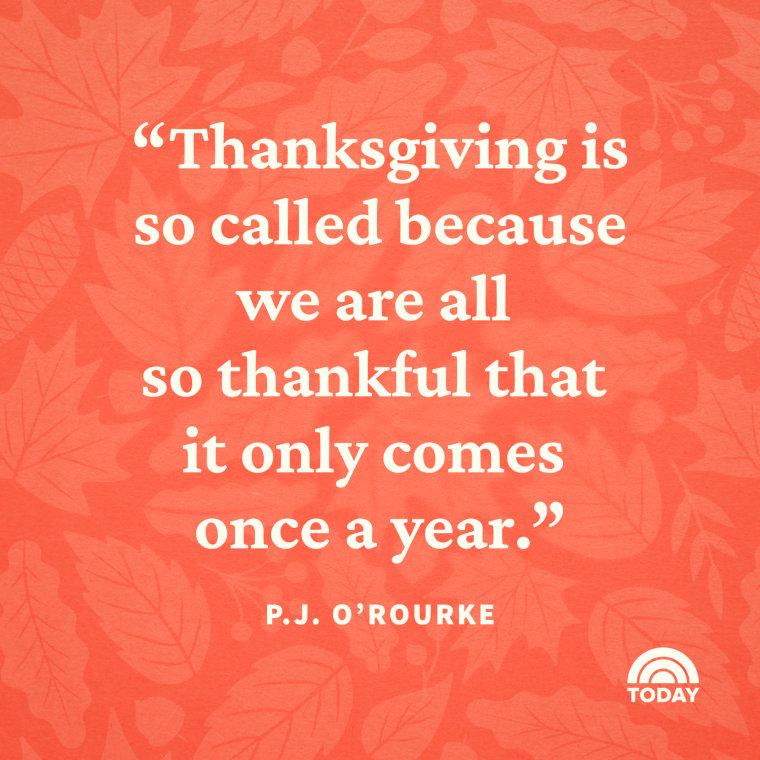 "You can't have Thanksgiving without turkey. That's like the Fourth of July without apple pie or Friday with no two pizzas." — Joey Tribbiani, "Friends"
"I come from a family where gravy is considered a beverage." — Erma Bombeck
"Thanksgiving: when the people who are the most thankful are the ones who didn't have to cook." — Melanie White
"Finally, a Thanksgiving without a drunken uncle. Just me, my nieces and nephews and my bottle of Jack Daniels." — Conan O'Brien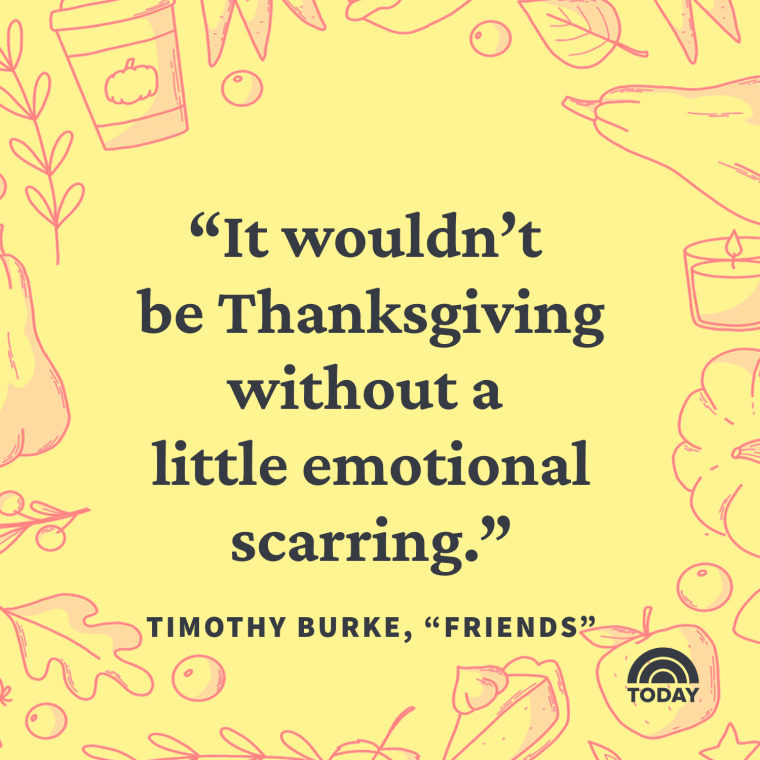 "My cooking was so bad my kids thought Thanksgiving was to commemorate Pearl Harbor." — Phyllis Diller
"Thanksgiving, the day where there's never enough food. You can't just have a turkey. No, there has to be a roast beef or a ham too. Or both. It's the only day we have mashed potatoes and sweet potatoes." — Lewis Black
"I heard about a trend where, this Thanksgiving, people made tiny turkeys. You may know them by their other name: chicken!" — Jerry Seinfeld
"Happiness is having a large, loving, caring, close-knit family in another city." — George Burns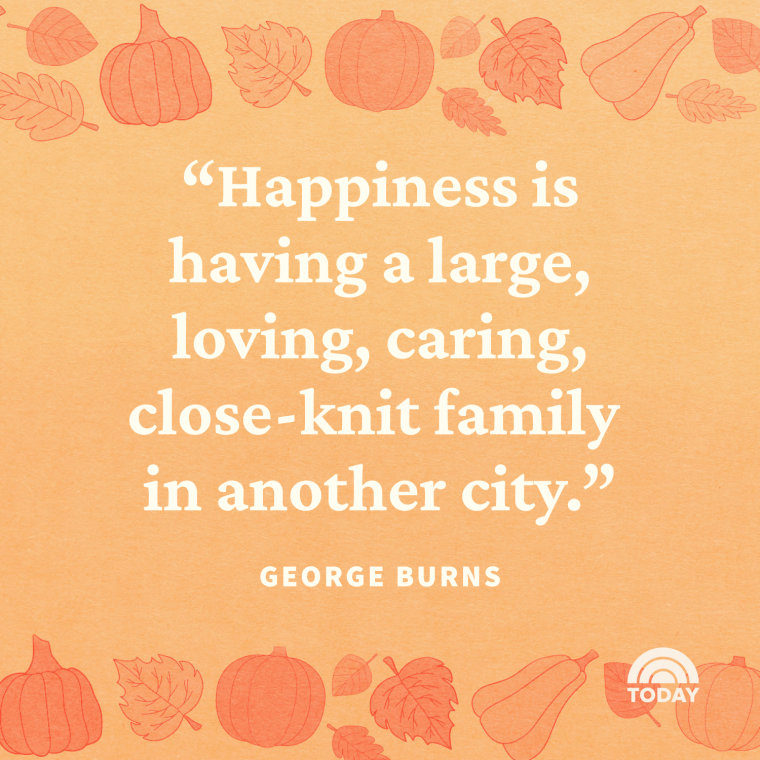 "I saw what's going on under my chin. I don't want to be the one the President has to pardon on Thanksgiving." — Joan Rivers
"A new survey found that 80 percent of men claim they help cook Thanksgiving dinner. Which makes sense, when you hear them consider saying 'that smells good' to be helping." — Jimmy Fallon
"A lot of Thanksgivings have been ruined by not carving the turkey in the kitchen." — Kin Hubbard
"The only thing I like better than talking about food is eating." — John Walters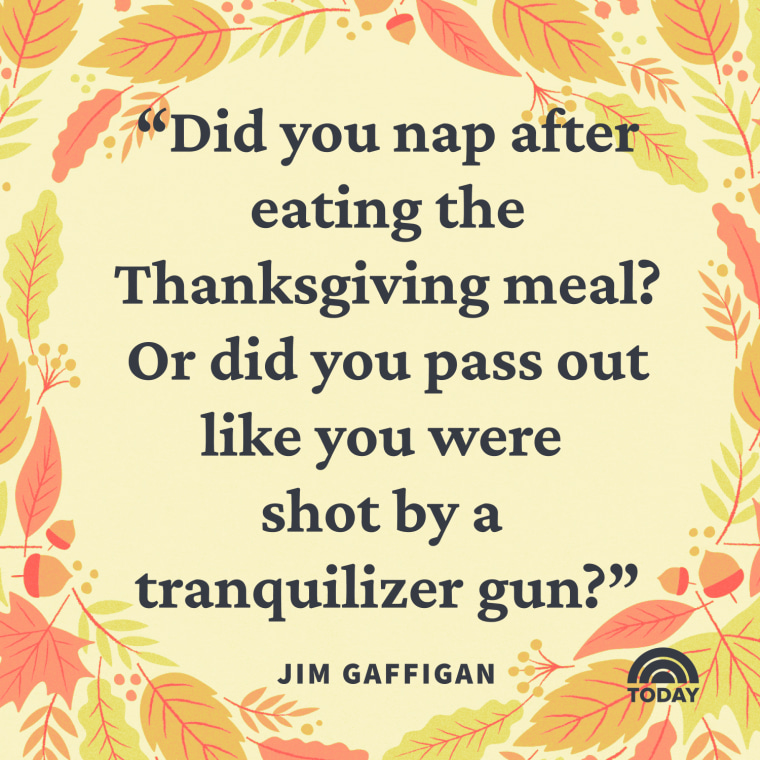 "What we're really talking about is a wonderful day set aside on the fourth Thursday of November when no one diets. I mean, why else would they call it Thanksgiving?" — Erma Bombeck
"I suppose I will die never knowing what pumpkin pie tastes like when you have room for it." — Robert Brault
"You know that just before that first Thanksgiving dinner there was one wise, old Native American woman saying, 'Don't feed them. If you feed them, they'll never leave.'"- Dylan Brody
"Thank you, the day after Thanksgiving, or as the makers of sweatpants call it, 'the busy season.'" — Jimmy Fallon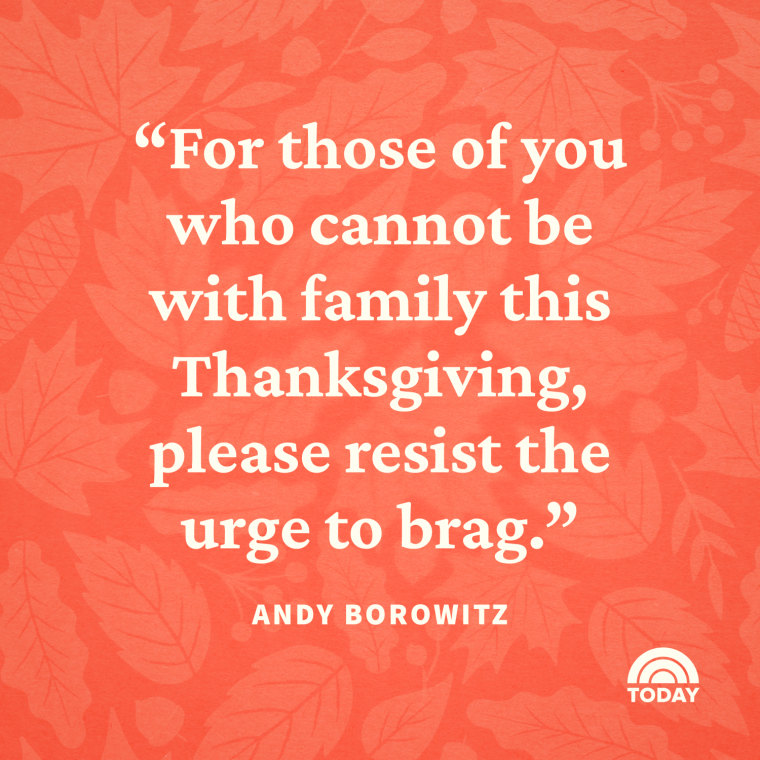 "Cooking tip: Wrap turkey leftovers in aluminum foil and throw them out." — Nicole Hollander
"In honor of Hanukkah falling on Thanksgiving, I am going to spend dinner feeling guilty about everything I have to be thankful for." — Conan O'Brien
"I'm giving thanks that we don't have to go through this for another year." — Adele Larson, "Home for the Holidays"
"Did you nap after eating the Thanksgiving meal? Or did you pass out like you were shot by a tranquilizer gun?" — Jim Gaffigan
"New pick-up line to try today: "Hey, are you a turkey? Because I want to gobble you up and then fall asleep." — Rebel Wilson
"Vegetables are a must on a diet. I suggest carrot cake, zucchini bread and pumpkin pie." — Jim Davis
"Cut my pie into four pieces, I don't think I could eat eight." — Yogi Berra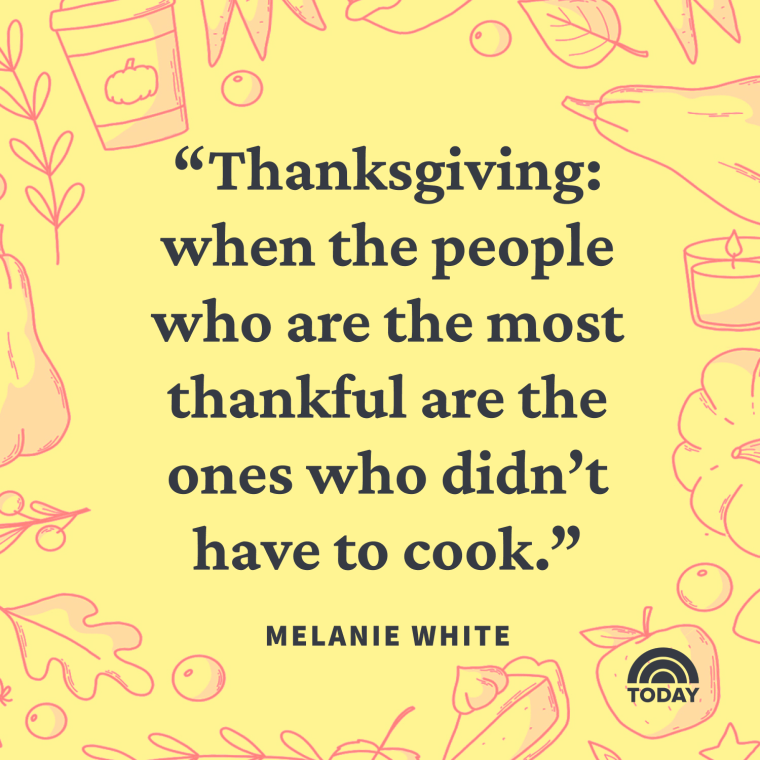 "Do you think Abe Lincoln would have declared Thanksgiving a national holiday if he knew it would mean the Lions play every year?" — Conan O'Brien
"For those of you who cannot be with family this Thanksgiving, please resist the urge to brag." — Andy Borowitz
"You know, maybe this will be a good Thanksgiving. Just us and the kids. You cook and I'll watch football with my pants open all day." — Ray Romano, "Everybody Loves Raymond"
"Have leftover Eggo waffles from your Eleven Halloween costume? We'll show you how to make it into Thanksgiving stuffing. After the break." — John Mayer