Praise the grilled meat gods.
On Sept. 13, Chipotle announced it is bringing back Carne Asada in both the U.S. and Canada for a limited time. The protein option has been revered by fans when Chipotle first put it on the menu  — and begged for when it was gone.
This marks the third time Chipotle is offering Carne Asada, which first making its meaty debut in September 2019 as the chain's second limited-time protein offering. Chipotle says an estimated 10 million customers ordered Carne Asada in its first run, and it believes that almost half of those customers were first-time guests.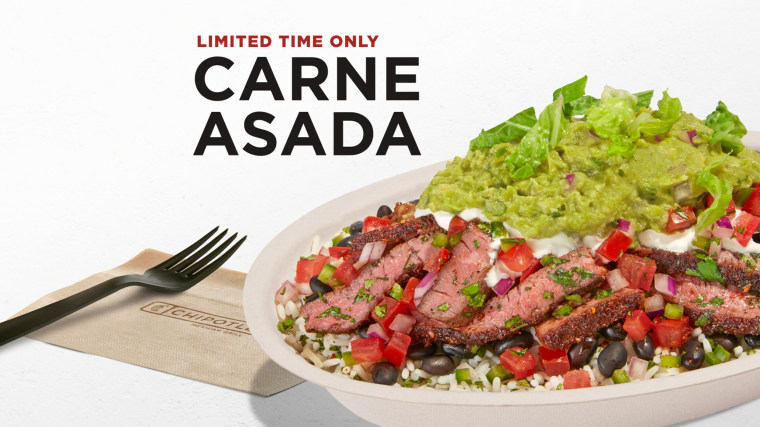 "Over the past few years, our fans' passion for Carne Asada has rivaled any other Chipotle menu item," said Chris Brandt, Chief Brand Officer in a press release. "Now, we've answered the call, brought back this iconic protein, and introduced an entirely new way to try Carne Asada with the Carne Asada Quesadilla."
Seasoned with a blend of signature spices like cumin, coriander and oregano, as well as lime juice and chopped cilantro, Carne Asada also returned in September 2020 for a limited time.
Chipotle points out that the meat last appeared on Chipotle's menu prior to launching its quesadilla in 2021, meaning that for the first time ever post-TikTok virality, customers can hack the menu like Keith Lee and put the protein in a quesadilla with the popular menu-hack-turned-menu-addition's melted Monterey Jack cheese, fajita veggies and sides.
Quesadillas, by the way, are exclusively available on the Chipotle app, website and third-party delivery platforms.
Chipotle's Carne Asada nutrition facts
Here is the nutrition information for one serving of Carne Asada, according to Chipotle's Nutrition Calculator:
Calories: 250
Fat: 14 grams
Protein: 29 grams
Carbohydrates: 1 gram
Chipotle also points out that Carne Asada is officially approved for the Whole30 program and is also compliant with keto and paleo diets.
Chipotle's Carne Asada deal
To celebrate the return of the protein option, Chipotle is waving the delivery fee on all Carne Asada orders placed through the Chipotle app and website from Thursday, Sept. 14 through Sunday, Oct. 1. Which means that enjoying a Carne Asada Quesadilla in your PJs is a possibility for the rest of the month — and that's something to celebrate.