Every year at the Golden Globes, the red carpet is a sea of colors and fabrics and prints as celebrities put their best face forward in designer gowns and tuxedos. But this year, it's going to look a lot different.
Many stars plan to wear all black to Sunday's awards show to speak out against sexual harassment in the entertainment industry. Some will also be wearing a Time's Up pin, a nod toward Hollywood's new coalition formed to keep women safe in the workplace.
Celebrities understand their power. They have to speak for the people who can't speak.
"Everyone is requesting black dresses," celebrity stylist Philippe Uter told TODAY Style. "I'm really expecting a lot of black dresses, lots of black suits. I think it's a little gesture that everyone can do to show their support."
"Celebrities understand their power," he continued. "They have to speak for the people who can't speak. If Meryl Streep is speaking, people are going to listen to her."
Indeed, Streep is reportedly one of the many women who plan to wear black at the awards show. Some men will join in, too. In fact, Uter's own client, "Stranger Things" star Noah Schnapp, plans to wear black, he said.
While the wear-black movement is shaping up to be arguably Hollywood's largest demonstration on the red carpet, it's not the first time stars have used fashion as a springboard for activism. Ahead of Sunday's Golden Globe Awards, let's take a look.
A new trend? Not quite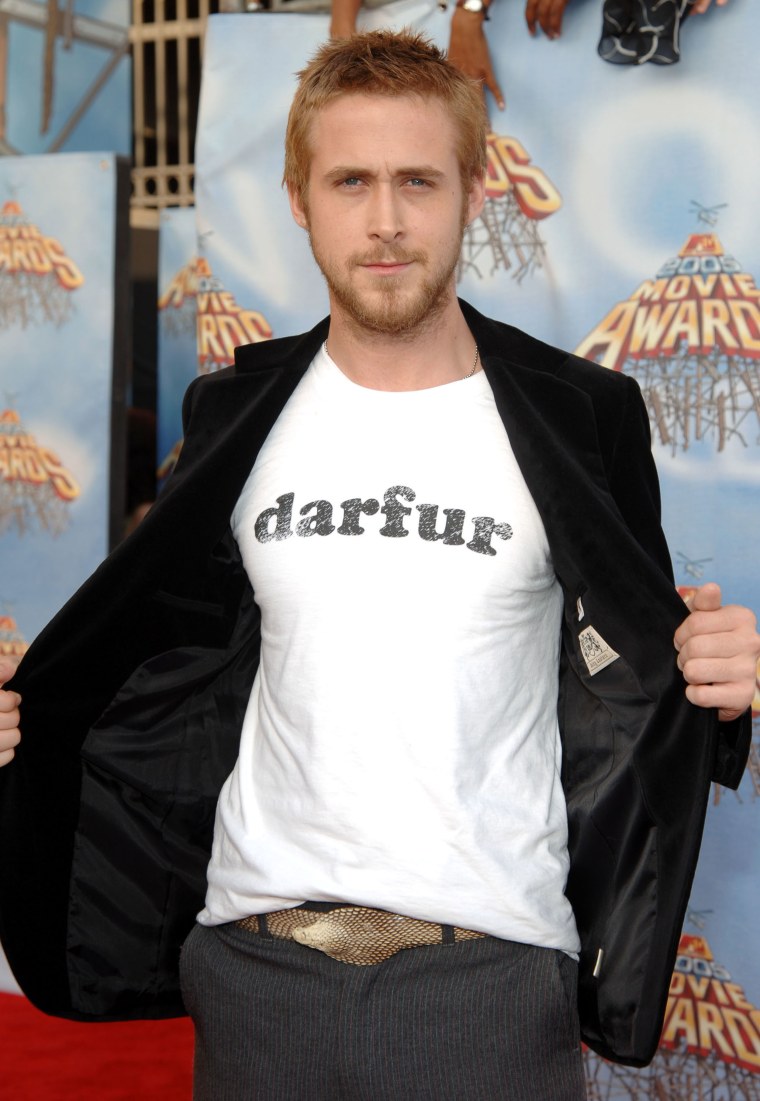 Actor Ryan Gosling wore a "Darfur" shirt to the MTV Movie Awards in 2005 to raise awareness of the horrific violence in Sudan. The war killed hundreds of thousands of people in what's been described as one of the worst humanitarian crises of all time.
Gosling made his red carpet statement alongside "The Notebook" co-star Rachel McAdams.
Calling for change in the South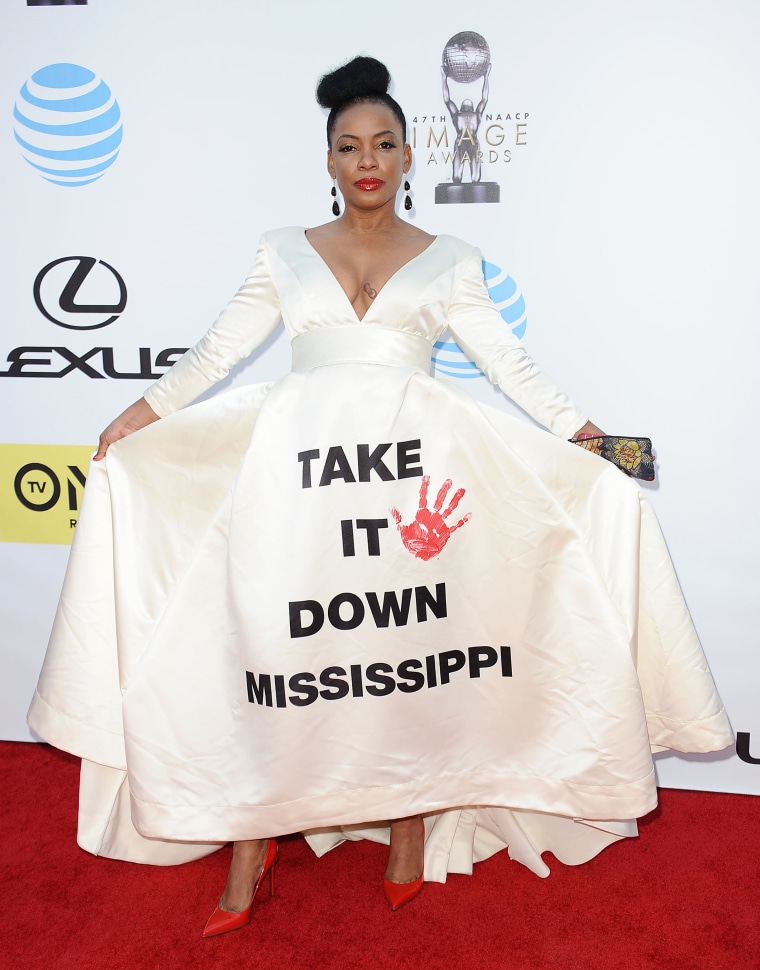 And in February 2016, "Quantico" actress Aunjanue Ellis used her red carpet moment to urge Mississippi to take down its state flag, which includes the Confederate symbol.
Later that year, at the Gracie Awards, she directed her message at former President Barack Obama, writing on her gown, "President Obama, take it down."
A message for the president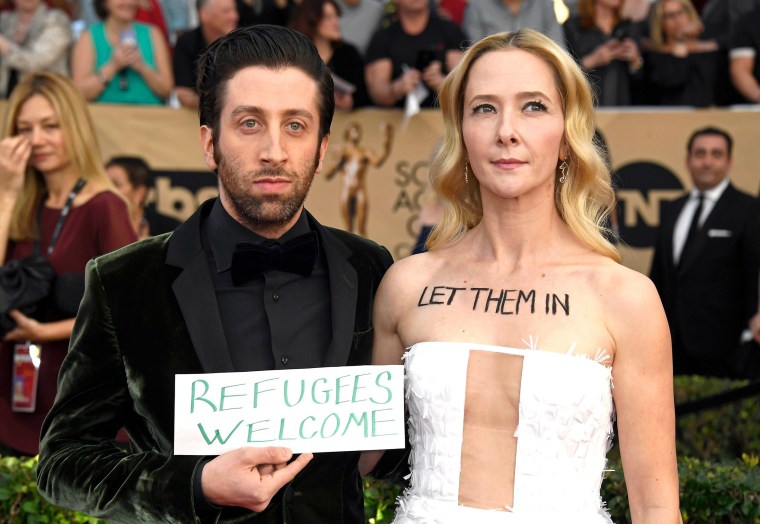 Shortly after the 2016 election, many celebrities used the red carpet to express their disappointment with President Donald Trump's policies.
At a premiere for the film "Allied" in London that November, actress Lizzy Caplan held her palm up to the cameras, revealing "Love Trumps Hate" written on her hand, a slogan that had been adopted by the president's opponents.
Two months later, in January 2017, "Big Bang Theory" star Simon Helberg and his wife protested Trump's travel ban on the red carpet at the Screen Actors Guild Awards in Los Angeles. He held a sign that read, "Refugees welcome," while his wife Jocelyn Towne, also an actor, had "Let them in" written on her chest.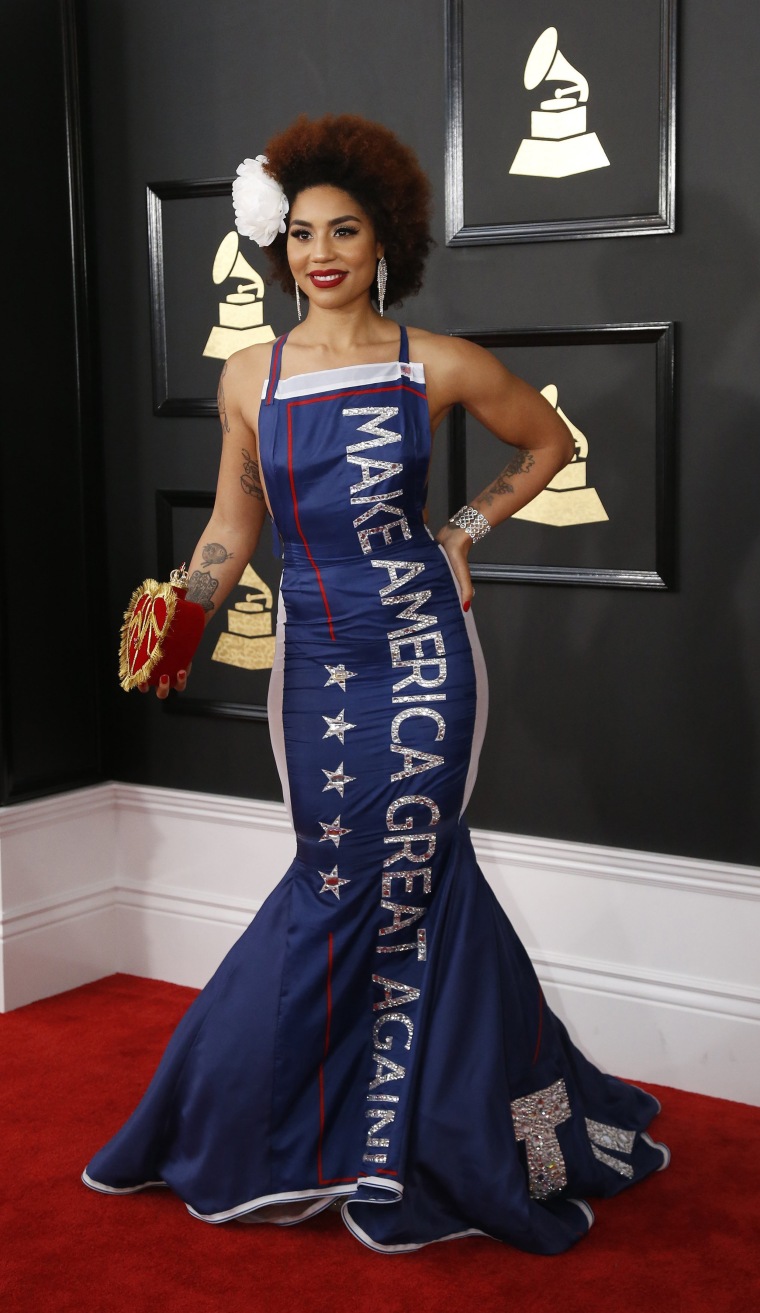 Not everyone is anti-Trump on the red carpet. Singer Joy Villa famously wore a "Make America Great Again" gown to the Grammy Awards last February.
"Sometimes you just gotta be free to express yourself," she wrote on Instagram, sharing snapshots of the gown, which featured Trump's name and slogan.
When a pantsuit isn't just a pantsuit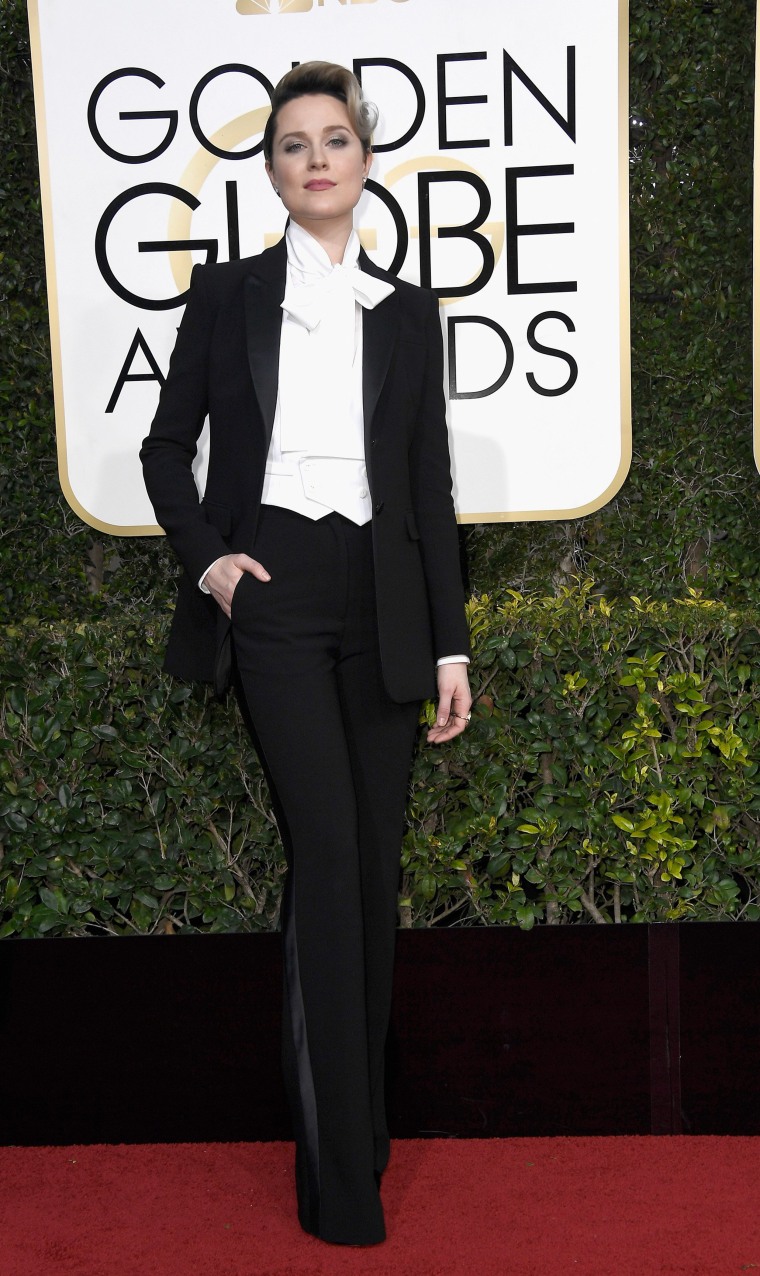 Even a simple suit can make a statement on the red carpet. At last year's Golden Globes, actress Evan Rachel Wood wore a sleek tux, explaining, "I wanted to make sure young girls and women know that (dresses) aren't a requirement. You don't have to wear one if you don't want to."
Other celebrities specifically pointed to former presidential candidate Hilary Clinton as their inspiration.
"It was kind of an appropriate time for a woman to wear pants," celebrity stylist Linda Medvene told Variety last year of her choice to style actress Felicity Huffman in a white-and-gold jumpsuit for the Globes. Huffman later said her outfit was in honor of Clinton, according to the website.
At last year's Oscars ...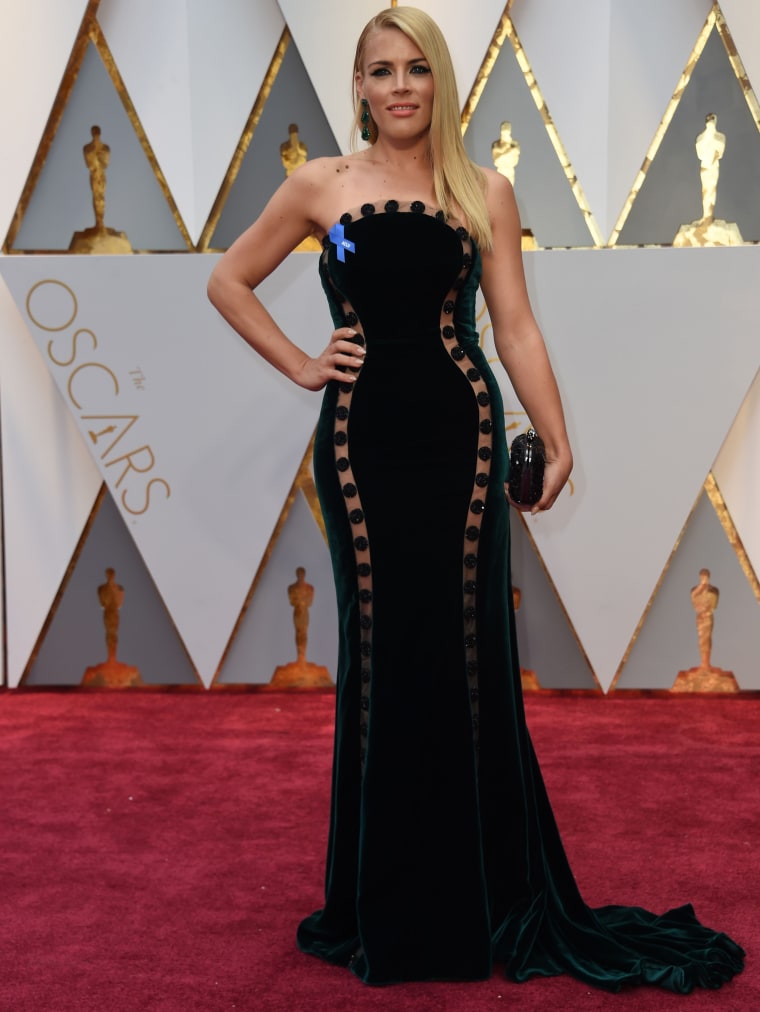 At the Academy Awards in 2017, the most popular accessory was neither a clutch nor a piece of jewelry: It was a blue ribbon, worn to show support for the American Civil Liberties Union.
Many stars wore the ACLU ribbon on the red carpet, including Lin-Manuel Miranda, Busy Phillips and Karlie Kloss.
Director Ava DuVernay, who had been nominated for an Oscar for her Netflix documentary, "13th," purposely chose to wear a gown by a Muslim designer. "A small sign of solidarity," she wrote on Twitter.
Since the downfall of Harvey Weinstein and other powerful men in Hollywood, it's clear the industry is ready for a change. And on Sunday, we'll see what that means for fashion and the red carpet.
As Uter explained, events like the Golden Globes are an ideal opportunity for celebrities to make a statement.
"The coverage is worldwide," he said. "It's one of the biggest events in the world. People pay attention."