The 74th annual Golden Globe Awards had one big winner this year — "La La Land."
The musical led the Globes' feature film awards with seven nominations, and then won every single one of them, including Best Actor and Best Actress honors for its stars, Emma Stone and Ryan Gosling —breaking the Golden Globes record for most awards won by one film.
Here were some of the evening's biggest moments.
An epic opening number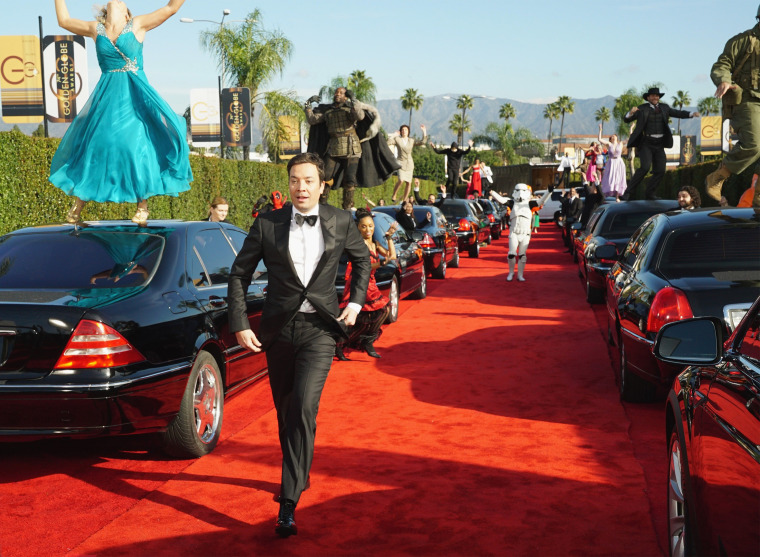 Jimmy Fallon kicked off the night's ceremony, broadcast live from the Beverly Hills Hilton Hotel, with a pre-taped star-studded musical sequence that spoofed the opening of "La La Land."
Fallon was joined by his fellow "Saturday Night Live" alum Tina Fey, his pal Justin Timberlake and many of the night's nominees including Ryan Reynolds, Nicole Kidman, Sarah Paulson, Amy Adams, John Travolta and the "Stranger Things" kids (including Barb!) in the dazzling musical intro.
The number, which found the Hollywood A-listers breaking out in song and dance also found Fallon and Timberlake romantically slow-dancing together.
It was the 42-year-old "Tonight Show" host's first time emceeing the famously fun ceremony, which honors the best in film and television, as chosen by the Hollywood Foreign Press Association.
Fallon's failing Teleprompters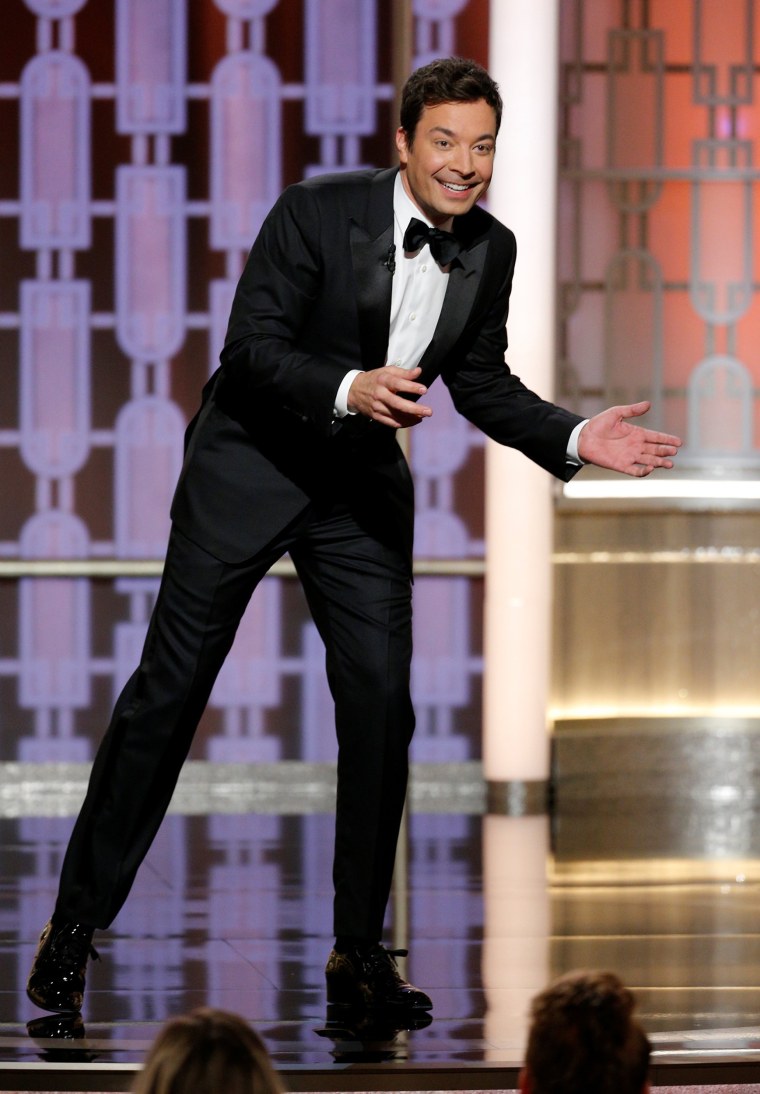 Fallon's opening monologue didn't go quite as well as the musical number. Within seconds of him walking onstage, the funny man burst out laughing, informing viewers his Teleprompter wasn't functioning properly. But he quickly recovered, making several cracks about the 2016 U.S. presidential election.
"As always, the ballots for tonight's Golden Globes were carefully tabulated by the accounting firm of Ernst and Young and Putin," he quipped.
"The People v. O.J." nab early awards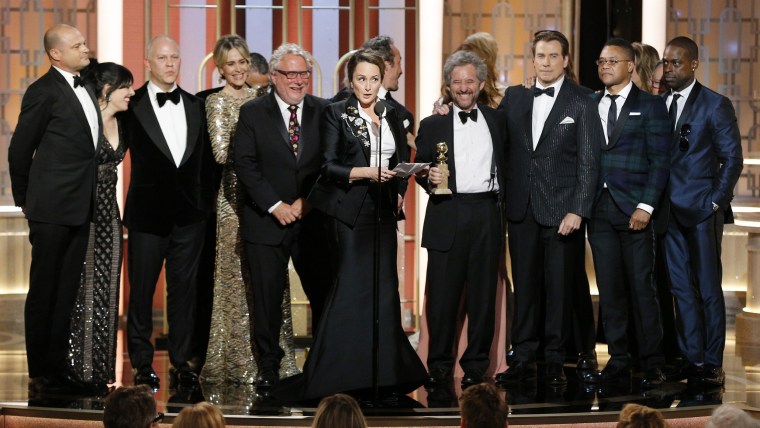 After its sweep of the 2016 Emmy Awards, "The People v. O.J. Simpson," which led the Globe's TV nominations with five nods, started the night off big with wins for both lead actress Sarah Paulson and the miniseries itself (Best Television Limited Series or Motion Picture Made for Television).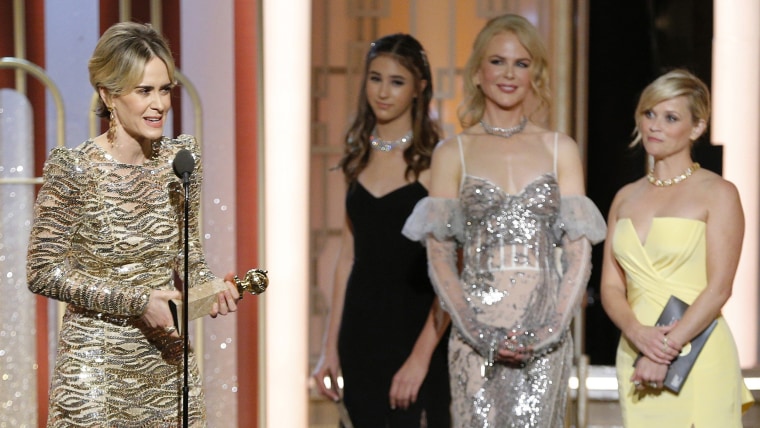 Following her Emmy win months ago, Paulson's first-ever Golden Globe toasted her now-famous portrayal of former Los Angeles County prosecutor Marcia Clark.
Paulson thanked "the remarkable" Clark in her acceptance speech. "You are an inspiration to me," she said. "If I could live with a fraction of your wit, integrity, and your unapologetic fierceness, I would be on the road to doing it right."
"La La Land" hits all the right notes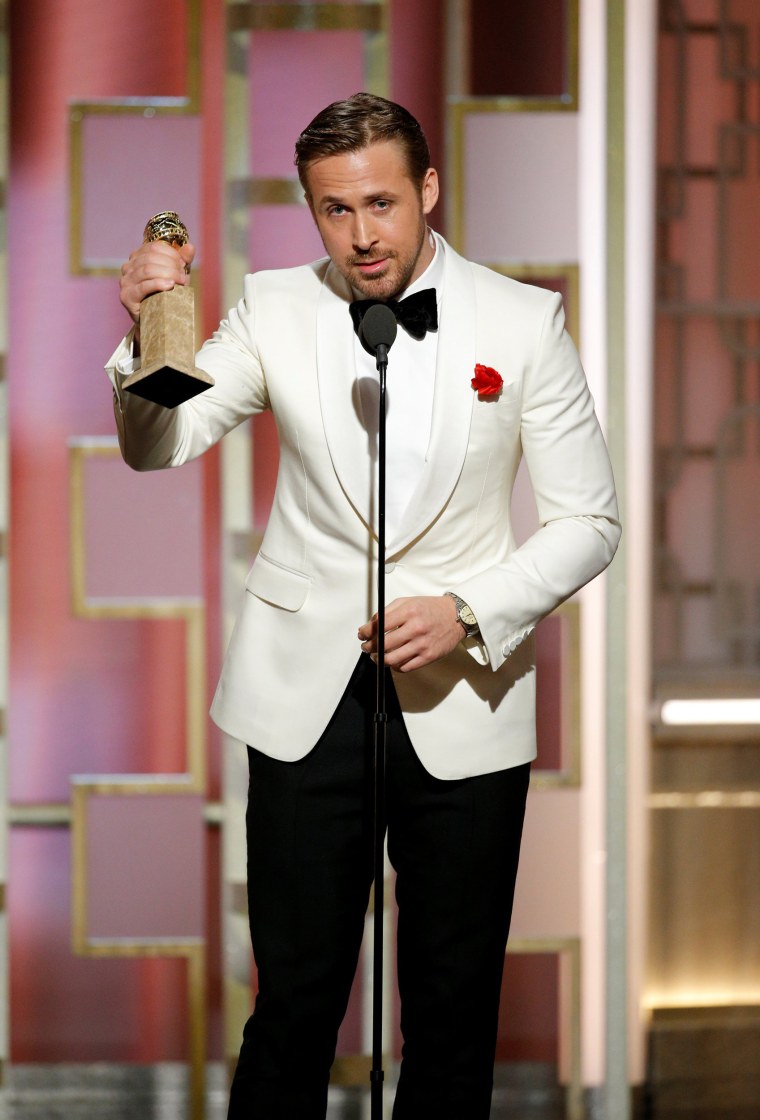 But it was "La La Land" that was music to the foreign press's ears.
Ryan Gosling accepted the award for Best Actor in a Motion Picture, Musical or Comedy by paying tribute to his real-life love, Eva Mendes. "While I was singing and dancing and playing piano and having one of the best experiences I've ever had on a film, my lady was raising our daughter, pregnant with our second, and trying to help her brother fight his battle with cancer," Gosling said.
"If she hadn't taken all that on so that I could have this experience, it would surely be someone else up her other than me today. Sweetheart, thank you," he continued before dedicating the award to the memory of Mendes' brother, Juan Carlos.
Later, Gosling's co-star Emma Stone won in her category, and immediately thanked her mother, Gosling and others. "This is a film for dreamers," she said. "Hope and creativity are two of the most important things in the world."
Director Damien Chazelle also picked up a Best Director's award and a Best Screenplay award.
A win for Affleck (Casey, that is)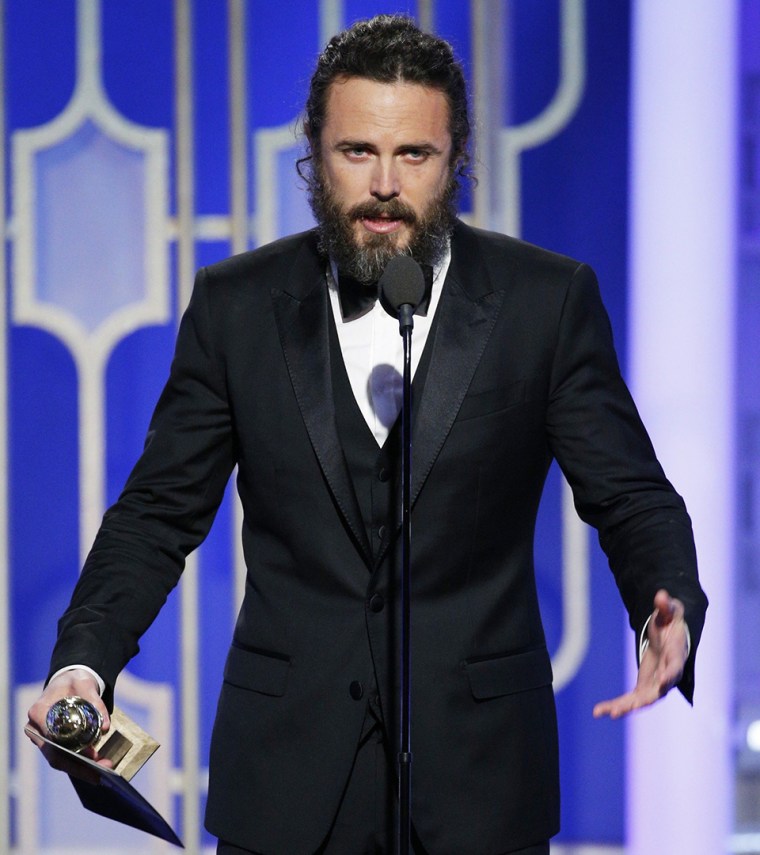 Casey Affleck won his first Globe in the Best Actor in a Motion Picture, Drama category for his riveting work in "Manchester By The Sea."
No Globes for Portman (or Ryder)
In one of the night's most surprising upsets, French actress Isabelle Huppert ("Elle") beat two-time Globe winner Natalie Portman for Best Actress in a Motion Picture, Drama. Portman's performance as Jackie Kennedy in "Jackie" has been wowing critics for months, and the actress, currently pregnant with her second child, was considered a lock-in by many.
Portman's "Black Swan" co-star, Winona Ryder, was a buzzed-about contender for a Best Actress in a Television Drama for her role in Netflix's "Stranger Things," but she was bested by "The Crown" star Claire Foy.
A first-time win for Tracee Ellis Ross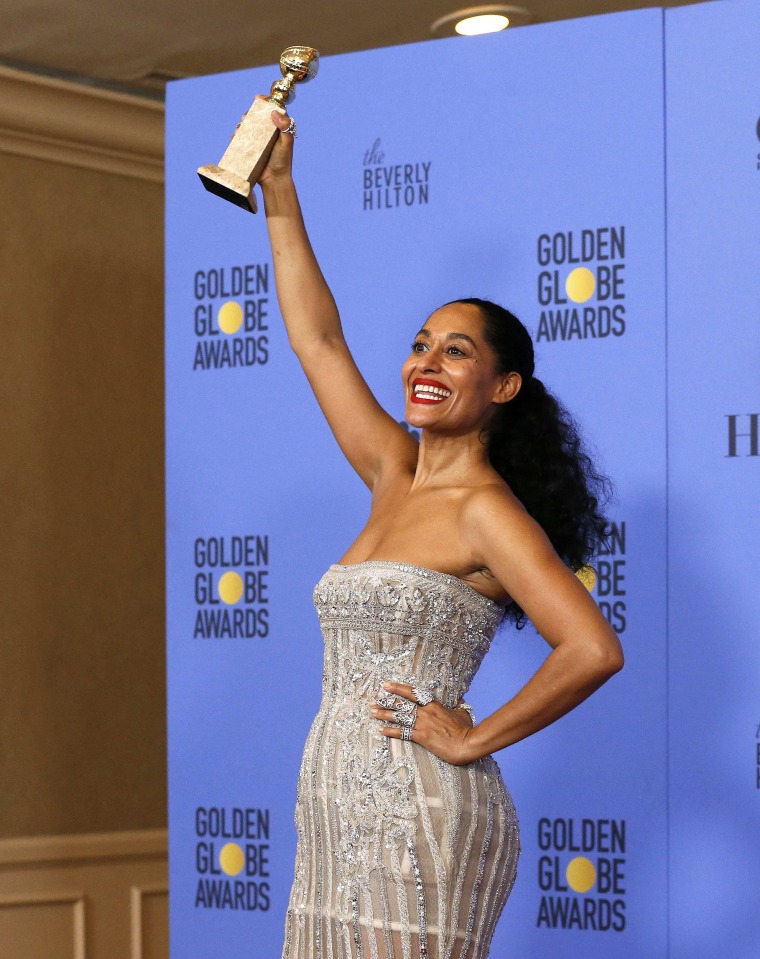 Tracee Ellis Ross, one of the night's many first-time nominees, nabbed her first Golden Globe in the Best Actress in a TV Comedy category for her portrayal of Dr. Rainbow Johnson on "Black-ish," and became the first black actress to win in the category since Debbie Allen's 1983 win for "Fame."
Ross, daughter of pop music superstar Diana Ross, dedicated the award to "all of the women of color and colorful people whose stories, ideas, thoughts are not always considered worthy."
RELATED: Golden Globes red carpet: Best-dressed list of 2017
It's Brad!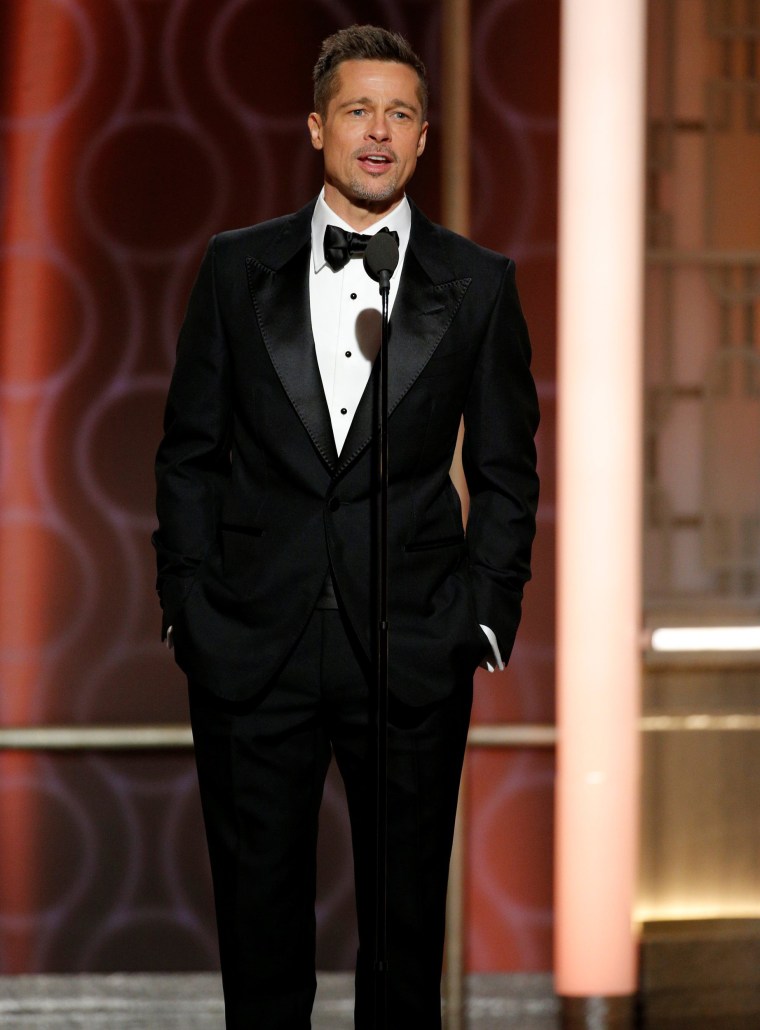 Brad Pitt stepped out from the wings to introduce the motion picture "Moonlight," nominated for six awards. The A-lister, who recently separated from his wife, Angelina Jolie, amid child abuse allegations, was cheered wildly by his peers.
Metz and more first-time nominees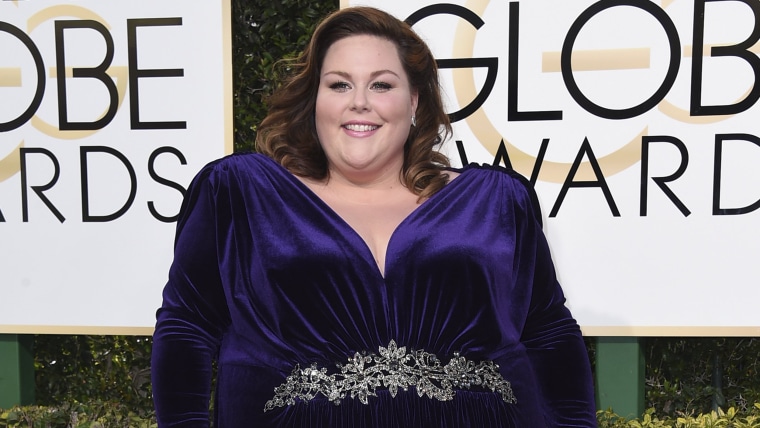 Chrissy Metz was one of the night's many breakout stars with her first-ever Golden Globe nomination for Best Supporting Actress on NBC's "This Is Us." In fact, the actress's category consisted entirely of first-timers, including her co-star, Mandy Moore, Olivia Colman ("The Night Manager"), Lena Headey ("Game of Thrones"), and Thandie Newton ("Westworld").
In the end, Colman took home the Globe.
Robots, royals and more drama
The Best TV Drama category heated up with exciting and diverse new shows. First-time contenders included HBO's spooky robot drama "Westworld," NBC's family ensemble "This Is Us," Netflix's royal series "The Crown," and its retro sci-fi thriller "Stranger Things" Whom do they face off against? HBO's critically acclaimed dragon drama "Game of Thrones."
"The Crown" nabbed the award.
Amy and Goldie, together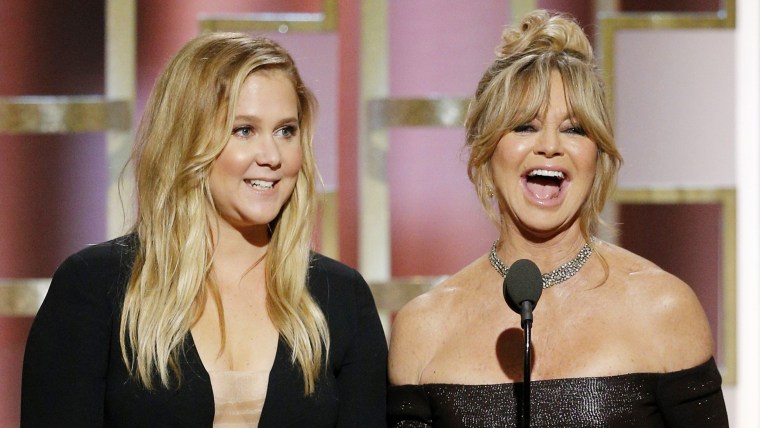 When funny ladies and "Snatched" co-stars Amy Schumer and Goldie Hawn presented the award for Best Motion Picture Comedy or Musical to Gosling, they brought down the house with their hilarious schtick.
"In our new movie, Amy and I play mother and daughter," said Hawn.
"I play the daughter," interjected Schumer. "Although I read for both parts."
Hawn, who said she left her glasses at home, repeatedly flubbed words on the Teleprompter. "Best Motion Picture Comedy or Mystical," Hawn said, squinting.
"Musical," Schumer corrected her.
"The nominees of five of the most tainted men," Hawn tried again.
"It's talented. Kurt, do you have her glasses?" Schumer asked looking into the audience for Hawn's longtime beau, Kurt Russell.
RELATED: Best Golden Globes tweets, Instagrams: Celebrities share behind-the-scenes pics
And the Cecil B. Demille Award goes to ... Meryl!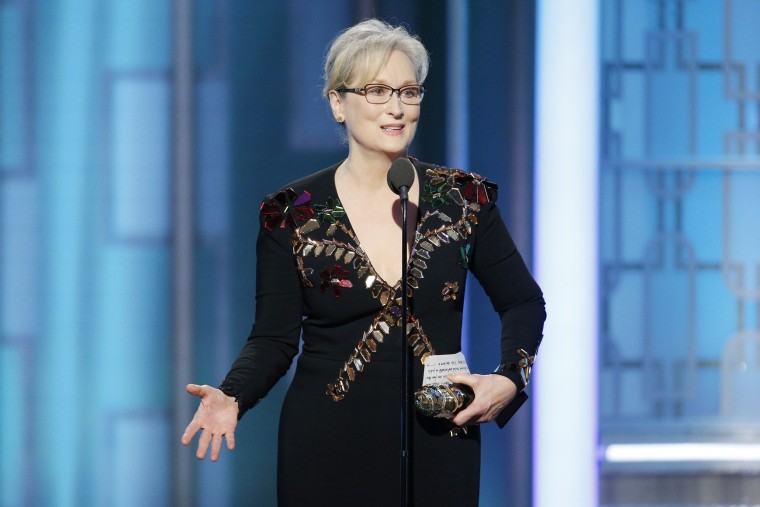 Viola Davis presented her former co-star Meryl Streep, nominated for her 30th (!) Golden Globe for her performance in "Florence Foster Jenkins," with the night's most prestigious award for her outstanding body of work. (The actress holds the record for most Globe wins with a whopping eight awards.)
Streep accepted the award with an impassioned speech about the divisive presidential election and its outcome, and called on the press to be vigilant in its political reporting. She concluded tearfully, "As my friend, the dear departed Princess Leia, said to me once, 'Take your broken heart and make it into art.'"
Victory for Viola
Davis nabbed her own award for her role in "Fences," an adaption of a 1983 August Wilson play. The actress thanked her husband, Julius Tennon, and their young daughter, Genesis, before thanking her father, Dan Davis, whose life, she said, shared similarities with the main character of "Fences."
In memoriam
Speaking of Princess Leia, the ceremony honored the late mother-daughter duo Debbie Reynolds and Carrie Fisher with a brief film reel featuring some of their most iconic films including "Singing in the Rain" and, of course, "Star Wars."