Our editors independently selected these items because we think you will enjoy them and might like them at these prices. If you purchase something through our links, we may earn a commission. Pricing and availability are accurate as of publish time. Learn more about Shop TODAY.
I have always been a flip-flop lover — so much so that I wore sequined white flip-flops on my wedding day.
No high heels for this girl. No thank you.
That's why I feel confident in saying that Corkys are the best flip-flops ever.
Corkys Footwear Womens Flip-Flops, $14-30, Amazon
Two years ago, my family relocated from Maryland to a tiny beach town in Florida. Other than living less than a block from the ocean, the thing I was most excited about was the ability to wear flip-flops year-round.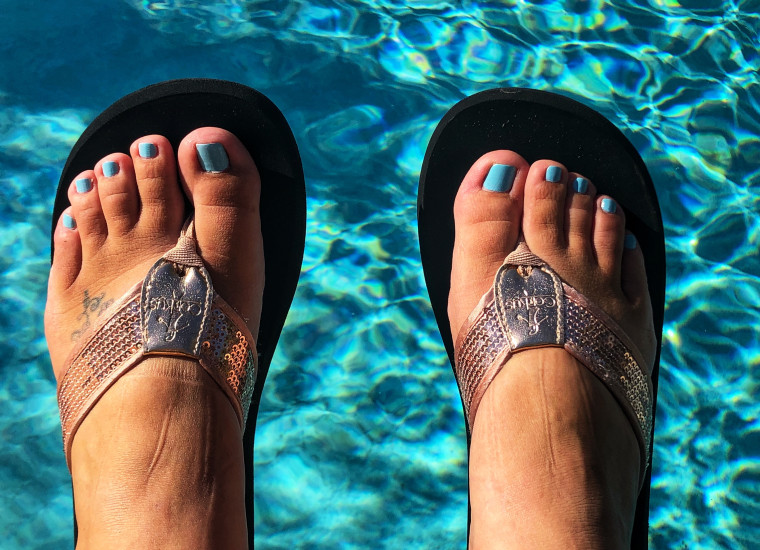 But, I didn't consider how my almost 40-year-old feet would feel after walking the dog, running errands and cleaning the house in my flip-flops, day in and day out.
Ouch.
A few months into my new life as a Floridian, I started buying all the flip-flops. I tried brands I'd liked in the past, brands that cost well over $100 and brands designed specifically for fitness and foot support. Nothing worked, and the pairs that have not been returned to the store are currently sitting on a shelf in my closet.
I had given up hope that I'd find a flip-flop worthy of my year-round devotion when I stumbled upon Corkys Footwear. When they arrived at my house, I fell in love.
They look cute with everything
All Corkys flip-flops have a black rubber sole that measures about an inch thick and a leather Corkys emblem near the toe strap, but the similarities between each style end there. They come in every color and pattern imaginable, from sequined silver to colorful canvas.
I wear my Corkys with everything from maxi dresses to yoga pants and my feet could not be happier.
They are the most comfortable sandals
Most importantly, they are comfortable and supportive. The thick rubber sole supports my feet on any surface — whether I'm folding laundry on my tiled kitchen floor or strolling through the park with my kids.
I was so wowed by the comfort that right after the first pair, I immediately ordered two more.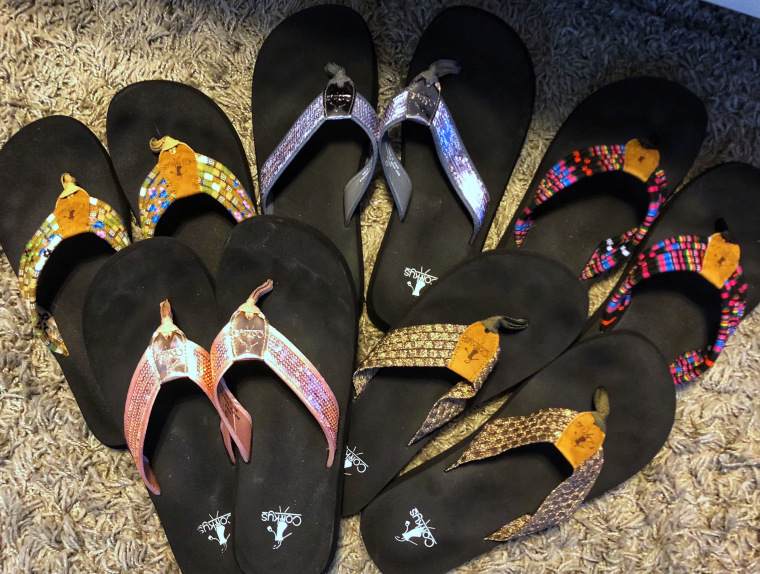 I will soon own 9 different pairs
So far, I've acquired five different styles of Corkys flip-flops and have placed an order for four more. To say I'm obsessed is an understatement — and at less than $30 per pair, my obsession isn't breaking my bank account.
I truly believe I have found the perfect flip-flop for my beach-going, grocery shopping, kid-wrangling life — flip-flops that are so affordable that I can fit frequent pedicures into the budget so my toes are as cute as my sandals.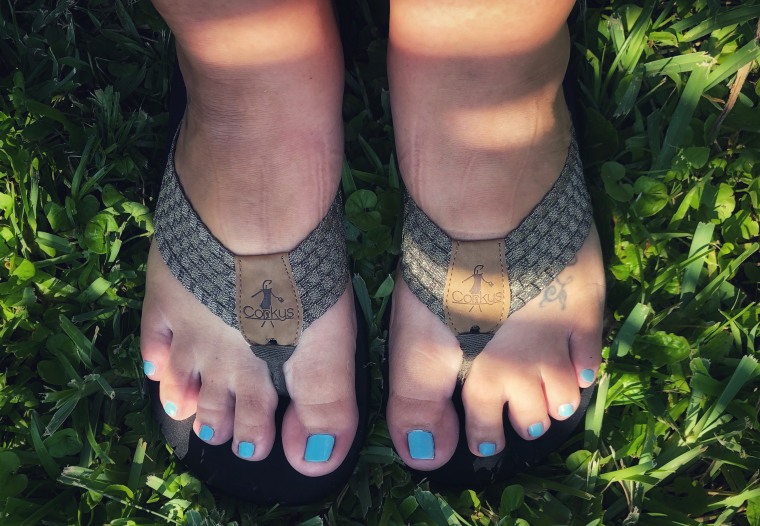 Here are some of the Corkys styles I currently own, and some of the ones I am watching my mailbox for.
Corkys Footwear Pewter Gracie Flip-Flop, $22, Amazon
The sequin design makes this pair a little dressier.
Corkys Footwear Royal Flip-Flop, $14, Amazon
I own these in three different colors, so it's safe to say they're a winner.
Corkys Footwear Rose Gold Gracie Flip-Flop, $20, Amazon
These rose gold flip flops are similar to the first style listed above, but the copper hue is great for the summer.
For more summer essentials, check out:
To discover more deals, shopping tips and budget-friendly product recommendations, download the new TODAY app and subscribe to our Stuff We Love newsletter!