When it comes to hair, makeup and beauty trends, 2016 was a doozy.
It seemed like there was some new nail art look, lip kit or hairstyle sweeping the internet every week.
From the stunning to the scary, we've rounded up the wildest beauty trends from the past year, including ones you may have already forgotten ... or wish you could forget.
1. The 100 layers trend
Beauty lovers lost their collective minds when this trend hit. YouTube stars and social media personalities experimented with makeup by applying more than 100 layers of everything. We now know what 100 layers of foundation looks like (essentially a waxy finish straight out of Madame Tussaud's) and that 100 layers of nail polish takes over 12 hours to apply.
2. Microblading
Before 2016, we would've thought "microblading" involved tiny roller skates. Now we know it's actually tiny eyebrow tattoos. One of the hottest beauty procedures in 2016, microblading involves filling in and shaping brows by drawing tiny lines that look like individual hairs.
RELATED: What is microblading? Everything you need to know
3. Furry nails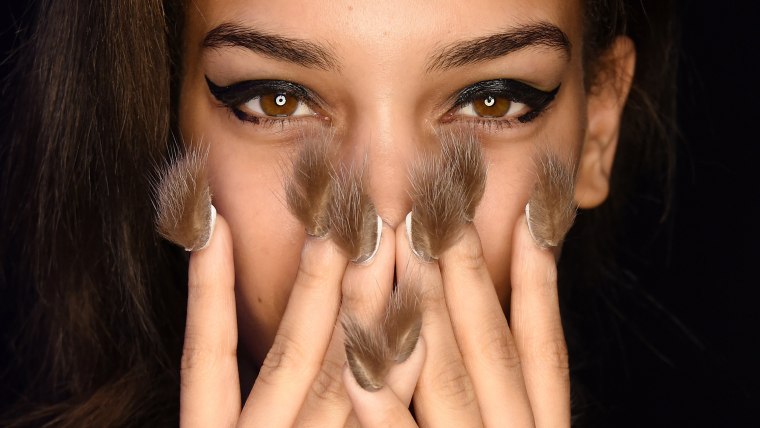 What's a girl to do when she can't afford a fur coat, but wants to incorporate the luxe texture in some way? Glue strips of fur to her fingernails, of course! This trend started back in February at the Libertine show at New York Fashion Week and received very mixed reactions online.
4. Bun dropping
It may have been the year of "the lob" haircut among the celebrity set, but women on Instagram were all about ultra-long hair. They showcased their Rapunzel-esque locks in mesmerizing videos where they let hair unravel from a topknot in slow motion to reveal glamorous tresses.
RELATED: Chop chop! These are 2016's biggest celebrity hair transformations
Take inspiration from these celebrities who know how to rock shorter styles — plus, get a few styling tips and tricks from hair experts.
5. Mirror nail polish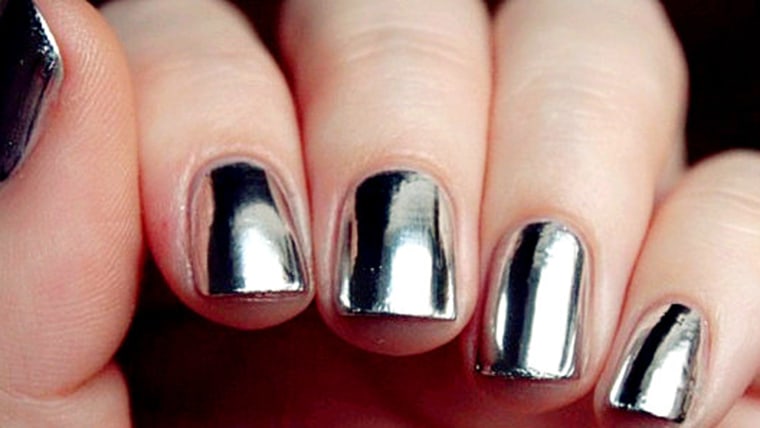 Matte is having a real moment in beauty this year, so when this reflective nail polish trend popped up on our feed, we were surprised! The polish and base coat set from Born Pretty create an extreme chrome effect that's so shiny, you just might be able to check if you have food in your teeth.
6. Blackout tattoos
Blacking out a tattoo used to serve as a way to fix mistakes or errors. But in 2016, pitch black tattoos became a trend in their own right.
7. Cheese nails
If you already bite your nails, this cheese nail trend might exacerbate the problem. Over the summer, extremely realistic swiss cheese manicures became the look of the moment. Of all the food-themed nail art, this might be our favorite — we're just cheesy like that!
8. Holographic Lips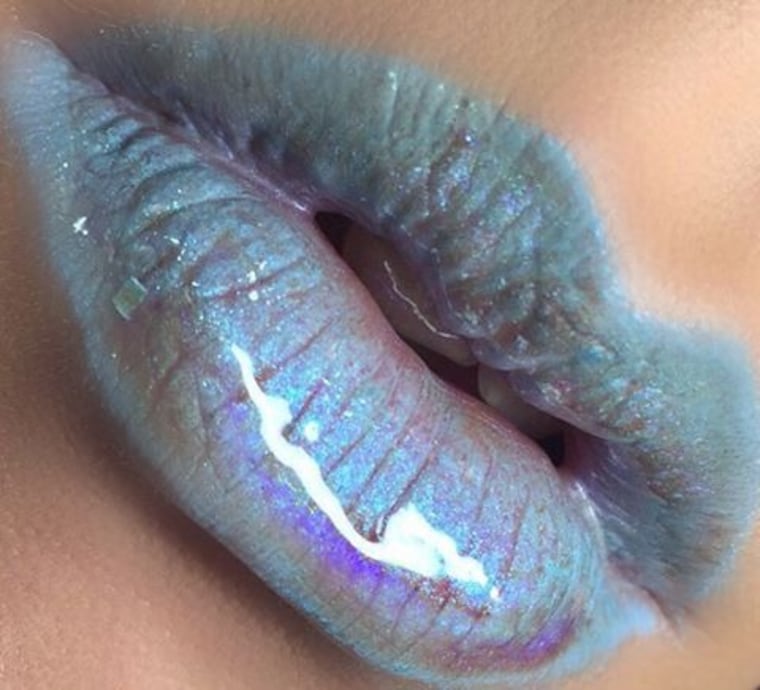 This beauty trend takes lip gloss to a whole new level. Holographic lip gloss layered over regular color gives an almost iridescent, otherworldly glow.
RELATED: Pinterest 100 list reveals home and style trends to expect in 2017
9. Vertical haircuts
This viral hair technique pulls wet hair straight upward into four ponytails before bluntly chopping off the ends. While the videos may be new, this technique has actually been around for a while. According to Garren of R+CO haircare, vertical cutting is what brought us popular styles like Jennifer Aniston's infamous "Rachel" cut.
10. Glitter lips
Lip kits were all the rage this year, but one stood out and started a trend all its own. Makeup artist Pat McGrath's Labs Lust 004 lip kit launched at the end of the summer and started a wave of glittery lip looks. And while McGrath's creation is the original, it's easy to replicate the look at home using your favorite lipstick and store-bought sparkles.
RELATED: 11 simple nail art designs and tricks to try now
11. Cuticle decals
This trend crosses the boundaries between nail art and body art in an extremely cool way. The minimalist look calls for decals to be attached just at the cuticle in a way that resembles cool, mid-knuckle rings.
12. Glow-in-the-dark hair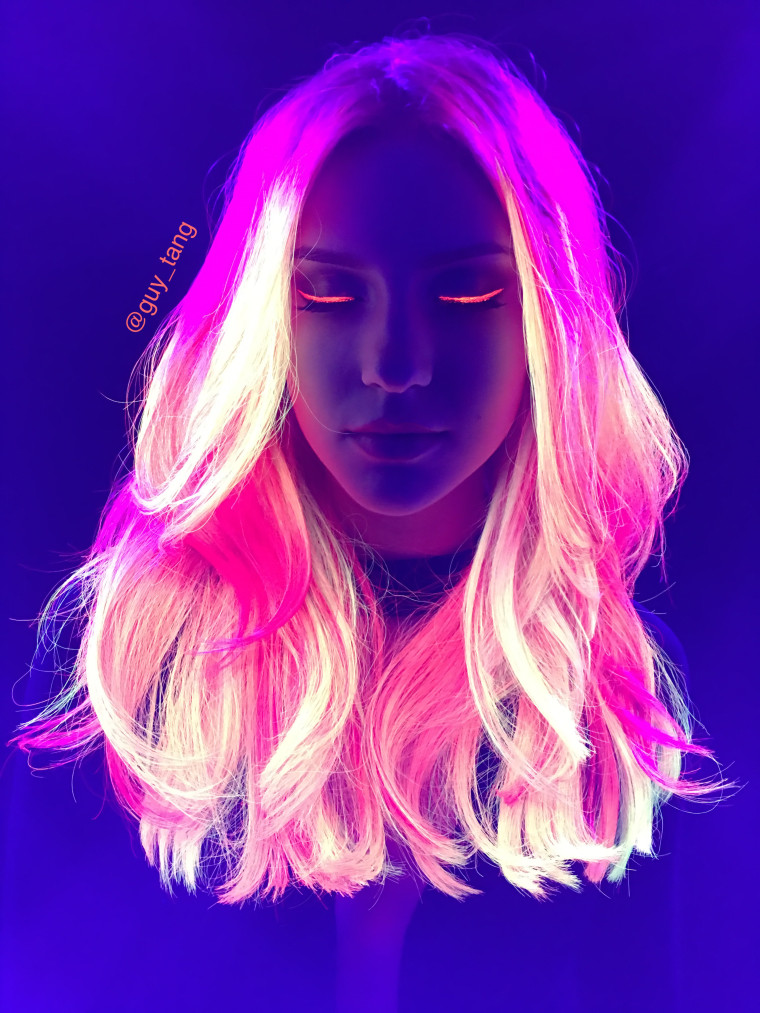 Glow-in-the-dark hair is like mermaid hair on steroids. These multicolored strands are stunning in daylight, but truly shine under a black light.
RELATED: Pinterest reveals 2016's top fashion and beauty trends: Adele's eyes, mermaid hair and more
13. Crystal lips
Gems aren't just for jewlery anymore. The "crystal lips" trend took over Instagram this year and it is stunning. Using liquid glitter and metallic colors, makeup artists create magical looks that resemble geodes found in nature.
We can't wait to see what's in store for 2017!