Hate your backsplash but don't have the money or landlord approval to do anything about it? This might be your answer.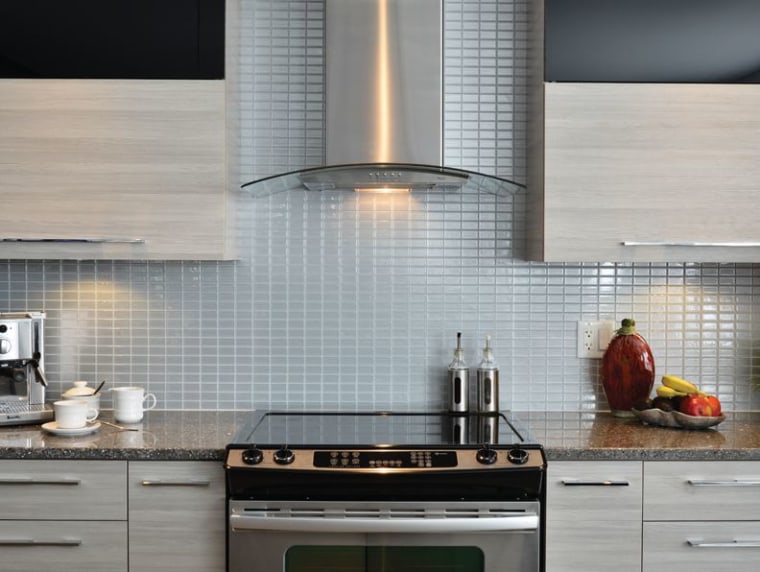 Smart Tiles are peel-and-stick wall tiles that are a DIY enthusiast's dream. They're inexpensive, versatile and easy to install — the company claims the process takes minutes without making a mess or requiring any specialized tools. And while they may sound good to be true, Home Depot's customer reviews paint a pretty picture.
"These look wonderful and so realistic," wrote one customer. "Very easy to install and changed the whole look of my kitchen. The 'glass' tiles just POP with color and added a richness that I had only hoped for!"
"Everyone asked how could I have done it by myself and can't believe they are just stickers," another one wrote.
The tiles look so realistic due to a gel component called Gel-O. This gives them a 3-D effect that makes them look like actual (and very expensive) tile.
The designs include colorful mosaics and very trendy subway-tile options. The average price for tiles ranges from about $7 - $10 (sizes vary).
Of course, nothing can be perfect. Some reviewers did find some struggles in the installation process while others offered tips.
"It's like putting together a jigsaw puzzle, and outlets just complicate the matter," one said. "Take the covers off when you measure for the outlets, etc.," another wrote. "The hardest part is just working in tight spaces, making them fit together level so that you don't see seams."
We've rounded up some options that are sure to give even the most dull kitchen a face lift.
1. Milano Carrera Peel and Stick 3D Gel-O Wall Tiles Mosaik, $18, Houzz
This beautiful Milano Carrera tile will bring a simple, chic look to even the dullest kitchen.
2. "Atlantis" Single Tile, $16, Houzz
Needing some color in your life? This "Atlantis" tile will make your kitchen feel like you're under the sea!
3. Hexago Peel and Stick 3D Gel-O Wall Tiles Mosaik, $15, Houzz
These white hexagonal tiles put a unique spin on the ever-trendy subway tile, while still providing a clean, polished look.
4. Metro Carrera Peel and Stick 3D Gel-O Wall Tiles Mosaik, $15, Houzz
Love the look of marble, but can't quite stomach the price tag? You're in luck! This design incorporates a marble finish to a traditional subway tile for a look that is both expensive and on-trend.
5. Vintage Bilbao Peel and Stick 3D Gel-O Wall Tiles Mosaik, $17, Houzz
These fun and funky tiles will bring any kitchen to life while the black and white design keeps the look grounded and sleek.
6. Peel and Stick Backsplash Tile in "Old Kettle," $13, Houzz
This copper-honed tile freshens up the typical neutral for a stand-out look.
This article was originally published on Aug. 24, 2015 on TODAY.com.