When most couples reach 25 years of marriage, also known as the silver anniversary, they often exchange jewelry or gleaming keepsakes to commemorate the day.
Heidi Tait, a former paralegal and now a student aid, decided to do something special for her husband of a quarter century — a new kitchen! But it wasn't as easy as just installing new cabinets or applying fresh paint. Heidi needed help, and appealed to TODAY for a kitchen makeover.
According to Heidi, a kitchen renovation has been long overdue, and has always taken a back seat to other family necessities like cars, college tuition and a wedding celebration for one of their children. Now that they're facing an "empty nest" at home together, Heidi felt it was time to tackle the kitchen, and appealed to TODAY for help.
(Renovate TODAY is created with our sponsor Lowe's)
"Not much has changed much since we purchased the house in 1996, it was built in 1987," said Tait. "As a 25th wedding present I would love to give my husband Bob a new kitchen. It would be a great surprise for my husband as an anniversary present to not have to worry about the expense and time updating the kitchen. Empty nest syndrome is difficult and we would love to have a new kitchen for family dinners," she said.
TODAY contributor Jill Martin, along with Lowe's head designer Deb Lesinski and her team, stepped up to the challenge.
Here's what they did to transform this kitchen from boring to beautiful:
Out with the old...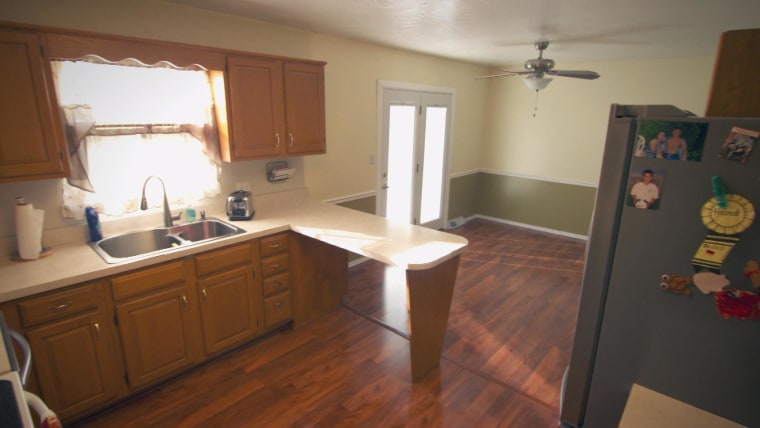 Demolition of the cabinets, countertops, flooring, sink, faucet, molding and stove
All debris removed so the designers had a clean slate to work with
Disconnection of all appliances, including the fridge, stove, microwave and dishwasher — these were later reinstalled
Demolition of the ceiling stucco drywall
RELATED: Make way for triplets! Nursery makeover leaves couple in tears on TODAY — see inside
And in with the new...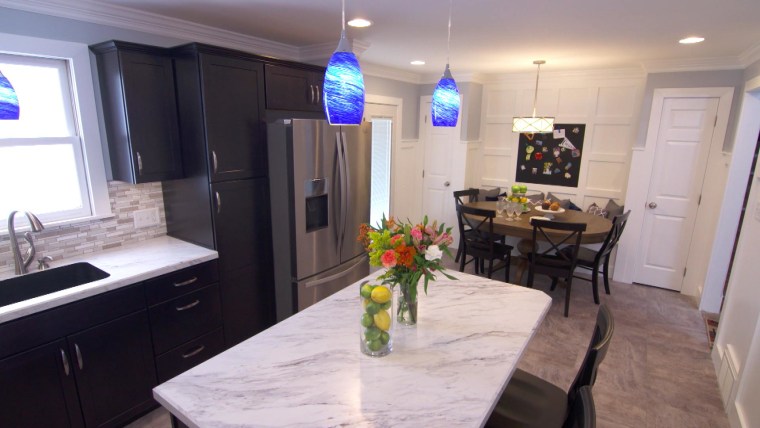 TODAY and the Lowe's design team installed new cabinets with moldings
Installation of new laminate countertops installed with a beveled custom edge
Sink and new faucet
New garbage disposal
New range
New luxury vinyl floor and grout
New wall at refrigerator, new walls and doors to create a new double pantry
New banquette seating with flip lid
All custom moldings applied around the room
New drywall installed on ceiling to eliminate stucco finish
Creation of a steel magnet board and paint chalkboard black
New recessed cans installed in ceiling, new hanging pendants over island and sink
Installation of new under cabinet lighting and updating of all electrical to meet state and local codes
For the plumbing, all lines were moved to meet state and local codes
Installation of porcelain mosaic backsplash and grout
The design team also supplied furniture for the space including a new dining table, chairs for table and an island
Decorative elements — like pillows, frames, countertop accessories — finished off the look
Great job, team!
RELATED: This home was once a schoolhouse and church — see it now!