These days, people are finding numerous ways to trick themselves into drinking more water — from carbonated drink makers to flavor packets and trendy to-go bottles. For me, I just need a drink that stays cold; something that's relatively simple to get, right? Not really, especially if you use plastic ice cube trays that make a mess or give your frozen water a weird taste.
I recently noticed that my water intake has been seriously lacking, given my state of dehydration at the end of most days. So, I called it fate when I was given the chance to try one of Amazon's bestselling ice cube trays. And not just any trays — ones that are stackable, sealable and made of silicone. Could such a simple product make a noticeable impact on my day-to-day life? Or have I just reached the stage of my life of getting overly excited about kitchen items?
For $13, you get four trays that make 14 cubes each, which comes out to a total of 56 cubes. I also got to choose from a selection of five fun colors (yellow, green, red, blue and black). I opted for green because I ordered these during the holiday season, so it seemed to be the most festive. (It's the little things that get me excited about hydration.)
And although I'm very happy with the amount of ice I'm getting, my favorite part has to be the lids they come with. They snap onto the trays so I can stack them on top of each other, which helps me save plenty of space in my freezer.
The lids are also meant to keep liquids from transferring from one cube to another. According to the brand, if you want to freeze different kinds of drinks (juice, coffee, etc ...) in different reservoirs, you won't have to worry about them spilling all over each other. Unfortunately, when I tried making separate water and fruit juice ice cubes (to add some flavor to my plain H2O) in one tray, my liquids ended up mixing together. So, on my next attempt, I just filled one tray with filtered tap water and another with my favorite low-calorie orange drink.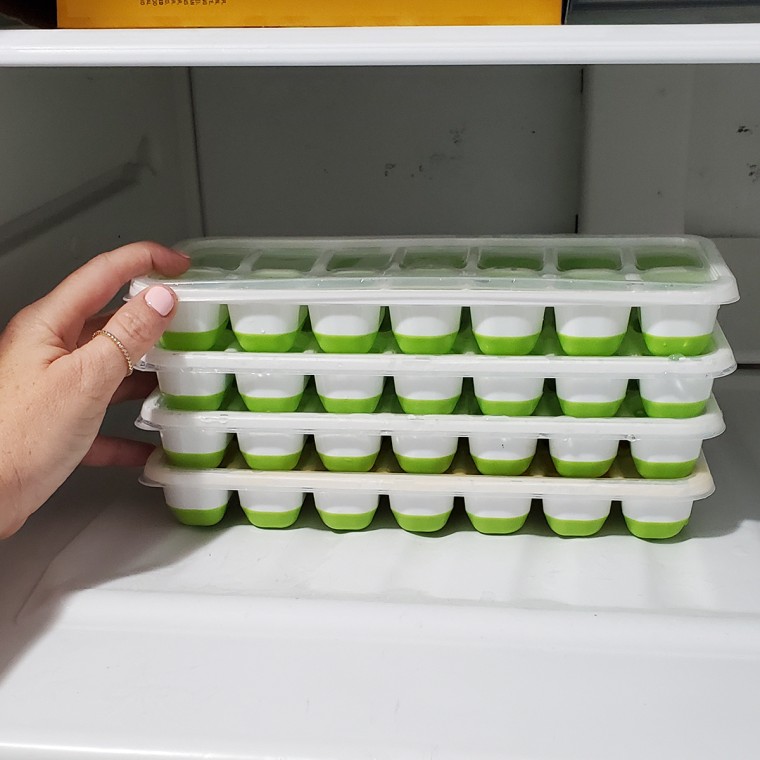 One thing I didn't expect to be so impressed with is how easy it is to release the cubes once they're frozen. Thanks to its flexible silicone design, emptying an entire tray takes less than five seconds (if you're used to twisting and banging your plastic trays to get the ice to pop out, you know how much of a relief this is). I can't tell you how much of a game-changer this will be next time I host a party or happy hour with friends — no more taking up the whole freezer for days just to prep enough ice.
On the other hand, if you indulge in a solo seltzer or ginger ale once in a while like I do, it's also really easy to take out one or two cubes at a time. Just push the silicone cup from the bottom and, voila!
Is it silly to be so impressed with a seemingly trivial product? Maybe, but I still can't say that I'm not. If having the ability to save space in my freezer and up my hydration game at the same time is silly, so be it.