Take a peek into any skin care lover's beauty cabinet and you're likely to find a slew of products that feature hyaluronic acid (HA) as the star ingredient. The hydrating powerhouse is a staple in many bestselling creams and serums and is beloved by dermatologists because it's a great moisturizer and has little to no side effects.
Surprisingly, the ingredient can be just as good for your pout as it is for your skin. We spoke to Dr. Marisa Garshick, a board-certified dermatologist in New York City, about all the potential benefits of hyaluronic acid for your lips.
Below, Garshick breaks down how lip balms and glosses with hyaluronic acid work, and then shares with us her top tried-and-loved HA lip products and treatments. Plus, we found a handful of other popular and highly rated options that you can add to your beauty cabinet.
Click the links below to jump to a specific category, or keep scrolling to see our entire list of the best hyaluronic acid lip balms and glosses, according to our skin expert and shoppers.
How do HA lip balms work? | Dr. Garshick's top picks | Shopper-loved HA lip balms | Shopper-loved HA lip glosses | FAQs | Meet our expert
How does a hyaluronic lip balm work?
"Just like the rest of our skin, our lips are susceptible to moisture loss, as well as getting dry, cracked and irritated," Garshick tells Shop TODAY. "What hyaluronic acid does, because it's a humectant, is it draws moisture in." In short, this leaves your lips feeling softer, smoother and more hydrated.
On top of that, it can also have a subtle plumping effect. "Hyaluronic acid is one of the most common filler ingredients which we use for lips," Garshick says. "But topically, while it's obviously not going to have the same effect that an injectable would, it does have great hydrating properties." As a result, after applying an HA-containing product, you may notice that your lips look naturally fuller and more voluminous.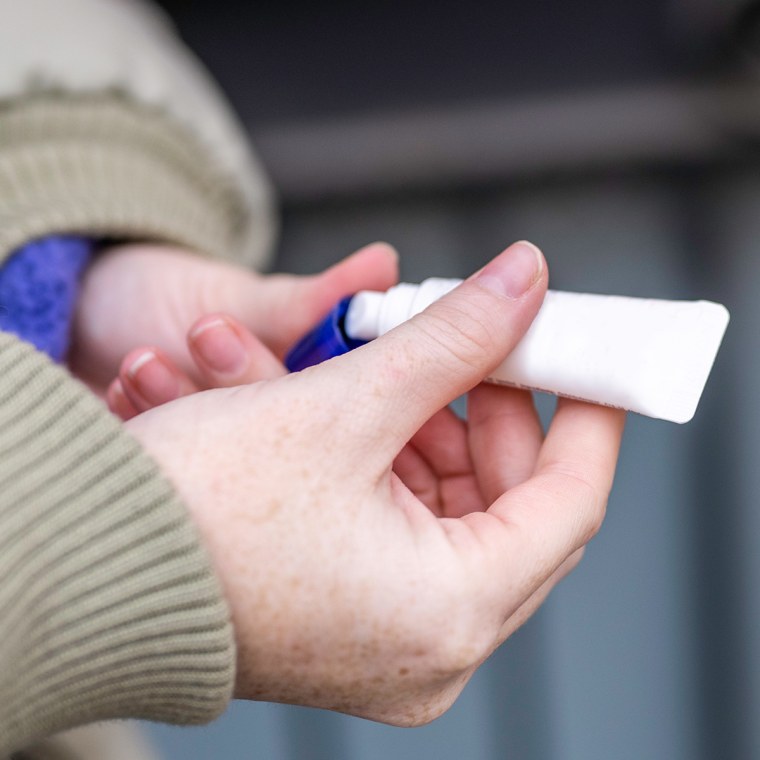 Expert-approved hyaluronic acid lip products
Garshick recommends this treatment, which she calls "very soothing." It features the hydrating ingredient along with fruit extracts to relieve dryness and boost lip radiance and softness.
Garshick says this lip booster is a good pick for someone who's looking to get that plumping effect along with a boost in hydration. "It also contains peptides, which are thought to help stimulate collagen production, so it may also be helpful for lip lines as well," she says.
Garshick likes Lip Shine not only because it contains hyaluronic acid for hydration, but also because it provides necessary sun protection. Because hyaluronic acid draws moisture in, Garshick advises to make sure that, when looking for an HA product, there are ingredients that will hold onto that moisture. She recommends looking for occlusives like shea butter or vitamin E; this formula contains the latter.
Hyaluronic acid lip balms and treatments
Free from alcohol, artificial colorants, artificial fragrance and other unwanted ingredients, this lip treatment is made with just the good stuff. The formula includes moisturizing shea butter, glycerin and hyaluronic acid along with soothing colloidal oatmeal, so it's designed to provide instant relief for dry lips.
This lip boosting serum is made up of three major players in skin care: hyaluronic acid, peptides and squalane. It's said to tout a plethora of benefits, such as improving fine lines and flaking, restoring suppleness and preventing moisture loss — off of which may aid in giving you smoother, softer lips.
This lip balm blends hyaluronic acid with other hydrating ingredients like ceramides and squalane, so it's said to smooth and soften your pout. Even better, it contains wakame algae, which the brand says can help visibly improve the plumpness of your lips with repeated use.
You can keep this formula in your purse to swipe on whenever your lips need a quick boost of moisture and color. Available in eight flattering shades like Light Pink and Deep Red, there's a hue to match every makeup look.
This is not your average lip balm. The LipFuel Hyaluronic Acid Balm from clean beauty brand Kosas is packed with nourishing ingredients in addition to hyaluronic acid, like konjac root and vitamin E — a combination that visibly improves the appearance of your lips with every wear, the brand says. The stick's design is meant to mimic the shape of your lips to make it easier to cover all corners and crevices, according to the brand.
Get it in a clear shade or try one of the lightly tinted hues.
Multiple members of the Shop TODAY team count themselves as fans of this Ilia balm (myself included!). Senior SEO Editor Jess Bender says the balm has a few standout features that make it a great pick: "Its formula includes a moisture-boosting blend of hyaluronic acid, prickly pear oil and sea succulent, and it leaves a subtle sheen after application — which is great when I need to elevate my face while in a rush to catch a Zoom meeting."
Want to layer lip care products without the hassle? According to Glossier, Ultralip's formula combines "the rich moisture of a balm, the sheen of a gloss and the buildable color of a lip tint" — all in one product. The formula includes four molecular weights of hyaluronic acid, which maximizes hydration by "drawing in moisture from the inside out," according to the brand.
Hyaluronic acid lip glosses
With over a dozen colors available from clear to shades of bronze and brass, you don't have to worry about sacrificing moisture for beauty with this lip gloss, according to several reviewers: A common highlight is how nicely this gloss, which uses hyaluronic acid as a key ingredient, adds shine and sheer color without feeling waxy or sticky. Others add that the gloss has a mild, pleasant scent. Just make sure to top off with a moisturizing balm if you're prone to very dry chapped lips, according to a few reviews.
The bold color of a lipstick, the shine of a gloss and the hydrating qualities of a balm — all for less than $10? Yes, please! This do-it-all lip gloss provides up to 24 hours of moisture, according to the brand. Reviewers say that they appreciate how the gloss goes on smoothly without feeling sticky and provides an instant dose of hydration.
Not only is this formula a celebrity favorite, but it's also dermatologist-approved. It can be applied over your favorite lipstick shade or on its own to add color, moisture and shine to your lips. One Shop TODAY editor says that "it glides on smooth, giving my lips a more plump experience and a more cushioned feeling."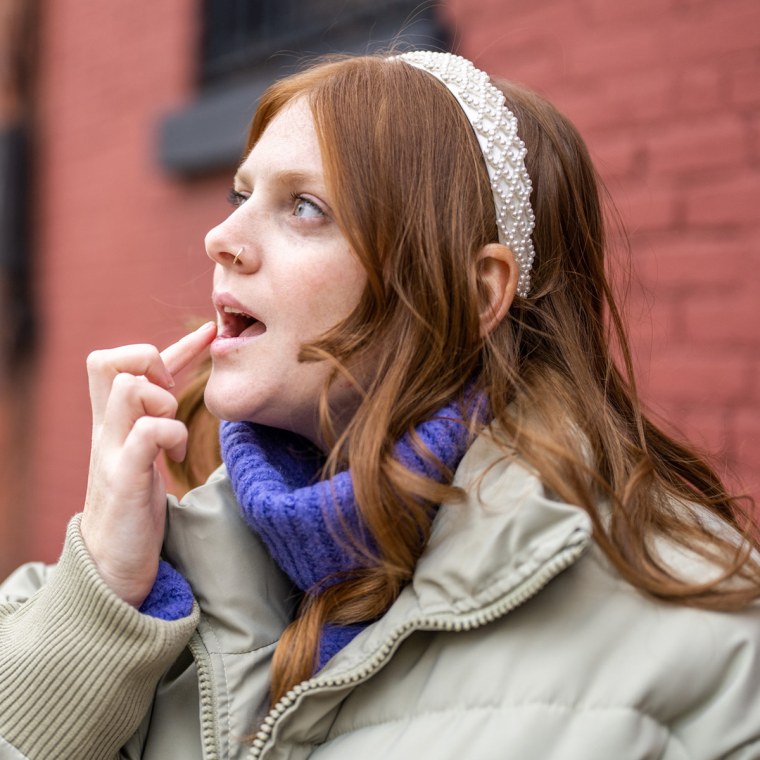 Frequently asked questions about hyaluronic acid, answered
Can I use hyaluronic acid on my lips every day?
Yes, hyaluronic acid lip products are safe to use every day to help boost hydration, Garshick says.
Does hyaluronic acid dry out your lips?
"If the lips are already dry, hyaluronic acid can potentially be more drying, especially if not paired with ingredients to lock in moisture," Garshick says.
Because hyaluronic acid draws water in, if there's not enough moisture in the environment, it will draw it from your lips or skin. If you don't use a product to trap that moisture in, it can evaporate and actually dry out your lips.
After applying the HA product, Garshick says that "the best thing to do is apply an occlusive ointment like Vaseline to lock moisture in."
Meet our expert
Dr. Marisa Garshick, M.D., is a board-certified dermatologist at MDCS Dermatology, serving patients in New York City and Clifton, New Jersey. She offers both cosmetic and medical dermatological services that include treatments for acne, eczema, moles, wrinkles, psoriasis and more. Check out Shop TODAY's other explainers that feature Dr. Garshick's expertise: