Packing is notoriously one of the most dreaded parts of traveling. How easy or difficult it is to pack your stuff often sets the tone for your trip, especially if your adventures involve a lot of moving around.
But no need to stress — for those of us who don't naturally possess the ability to perfectly Tetris all of our belongings into any suitcase, weekender or backpack, there is hope. Narrowed down from over 100 products our team rigorously reviewed, we cut through the clutter and found the packing MVPs that will help you stay organized and fit precisely what you need for your travels.
From packing cubes to jewelry organizers, scroll on for the complete list of this year's Travel Gear Awards-winning packing accessories — and prepare to kiss the days of sitting on your suitcase to make it shut goodbye.
Best packing cubes
Award: Best Packing Cubes | Category: Packing Organizer
Behold: The ultimate packing game-changer. That's what travel expert Rebecca Skates, a major airline flight attendant, calls compression cubes — which are a staple in her own weekly packing routine. Not only does this set from Eagle Creek condense your things to help you fit more into your luggage, but the cubes also act as organizers to keep all of your stuff neatly sorted and easily accessible.
In fact, associate editor Fran Sales almost makes them sound like little drawers for your suitcase, because "there are handles on their exterior if you need to pull them out from a pile in your luggage."
Other reviewers noted that they're lightweight, long-lasting and deceptively roomy.
"The smallest bag fits five pairs of underwear, or three pairs of socks," social editorial assistant Annie Shigo reports. "I was surprised! This little bag didn't even look like it could fit my phone!"
As for the bigger sizes, "the medium-sized bag can fit three T-shirts and maybe a pair of shorts or socks," Shigo says, noting that this one also doubled as a dirty laundry bag on her trip. "The largest bag can fit about four shirts and two pairs of shorts, depending on weight/size, and maybe a pair of pants."
Best jewelry organizer
Award: Best Jewelry Organizer | Category: Best Organizer
Untangling knotted necklaces and bracelets can be a nightmare. Save yourself the hassle and protect your jewelry from damage with this Shop TODAY-approved travel organizer, which beat out all the rest in our Travel Gear Awards.
After throwing it her carry-on for a recent flight, commerce partnerships associate Klay Drageset appreciates the cushioned exterior that protected her rings, earrings and necklaces in-flight. She also likes that you can move or remove the interior panels to adjust the compartments for the perfect fit.
By the way, our reviewers aren't the only fans of this organizer — it also made Oprah's Favorite Things list last year.
Best toiletry bags
Award: Best Overall Toiletry Bag | Category: Toiletry Bag
With its easy-to-clean recycled nylon, "spacious yet compact design" and "pockets within pockets," our reviewers' love for this accessory bag borders on ridiculous — there was literally nothing about it that they disliked.
"I hate the level of excitement that this Cotopaxi bag has brought me," confesses senior social media editor Kate McCarthy. "I used it in my office, on the train, and brought it all over Massachusetts, bouncing from bathroom counter to bathroom counter, and it stood up to the test of travel like a champ."
Use code TODAY25 to take 25% off the Nido at Cotopaxi's website, through May 31.
Award: Best Extra-Large Toiletry Bag | Category: Toiletry Bag
Beauty lovers, listen up! If ample space for all of your products is what you're looking for in a toiletry bag, our reviewers suggest this sturdy, roomy organizer. The customizable storage is designed with a deep main compartment, a protective space to house makeup brushes, two removable storage cubes and one removable flat pouch.
Commerce leadership coordinator Alexa Arent relies on this toiletry bag not only for travel, but also to tote her makeup and tools on busy days to and from home, work, the gym, and beyond.
"It fits all my products and keeps everything organized." Arent praises. "There is truly a section for everything."
Award: Best Hanging Toiletry Bag | Category: Toiletry Bag
No counter space? No problem. This neat toiletry bag can be hung up to keep the bathroom vanity clutter-free on your travels. It features a spacious interior with a zip closure, inner mesh zip pockets, and two side zip pockets.
"I always have issues when figuring out where to put all my stuff in small hotel rooms while traveling, but this was a major solution," says Arent, who opted for this toiletry bag during a weekend wedding trip. "It made the entire bag accessible and easier to use."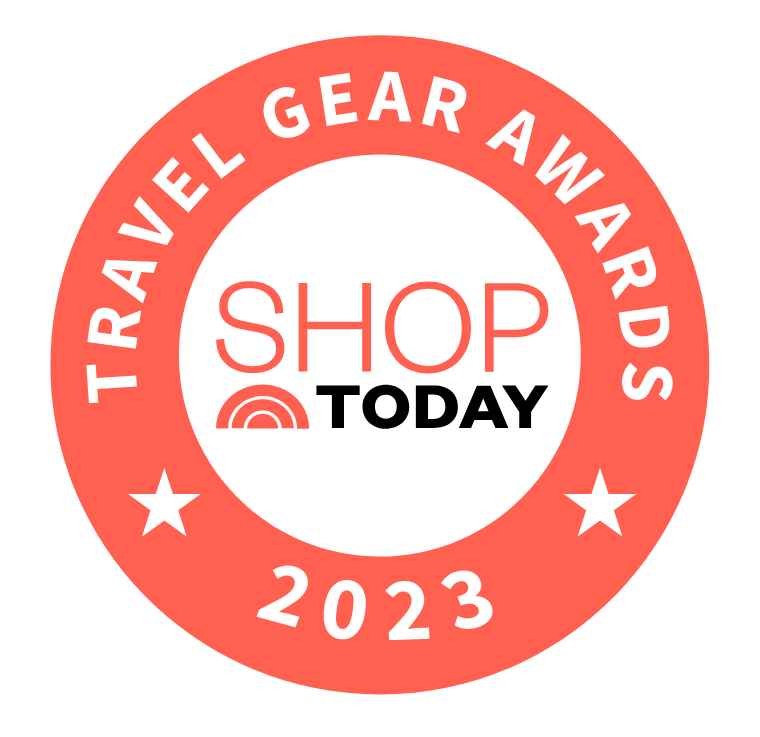 Shop TODAY is editorially independent and our team of editors and writers work hard to pick the best products to share with our readers and viewers. We may license our logo to brands or products that have been featured on Shop TODAY. Click here if you're interested in licensing your inclusion in Shop TODAY content or to learn more from our licensing partner, Wrights Media.