If there's one thing fitness fanatics and gym gurus alike know, it's that it takes a lot to keep a body in motion, staying in motion. Not only is it worth investing in the proper attire and shoes to help get your best workout in, but the equipment you use to help you warm up and cool down from those gym sessions matter as well.
Whether you need it after a pickleball session or getting your blood pumping before a long run, a massage gun's main purpose is to relax and relieve the muscles. Used by professional athletes, physicians and anyone who regularly exercises — including TODAY staffers as part of our first-ever Start TODAY x Shop TODAY Wellness Awards — this device is one step above the trusty foam roller sitting near your home gym equipment.
We spoke with experts about how to properly use this device and how to choose one that's most suited for your wellness goals.
What do massage guns do? | How do they compare to foam rollers? | How to effectively use one | How to shop for a massage gun | Start TODAY x Shop TODAY award winners | Massage guns to shop | FAQs | Meet the experts
What do massage guns do?
In short, massage guns use vibrations and pressure applied to muscles to increase blood flow and circulation, while relieving soreness in the process.
Ted Kepros, founder and CEO of Kepros Physical Therapy clinics in southeastern Iowa, utilizes a metaphor that explains the efficacy of massage guns. Imagine we, as humans, are robots. Stiff, non-bendable ligaments guide our every move. Massage guns help to break up that rigidity, helping to promote circulation, fluidity and flexibility.
"Number one, I want to bring blood flow to the tissue," he says. With this change comes the movement of fluids (think blood!).
"I'm changing the electromagnetic properties, a little bit of that tissue and therefore with that blood flow and that combination of pushing fluids through it, it's going to reduce trigger points," Kepros adds. Furthermore, "it's going to reduce chemical stasis, going to decrease pain and...improve the fluidity of that muscle, so the muscle's not guarding, holding or improperly positioned in itself."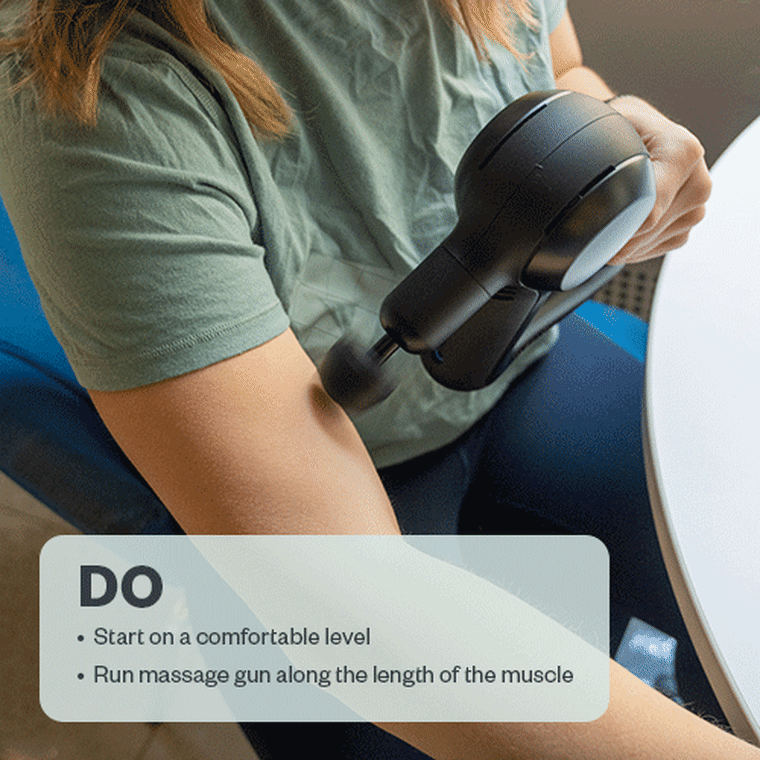 How can one effectively use massage guns to aid in recovery efforts?
According to chiropractor Dr. Jan Lefkowitz, massage guns help to decrease DOMS, or delayed onset muscle soreness.
"Using massage guns can really help aid with recovery, flush out waste products in the muscles and potentially shorten this time frame, which helps you get to your next workout much more quickly," he says.
Kepros advises to not go from zero to 100 with the massage gun, though. Instead, start slow on the muscles you're working to relieve to slowly introduce the muscle tissues to the pressures.
"Start light on a comfortable level...along the length of the muscle," Kepros says. "If you find an area that's irritated, do a little circular motion around that area...Think of it like doing a counter-clockwise and a clockwise circle around that area."
Kepros also recommends not pushing hard on the muscle to avoid bruising.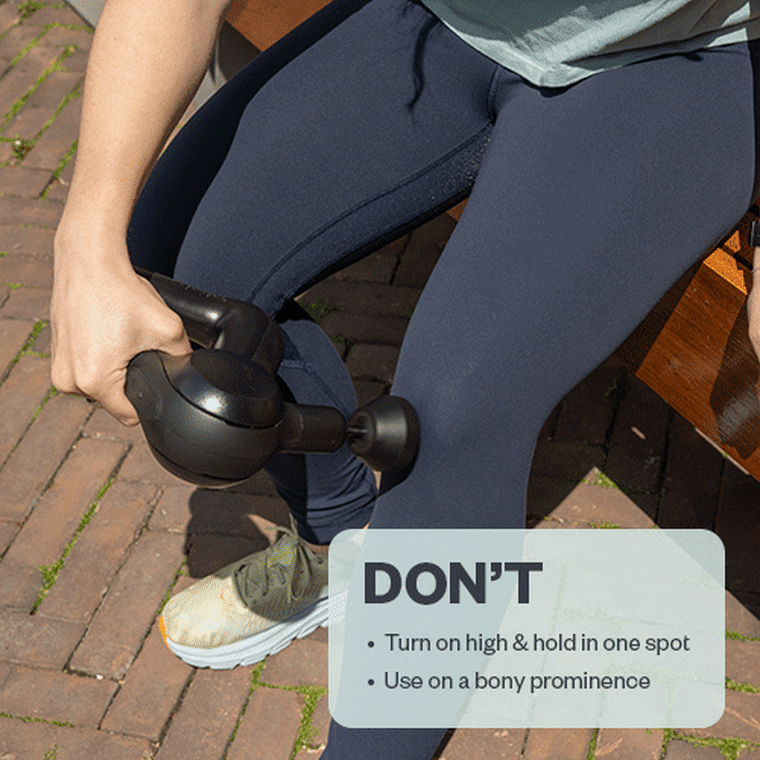 Theresa Acosta, head athletic trainer for the New York Liberty, suggests testing massage guns in-person before making a decision. According to UCLA Health, the four main aspects you should consider when it comes to shopping for a massage gun are speed, weight, noise and battery life.
"You've got to find the right style," Acosta says. "There's a lot of different massage guns out there with a lot of different settings and a lot of different modular heads [that] work in different areas."
Physicist Dr. Naimish Baxi also notes that if you're targeting a certain muscle or surface, you might want to pay attention to the speed settings while shopping.
"Typically, the more superficial structures [areas around the elbow or knee] can be more sensitive to higher force and speed. Deeper, larger structures like the periscapular muscles [the area around the shoulder blade] can tolerate faster speeds and larger forces."
Start TODAY x Shop TODAY Wellness Awards: Best massage guns of 2023
Category: Best budget
With six different attachments to target various muscle groups, this affordable and "fairly light" massage gun took home ranks during Start TODAY x Shop TODAY Wellness Awards for the best budget option. For under $30, Shop TODAY page Casey Dawson believes "the price equally matches the value of the product."
Dawson also notes that while some areas of the body like arms and legs were easy to target, other areas harder to reach and required the massage gun to be held at awkward angles.
Category: Best all-in-one set
Affordable and versatile, reviewers loved this product because of how much variety it offered without having to shell out big bucks for it. With ten attachments and seven speeds, users can truly individualize their experience with this gadget, targeting tight muscles and knots where needed.
"The product is easy to use, easy to charge and self-explainable," says Drew Schwendiman, TODAY's social media video producer.
Category: Best for travel
Partnerships editorial assistant Lauren Biggerstaff says she felt "immediate relief" after using this massage gun post-workout and even after a long day spent sitting at a computer.
She also targeted her calves and hamstrings post-leg day at the gym, adding that while she loves the attachments that target specific areas and muscle groups, she wishes it had a few more speed variations to tackle larger muscle groups such as the glutes.
Category: Best splurge
Formerly featured as one of Oprah's Favorite Things, this mini massage gun is portable and packs just as much power as its full-sized version. It has three speeds that span the 1,750 to 2,400 percussions per minute range.
The mini also comes with three attachments, depending on how you want to soften and relax certain muscles. This massage gun was so beloved, it became one reviewer's "everything."
"I typically hold tension in my shoulders, and with the dampener attachment, I have felt release in that part of my body for the first time in years," raves TODAY.com food reporter Joseph Lamour. "Years! I also was on a long road trip and I took it with me — slipped easily into my bag — and I was able to use it on sore muscles at rest stops."
Best massage guns, according to shoppers
The handle on this portable massager makes it easy to hold while gliding across the muscles as the experts recommend. It includes three attachments and runs on batteries, meaning there's no need to fuss with packing a charger along.
Get the most bang for a little buck with this massage gun that includes 10 attachments, a carrying case and a digital touchscreen that allows you to control the speed with ease. It has 20 levels, ranging from warm up to professional mode, that span between 1,200 to 3,200 percussions per minute.
Weighing in at a little bit under two pounds, this massage gun can be easily implemented into your warmup or cool down routines at the gym, in the locker room or on the track. It includes six interchangeable heads, lasts for over four hours on a single charge and has three speeds to switch between.
With up to four hours of life on one charge, this massage gun definitely takes the cake in terms of longevity, which is a perk when taking it on-the-go. It's also lightweight, packs easily and includes four different heads to target sore muscles.
If you love cryotherapy or a good ice bath after a rigorous workout, then this is the massage gun for you. It includes the option to incorporate both hot and cold temperatures to aid in your recovery session, as well as seven attachments and three varying speeds.
Weighing in at less than one pound, this mini massage gun is smaller than your smartphone, meaning it packs and travels easily. Four different attachments and three speed settings help to apply 40 pounds of pressure to muscles, leaving reviewers "impressed" with the power this mini therapy gun holds.
With five attachments, three hours of life off of one charge and three speeds, it's easy to see why this Hyperice massage gun is Shop TODAY senior social media editor Kate McCarthy's go-to. McCarthy (who ran the New York Marathon in 2022!) hypes this one up because "it's the perfect tool to relax tight muscles, and I can give myself a massage from the comfort of my couch."
This Therabody option has brand name recognition, and it isn't just because it's gained popularity as one of the most well-liked options by reviewers, athletes and doctors. The ergonomic handle makes it easy to maneuver across muscles, while four different attachments ensure that you're targeting these areas with proper textures. With 120 minutes of life off of one charge, not only is this device long-lasting, but you can easily see how much life is left thanks to the app.
Between 1,750 to 2,400 percussions per minute, altering the speed allows you to target sore muscles fresh from a run or warm them up to tackle your next fitness challenge.
Frequently asked questions
How does a massage gun compare to other recovery devices, such as foam rollers?
Where foam rollers rely on man-made pressure applied by an individual, massage guns are electrical devices that vibrate and apply pressure to muscles. This pressure varies by device, but can pack a powerful enough punch that, if not used in the correct spots, can cause bruising.
Kepros advises against using massage guns on "bony prominences" such as the lower spine, the neck area or other areas where it's mostly bone compared to muscle.
"Massage guns, I would say, have more benefits than foam rolling as they also stimulate the nervous system, help with lymphatic drainage and are more effective for pain relief," mentions Lefkowitz.
If there's one thing that foam rollers have over massage guns, it's that they're better when it comes to relieving certain trigger points in a muscle.
Acosta believes that since both achieve different goals, the two should be used together.
"They're definitely used for different aspects of therapy," Acosta emphasizes.
Can they only be used after working out?
Massage guns can be used before and after working out, after a long flight or to warm up muscles and limbs.
"You can use your massage guns anytime you feel any increased tension or muscle soreness or restriction in your normal range of motion and it does not need to only be post-workout," says Lefkowitz, but adds that it should only be applied for muscle soreness, not injury-related pain.
What is the difference between the included attachments?
Attachments are included with massage guns to provide different distributions of force, according to Kepros. For example, pointed attachments are going to distribute and apply force differently than flat attachments.
Pointed attachments, when used correctly, assist in targeting small, specific areas. However, when used incorrectly, can lead to bruising and further damaging the tissue surrounding the muscle.
For larger, broader areas, Kepros recommends using flatter attachments. Spherical attachments, especially those with rubber surrounding them and have a little more bounce to them, are more "forgiving."
"That is a good general attachment overall to use because it just is a little softer on tissue and doesn't cause as much direct pounding," Kepros adds.
The majority of massage guns come with a pointed, spherical, flat and U-shaped attachments.
Is there anyone who shouldn't use massage guns?
If you're expecting, have cancer or an open wound, Kepros advises against using a massage gun unless you've talked with a primary care doctor beforehand.
"In general...where it's an open wound, new surgery or you are in a potentially unique group such as pregnancy or cancer, my recommendation is always to consult your physician [and] physical therapist team, because the two of them can collaborate," Kepros summarizes.
"I don't want to be near or around that belly and in addition, just talking to your physician to ensure that it's safe to use...on the low back and towards the buttocks, because typically sciatica is very common in women with pregnancy," Kepros adds.
With those who have experienced a cancer diagnosis, Kepros notes that the main purpose of massage guns is to redirect blood flow, which can be harmful in certain areas (especially during treatment), such as near the breasts or breast tissue in someone who has had breast cancer.
In addition, if you have postoperative plates or metal in your legs, the vibration caused by the massage gun could also cause those to shift around.
According to the American Massage Therapy Association, you should ultimately use a massage gun to "relieve pain in conditions that are not localized to a specific part of the body, such as fibromyalgia." So those with pain in one area of the body should seek other solutions.
Meet the experts
Has your product been featured?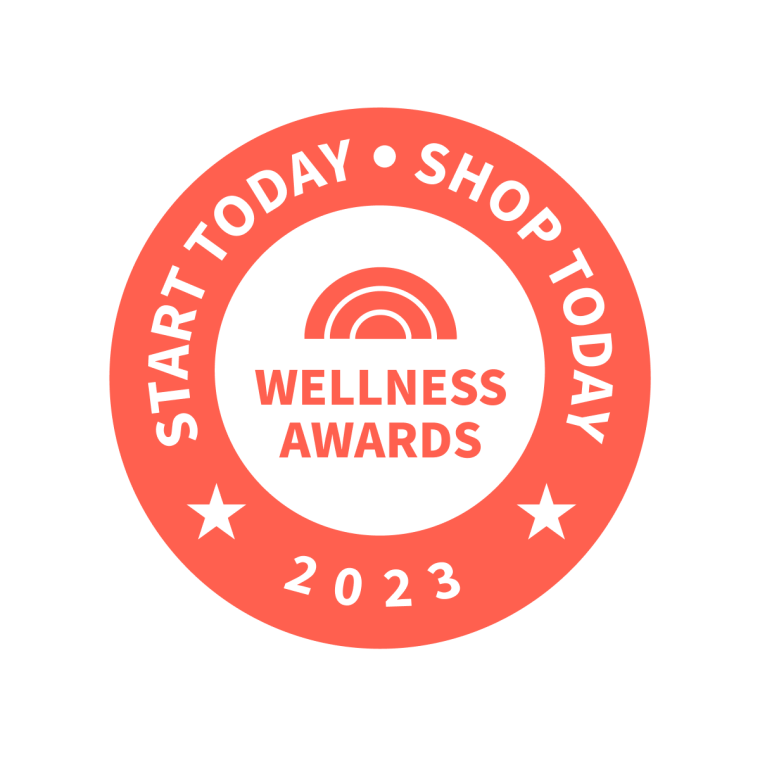 Start TODAY is the destination and community to help you become a healthier, happier and better you. Powered by community, expert health advice, walking challenges, fitness routines, nutrition guides, meal plans and mindfulness techniques, Start TODAY gives you the tools to be the best version of yourself! Learn more.
Shop TODAY covers all things shopping, from expert-approved recommendations to online deals and sales, your favorite TODAY segments and streaming shows, gift guides for everyone in your life and much more. As shopping enthusiasts, we seek out what's new and great in style, beauty, home, tech and more to empower our audience to find products that will make their lives rewarding, easier and more fun. Learn more.