Packing your clothes for an upcoming trip might be the most time-consuming part vacation prep.
Whether you're headed out of town for the week or just getting away for the weekend, picking out what to wear likely requires a lot of effort — so we wanted to change that. We tried everything from rain jackets to beach cover-ups in order to determine what exactly is worth that precious space in your bag, regardless of the occasion.
From a versatile pair of pants that will have you covered in unexpected weather conditions to a one-and-done jumpsuit that you can wear from the airport and then out to dinner, here are the best clothes for travel, according to Shop TODAY editors.
Shop TODAY Travel Gear Awards: Best travel clothes for 2023
Pants | Dresses and jumpsuits | Jackets | Swimwear | Accessories
Best pants for travel
Award: Best Overall | Category: Travel Pants
These pants were practically made for lounging, but they are also perfect for the airport, according to editorial assistant Lauren Biggerstaff.
"I can't emphasize enough how soft, stretchy but still flattering they are," she said. "The flare is so trendy and cute, so it's an outfit without even having to try. They also aren't as tight as some of my other leggings, but still give the same slimming effect."
Award: Best Budget | Category: Travel Pants
If "pajama-esque" is more of your vibe in terms of how comfortable you want to feel while traveling, these are the pants you'll want to add to cart ASAP. Their laidback fit is perfect for air travel, road trips and everyday lounging.
"The material is soft, gentle to the touch and very breathable," writer Jannely Espinal said. "It's a great piece to wear for traveling as it features pockets and a wide silhouette that allows flexibility to move around."
Award: Best Women's Joggers | Category: Travel Pants
These joggers for women also impressed staffers who wore them on errand runs, on outdoor hikes and even out to dinner. While they have athletic look and feel to them, they're ideal for everyday wear and boast a good amount of pocket space, according to commerce analytics manager Amanda Smith.
Award: Best Weather-Resistant Pant | Category: Travel Pants
The brand describes these pants as their "most versatile" pant, and staffers who tried them agreed. They've worn them on outdoor excursions, on daily errands and even to the office.
"I also love the color of mine — burnt orange! It helps to break up the typically black athletic clothes I tend to gravitate towards," editorial assistant Sierra Hoeger said. "I also like how easily I'm able to move in these pants."
Award: Best Budget Pant for Men | Category: Travel Pants
These lightweight joggers are the perfect fix for the guy who needs a reliable pair of pants in a pinch. They're comfortable and easy to move around in, according to one staffer, and get the job done (whether it be lounging or a day full of running around).
Award: Best Splurge Pant for Men | Category: Travel Pants
Lululemon is known for its comfortable athletic wear that looks polished enough to wear outside of the house. These joggers boast a tapered fit, which gives them a sleek appearance. "I can relax in them or wear them at the gym," said one staffer. "They're the ideal comfortable wear for everyday life."
Best dresses and jumpsuits for travel
Award: Best Overall | Category: One-and-Done Outfit
The exercise dress trend came in a few years ago — and it's not going anywhere. We love the versatile style and think it makes a great one-and-done outfit for the days where you want to feel put-together but know you're going to break a sweat.
"The price is excellent and the dress was surprisingly flattering," market assistant Audrey Ekman said. "It didn't take up much space in my suitcase either — which is awesome, considering this single garment is basically a whole one-and-done outfit."
Award: Best Budget | Category: One-and-Done Outfit
When in doubt, you can always fall back on a midi dress. The flattering fit, perfect length and simple silhouettes make them easy to wear with just about anything.
"It's a $35 Old Navy dress and I got away with wearing it to a fancy dinner at a Michelin-starred restaurant and didn't feel underdressed," associate editor Emma Stessman said. "In fact, I even got compliments!"
Award: Best Extra-Comfort | Category: One-and-Done Outfit
If dresses aren't your style, perhaps you'll love this jumpsuit as much as a few Shop TODAY editors did. It's comfortable enough to travel in but also nice enough to wear on an everyday basis, so you'll never run out of places to wear it to.
"I am absolutely obsessed with this jumpsuit and can't wait to wear it everywhere the rest of the spring and summer," senior social media editor Kate McCarthy said. "I wore this when traveling to Boston from New York on a train ride and it was the comfiest, coziest thing I've ever worn for travel."
Award: Best Splurge | Category: One-and-Done Outfit
Much like the brand's RecTrek pant, the Outdoor Voices Volley Dress also earned high marks from Shop TODAY staffers for its quality and value. It boasts a longer hem and has a slightly more compressive feel to it, according to Shop TODAY deputy editorial director Alexandra Deabler.
"The dress did feel sturdy. I felt held in," she said. "And the material felt high-quality and nice."
Best jackets for travel
Award: Best Waterproof Jacket | Category: Inclement Weather
Rainfall proved to be no match for this jacket, which photo editor Kara Birnbaum says did its job — and a job well done, at that.
"It felt so nicely made and light on my body and I just knew I wanted to take good care of it," she said. "For functionality, I found that the hood didn't dip over my eyes like a lot of hooded jackets do and it also did do it's main job of keeping me dry."
Award: Best Sun-Protective Jacket | Category: Inclement Weather
Commerce senior associate Donna Pilikyan says this jacket is "a good everyday jacket." It is warm enough to wear on its own but also makes for a great base layer on chilly days.
"I wear it under a thicker jacket and when I am inside, I take the thicker jacket off and keep this one on and it keeps me warm enough when I am inside," she said.
Best swimwear for travel
Award: Best Bikini | Category: Swimsuit
Assistant partnerships editor Lauren Witonsky loves that this bikini top comes in several different colors and "feels super supportive" with a flattering cut. She also notes that the pads are sewn in, which means you don't have to worry about them falling out in the wash.
Award: Best Bikini | Category: Swimsuit
Witonsky also found that the matching bottoms are affordable and provided just the right amount of coverage. However, she notes, the rise sits right across the waist, which might not be for everyone.
Award: Best One-Piece | Category: Swimsuit
"I loved the fit," said commerce leadership coordinator Alexa Arent of this chic one-piece. "I feel like a lot of bathing suits are very cheeky nowadays and having a bathing suit that covers all the spots you want covered is great. The style is also great and very flattering."
Best accessories for travel
Award: Best Overall | Category: Compression Socks
Compression socks might not be the most fashionable accessory you can think of when it comes to packing your bags, but they are useful. Staffers liked that this pair offered a compressive feel and helped reduce swelling when sitting for long periods of time.
Award: Best Overall | Category: Beach Cover-Up
This cover-up is made with a UPF 50+ fabric, which the brand says is the highest rated sun protection possible. The fabric is also moisture-wicking, which makes it all the more convenient for beach days.
"I burn very very easily and I feel definitely protected in this cover up," Birnbaum said. "I like that it has long sleeves and has a hood because my arms and scalp are normally the first two things to burn for me."
Has your product been featured?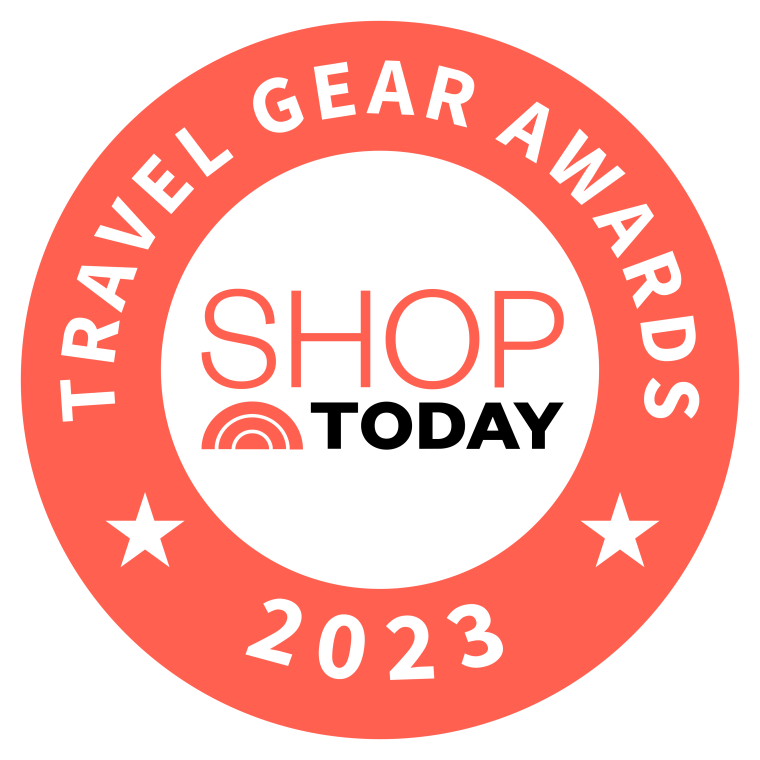 Shop TODAY is editorially independent and our team of editors and writers work hard to pick the best products to share with our readers and viewers. We may license our logo to brands or products that have been featured on Shop TODAY. Click here if you're interested in licensing your inclusion in Shop TODAY content or to learn more from our licensing partner, Wrights Media.