Next to our favorite leggings, jeans are one of the most frequently worn items in our wardrobes. From brunches to work events and travel days, we find ourselves reaching for our go-to pairs for almost every occasion.
That's why having at least one pair that you love is pretty essential (if you have more, you've basically won the lottery). But anyone who has spent hours in dressing rooms trying on option after option will tell you that scoring that perfect pair — one that's comfortable and easy to move in, but still hugs you in all the right places — is pretty much akin to finding a needle in a haystack.
So when a representative for American Eagle, a brand that claims to be "home of the world's best jeans," reached out to us, offering to send a handful of jeans for the Shop TODAY team to try, we were all ears — err, legs.
Given the popularity of mom jeans (ICYMI, TikTok says that skinny jeans are out), we decided to try one of the brand's bestselling styles, the AE Stretch Mom Jean.
Here, seven Shop TODAY staffers of different sizes share their thoughts on the jeans.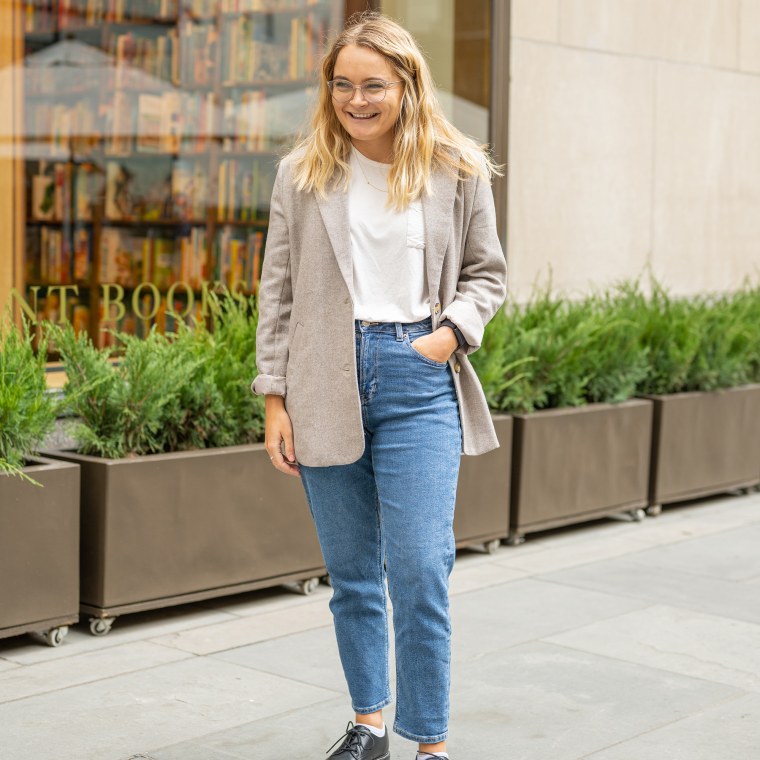 Emma Stessman (5'2), associate editor, size 4 short
I had two pairs of AE skinny jeans back in high school and college that I would wear religiously. However, through the years, they've gotten relegated to the back of my drawers, as I started to favor more relaxed, straight-leg options from other brands.
But when I put on these jeans, I immediately remembered why I loved those AE jeans so much in the first place — they're extremely comfortable. While some mom jeans can be rigid and uncomfortable, these ones are about as stretchy and soft as I imagine that a pair of jeans can get.
I got the jeans in a short size, and they fit my 5-foot-2 frame perfectly, which I appreciated, because it's not often that I find jeans that I don't have to cuff. That being said, with their tapered fit, these jeans felt more like a cross between skinny and mom jeans than the true straight-leg mom style that I typically gravitate toward. I wasn't necessarily mad about it though, because I do like having a more fitted jean to wear with boots or an oversized sweater.
I don't own a single pair of pants without a high-rise waist (sorry, you'll never catch me sporting low-rise jeans), so I appreciated that aspect of these jeans — they hit above the belly button! One thing I will say is that they do bunch a bit in the front, so I found myself pulling down the legs occasionally throughout the day.
All in all, I was pleasantly surprised by how comfortable and versatile these pants are, and I'll definitely be adding them to my regular denim rotation.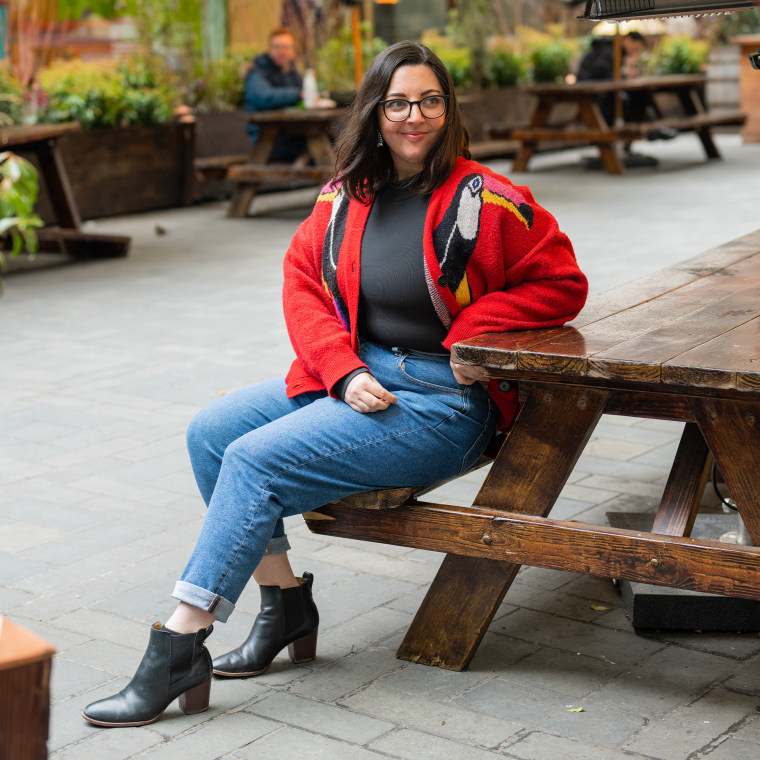 Jess Bender (5'5), senior SEO editor, size 12 regular
I'm always on the hunt for a good curvy jean — and much to my dismay, most have let me down. One brand that hasn't brought me the fitting room blues, though, is AE. They were a tried-and-true fixture in my closet throughout my middle and high school years, and they've officially earned a spot back in my rotation in my adulthood thanks to their super stretchy — and extremely comfortable — jeans. I'm still not entirely sold on the mom jean trend (you'll never pry me away from my skinnies!), but these are easy enough to wear on days when I want to look laid-back and effortlessly trendy.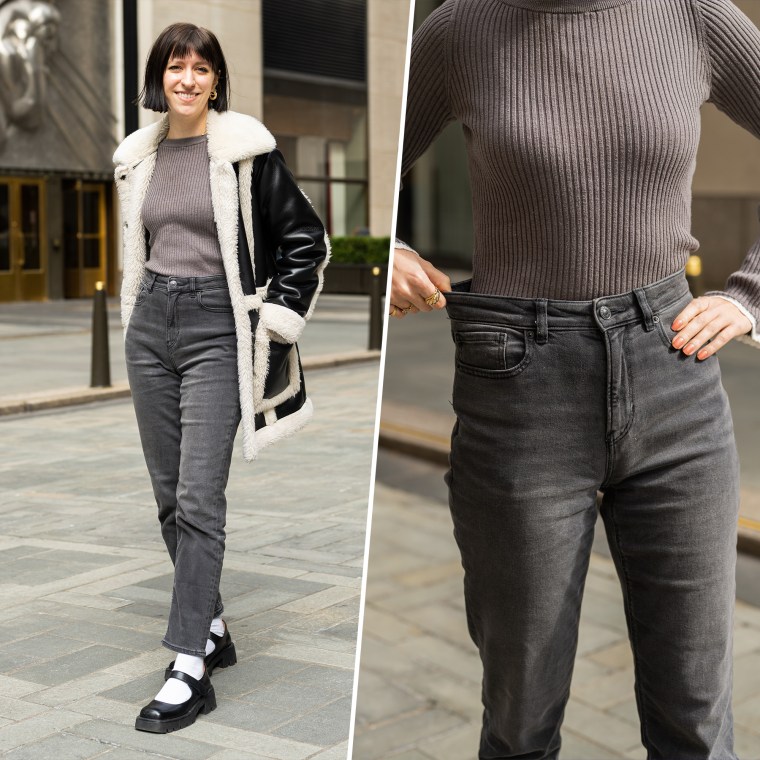 Dani Musacchio (5'5), associate social media editor, size 2 regular
I'm convinced that these jeans will make anyone a mom jeans convert. The straight leg and high-rise waist are so flattering — not too baggy, but not too tight. Best of all, there's a bit of a stretch in the material. So if you're someone like me who deals with bloating, these will become your go-to pair of jeans.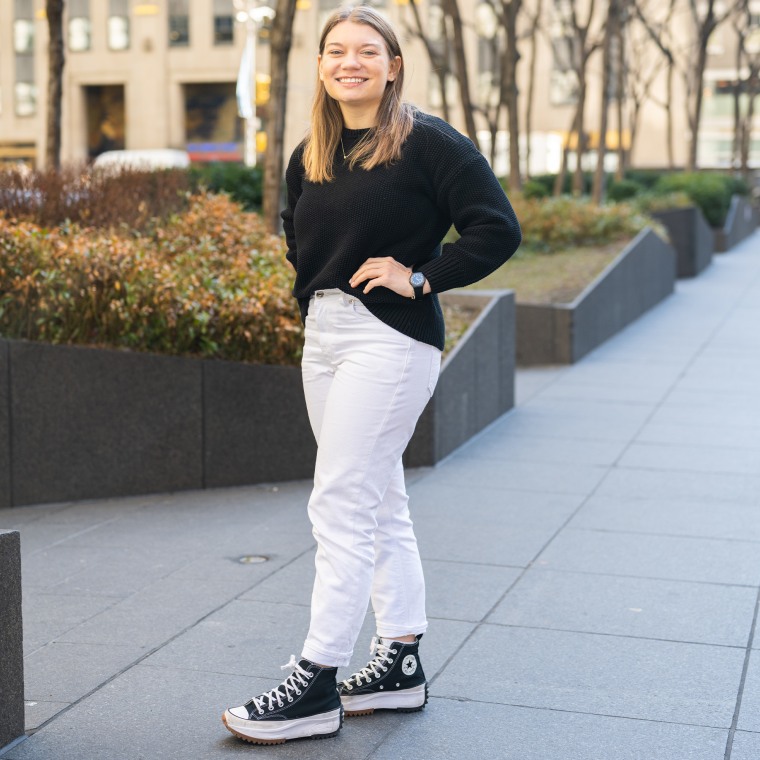 Sierra Hoeger (5'0), editorial assistant, size 4 short
I've never been the type of person who sticks with one brand of jeans, having loved pairs from Loft, Lucky Brand, Old Navy and AE. I do already own one pair of AE mom jeans, however this pair of stretchy, short-length mom jeans has quickly made the list in terms of my favorite pairs of denim.
At first, I was hesitant about the narrow button placement, but once I put them on, the fit proved to be comfortable and true to the stretchy description in the name. I will say there is more fabric and room than anticipated in the waist/pelvis area, but I like that it contributes to a more comfortable fit rather than being restricted when I sit down. Being 5-foot, I am also glad I got the short length, as they come right above my ankles, which is perfect for showing off high-top shoes or even a pair of sneakers.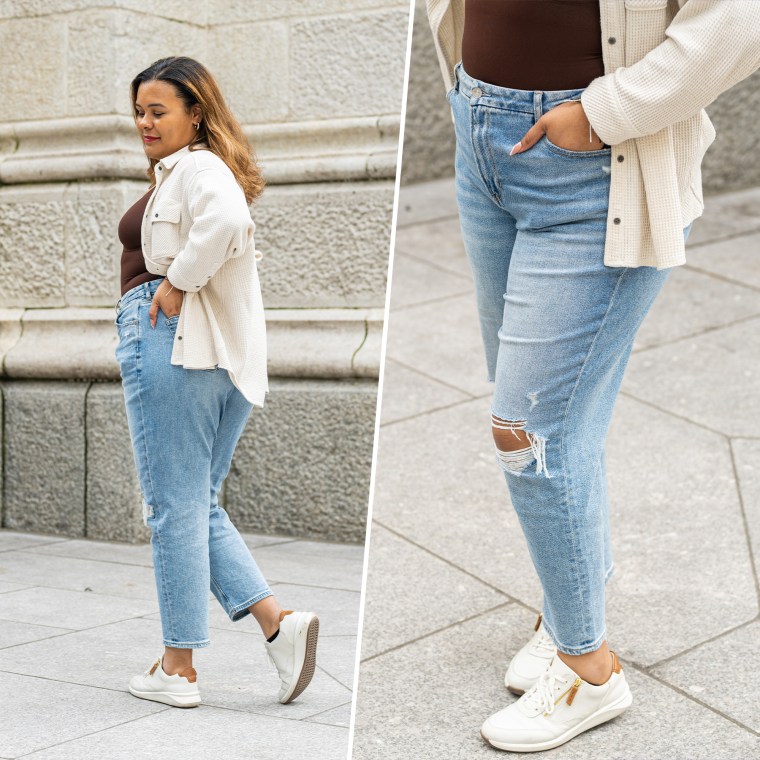 Kamari Stewart (5'10), associate editor, size 16 regular
I love AE and have sworn by their jeans for much of the past decade but have solely worn their skinnies. I was a little nervous about branching out but these mom jeans converted me! They were surprisingly soft and comfortable enough to wear all day without wanting to peel them off as soon as I got home. I usually wear a size 14 in the skinnies but sized up for mom jeans because I wasn't sure. The size 14 fit but was a little snug so I was definitely glad I sized up because it was more comfortable.
Editor's note: The Stretch Mom Jeans in size 16 were unavailable at the time, so Stewart tried the below jeans in size 16.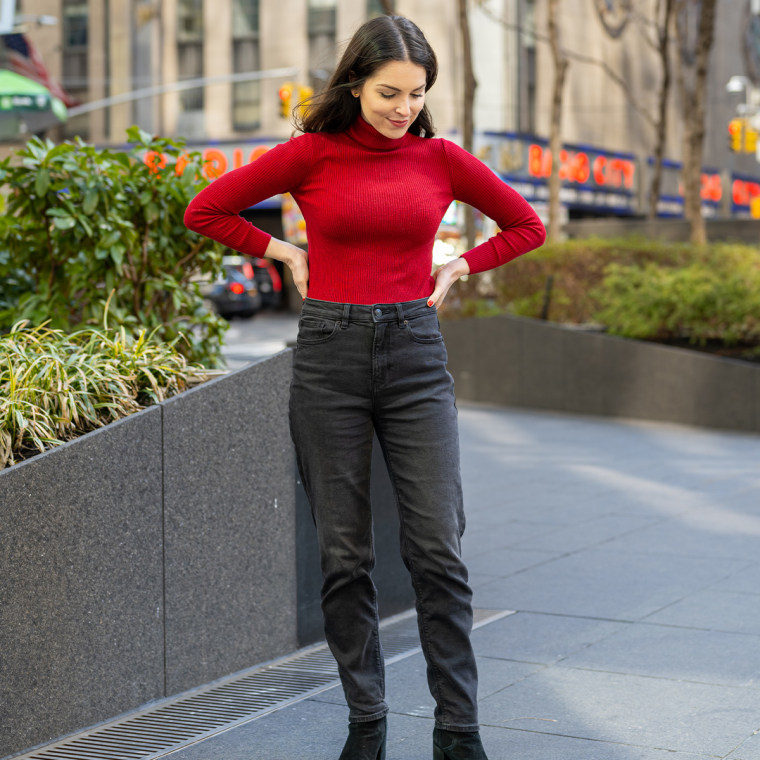 Shannon Garlin (5'4), editorial assistant, size 2 regular
I've been wearing AE jeans since I was in high school and they never steered me wrong. I actually find that they're the only jeans that fit my waist and my backside, without leaving that little gap on my back. And these mom jeans live up to the hype. They're super comfortable and I love the looser fit in the legs — it barely feels like I'm wearing jeans. Also, I love how you can dress it up with a pair of booties and a turtle neck or down with a tee and sneakers!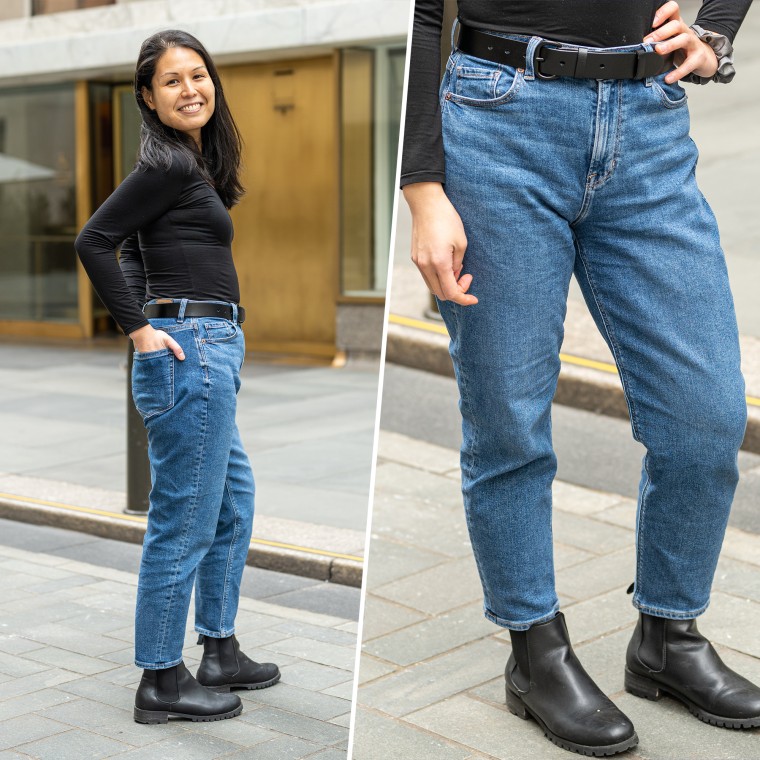 Fran Sales (5'5), associate editor, size 4 regular
First of all, they run super large — usually am a size 6 in women's jeans, but I got a 4 and they are still a bit loose. I don't mind because I just belted it and it looks cute with a top tucked in. I got the short because my legs run shorter than my torso proportionally, so I like a little ankle baring (it looks great in boots or my chunky sneakers with no-show or ankle socks). I think if I got the regular length, they would be too long.
I was skeptical of how "jeans-y" they would fit because of how affordable they are (these are like a third of the price of the jeans that I normally get). But they are surprisingly durably constructed (of course, time will tell) and they seem like a jean that would at least be two times the price.
I do like that they have a little bit more give than a typical high-waisted mom jean, but they're not so stretchy that they look too loose. They're probably the most comfortable set of non-skinny jeans I own.
However, I did have some bunching on the front of my hips, so I guess I also get a little mom pooch which I don't mind so much, but some people might.