If you are looking for the perfect jean jacket that'll help your wardrobe transition between seasons or even take you from work to play, I can safely say I've officially found it.
Similar to a LBD or a sturdy pair of flats, this Riders by Lee Indigo Women's Denim Jacket is a closet staple. You can dress it up with a skirt, pair it with leggings while running errands or rock it with black pants at an outdoor concert. The wearing possibilities are endless. 
The soft material is flexible
Imagine if your favorite pair of jeggings became a jacket — that's what this feels like. Flexibility in a jacket is a must for me. As a parent to a preschooler, I find myself having to reach to the backseat of my car while driving quite often. A stiff jacket isn't an option when my son needs his blanket right now!  Even playing at the playground requires clothes that move with you, and I don't want to always have to wear sweats. This jacket allows me to look more put together and still be able to help out on the monkey bars.
Not only is it perfect for wear during my personal life, but I wear it at work, too. My job as a teacher also requires a lot of movement, especially when writing on the board or doing other tasks. Any teacher knows that a jean jacket is an essential item in a teacher's wardrobe, and restricted arms are not an option. 
Along with flexibility, I really like the fit of this jacket because it cinches in a little at the waist so it gives off a feminine feel and doesn't look boxy at all. I knew it was a keeper when my husband said, "That looks really good on you!" without me asking for his thoughts. I opted for the classic weathered medium blue color, but it comes in ten other shades. I think I feel the light blue color calling my name next.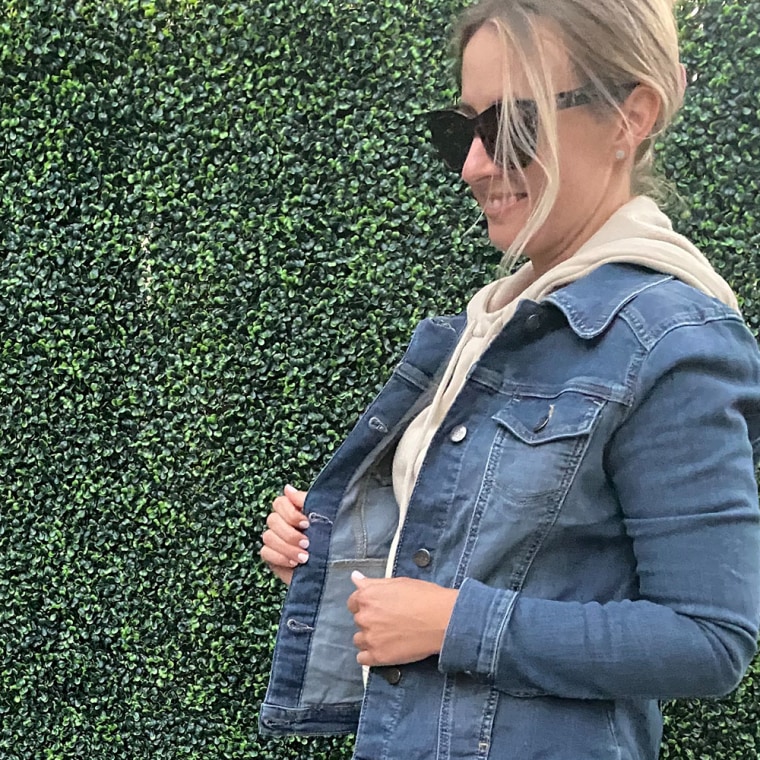 Unlike other jean jackets, this one is lightweight
Another thing I like about this jacket is the weight. In the past, I've worn a jean jacket over a dress to work and I ended up taking it off multiple times throughout the day because the jacket was too heavy and I got too warm. Thankfully, this pick is super lightweight and perfect for those autumn days when the temperature starts off low in the morning and then ends twenty degrees warmer by the time I have to commute home from work. 
It's extremely versatile
After wearing this pick in a variety of ways, I love how versatile this closet staple really is! I paired it with shorts when we took a family trip to the amusement park recently. I also wore it with pants and a cropped hoodie while out running errands. School hasn't started for this teacher just yet, but I know this jacket will be coming to and from my classroom quite often. I plan on pairing it with skirts and dresses throughout the year.
At less than $40, you will definitely get your money's worth with this jacket when you consider the cost per wear. I'm not alone in my thoughts: over 26,000 reviews have been published and it has an average rating of 4.6/5 stars on Amazon. Plus, the Riders by Lee Indigo Women's Denim Jacket isn't a fast fashion item — jean jackets literally never go out of style — so you will have your stylish and all-season jacket for years to come!
More fall essentials to shop
Coming in a pack of five, these cozy socks can be worn with your favorite Chelsea boots, loafers or worn around the house. The brand says they're made of wool and spandex, which reviewers say have the perfect amount of thickness.
No fall outfit is complete without a trendy scarf. This blanket scarf comes in a variety of plaid and solid colors, which can be wrapped like a traditional scarf or worn as a shaw.
Ballet flats might be the shoe of the season, and for good reason — they have tons of versatility! These No.1 bestselling ballet flats have over 43,000 five star ratings and reviewers say they're comfortable. "Probably my new favorite pairs of dress shoes! They're really easy to get on and off and fit true to size. They also don't rub sores on my heels, which is a win in my book," wrote one verified reviewer.
If you're looking to stock up on fall basics, this crewneck is currently 45% off! It comes in over 20 colors and patterns to choose from and can be paired with jeans and leggings or dressed up with trousers.
One Shop TODAY editor said this shacket is the perfect layering piece for fall. It comes in a variety of plaid colorways and reviewers say it has an oversized fit, so if you're looking for something fitted you might want to size down.