Happy New Year and welcome to January — this is your chance for a new beginning. Yes, you can make your life healthier and happier, beginning now. It can be easy to transform if you #StartTODAY!
Have you resolved to lose weight in 2019? Get back to the gym? Clean up your spending habits? If you're feeling overwhelmed already, don't worry. All this month, we'll be getting help from our panel of #StartTODAY experts — on everything from reshaping your body to calming down your mind.
Follow along by signing up for our customized 10-week newsletter!
TODAY's Savannah Guthrie and Jenna Bush Hager showed the importance of teamwork when pursuing your fitness goals this year.
"I think having a friend to work out with makes a huge difference,'' Savannah said on TODAY. "If Jenna and I are going together, then it's kind of fun."
"See, that's why I like working out with her,'' Jenna said. "Every five minutes, there's a little motivator."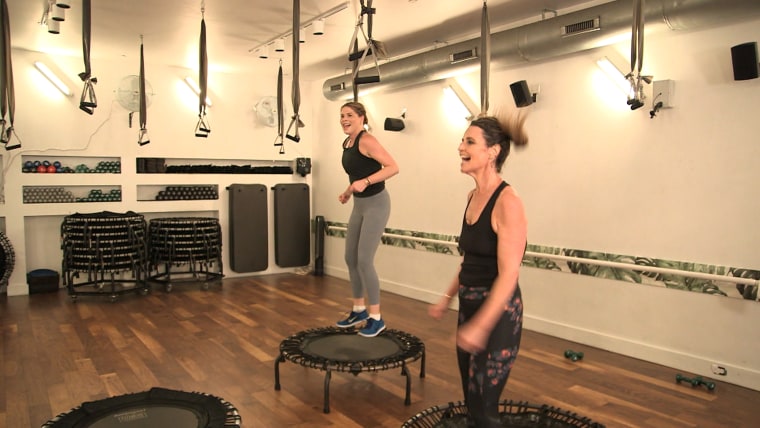 On Tuesday, our #StartTODAY experts kicked things off by sharing their favorite one small thing you can do now to join the journey to a healthier life. Here's what they suggested:
Bob Harper: Try daily positive planking.
Build your core muscles to help support your back and spinal column and avoid injuries by starting each day with a plank and trying to hold it longer every day.
Joy Bauer: Swap out sweetened beverages.
Trade soda, fruit punch, lemonade and sweetened iced teas for good old-fashioned water to help lose weight, steady your blood sugar, lower your cholesterol, tame inflammation and boost your energy.
David Zinczenko: Don't count calories, make calories count.
Put your mind at ease by simply eating a wholesome, nutritious diet of mainly fruit and vegetables instead of counting every calorie. And here are a few of his tips on how to maximize your metabolism.
Stephanie Mansour: Start the day centered.
When you first wake up, use this breathing and movement exercise as a positive affirmation to get you focused: Reach your arms up as you say "I am," then put your palms together at the center of your body and say "committed to myself."
Jean Chatzky: Sign up for a savings app.
If you want to save money without thinking about it, download apps like Qapital, Digit or Acorns today and get on your way to saving hundreds and maybe thousands by the end of the year.
Shirin Eskandani: Start small.
Create small and specific goals that will lead to big results, like reading a book in the evening instead of taking an iPhone to bed to help improve your quality of sleep and reduce stress.
Shaun T: Be uncomfortable.
Life begins at the end of your comfort zone if you're willing to plan take smart risks. Do one thing every day that makes you uncomfortable.
Stephanie Ruhle: Clean up and cash in.
Get rid of clutter and make some money in the process by selling stuff you never wear or use, from clothing to furniture.
Natalie Azar: Sideline stress.
Help eliminate the harmful health effects of stress by doing everything from socializing and laughing more to using a warm wrap around your neck and relaxing for 10 minutes.
These small changes could help you drop a few pounds, improve your health and revamp your mind. Tune in to #StartTODAY all month for easy tips and doable challenges. Better yet, we'll have steals and deals to help you save money while you get your mind, routine, look and home where you want them.
Make 2018 your best, healthiest year ever.
And for extra support, sign up for our customized 10-week newsletter! Or follow our @onesmallthing Instagram.