Chef notes
There's one proven way to make a batch of buttery, flaky biscuits even more special — add some seasonal flair. If you ask me, sweet potatoes deserve just as much love this time of year as pumpkins. Their mellow, earthy flavor and silky texture make them the perfect addition to all kinds of baked goods, including these sweet potato biscuits. Not only does a mashed sweet potato add a hint of natural sweetness, but it also tints the dough a delicate orange color. Sweet potato also adds body and moisture to what can otherwise be a relatively dry baked good. These biscuits remain nice and moist after puffing and rising in the oven. 
Biscuits are traditionally made with buttermilk, and we're not changing anything there. The buttermilk plays well with the sweet potato, adding a bit of tanginess to the dough. And as if these biscuits weren't buttery enough already, I like to serve them with a slightly sweet, slightly spicy compound butter. Mix together a stick of room-temperature butter with maple syrup, cayenne pepper and a pinch of salt, then spread it generously over the biscuits while they're still warm. 
This is a great recipe to make if you have any baked sweet potatoes leftover from dinner, or you just have an extra spud or two lying around in your pantry. Throw them in the oven and you're only a few steps away from the perfect addition to your autumn breakfast or brunch table. 
Technique Tip: Out of buttermilk? Make your own in a pinch by combining  2 to 3 tablespoons of whole milk with fresh lemon juice or apple cider vinegar. Let stand for 5 minutes before using.
Swap Option: You can use canned sweet potato or pumpkin purée instead of baking your own sweet potato.
Ingredients
For the Biscuits
1

small sweet potato, baked and cooled

1¼

cups buttermilk, plus more for brushing

4

cups all-purpose flour, plus more for dusting

2

tablespoons granulated sugar
1

tablespoon baking powder

1

teaspoon kosher salt

1¼

sticks cold unsalted butter, cut into small pieces
For the Butter
8

tablespoons (1 stick) unsalted butter, room temperature

2

tablespoons pure maple syrup
1/4

teaspoon cayenne pepper

1/8

teaspoon kosher salt
Preparation
Make the biscuits:
1.
Preheat the oven to 400 F. Line a rimmed baking sheet with parchment paper. Set aside.
2.
Scoop the flesh from the baked potato and add to a small mixing bowl, discarding the skin. Use a potato masher or fork to mash the flesh.
3.
In a small bowl, add ½ cup mashed sweet potato and buttermilk. Whisk until smooth.
4.
In a large bowl, whisk together the flour, sugar, baking powder and salt. Add butter and mix with your fingertips until the butter is the size of peas. Slowly drizzle in the buttermilk mixture and mix with a fork just until a dough comes together.
5.
Transfer dough to a lightly floured surface and knead gently a few times to incorporate any dry bits of flour. Pat the dough into a 1-inch thick rectangle. Working from one short side of the dough, lift and fold the dough in half. Pat the dough back into a 1-inch rectangle. Repeat the folding and patting process three more times, adding more flour as needed to prevent the dough from sticking.
6.
Pat the dough into a 12-by-9-inch rectangle. Using a sharp knife, cut the dough into 12 biscuits. Arrange on the prepared baking sheet, spacing 2-inches apart. Brush the tops of the biscuits with more buttermilk. Refrigerate for 10 minutes.
7.
Bake for 30 to 35 minutes, until the biscuits are golden brown, firm and puffed. Let cool slightly.
Make the butter:
In a medium bowl, stir together the butter, maple syrup, cayenne and salt until smooth. Serve the biscuits while warm and smear them with maple-cayenne butter.
How to shop TODAY recipes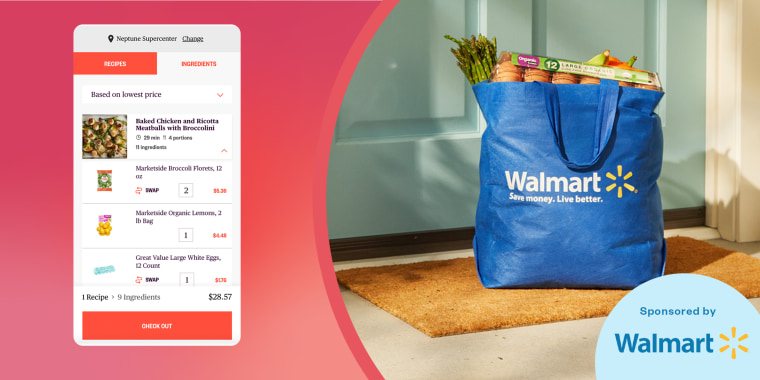 How to shop TODAY recipes
Here's everything you need to know about the cool new feature.
Learn More