Ingredients
4

pounds oxtails
Salt and pepper
Olive oil

1

yellow onion

2

large leeks

2

celery stalks

4

carrots
2

tablespoons tomato paste

1

bay leaf

3

sprigs fresh thyme
Rosemary

1 1/2

cups beef broth

3-4

cups hearty red wine
Dumplings
1 1/2

cups all-purpose flour

1

tablespoon baking powder

½

teaspoon salt
3/4

cup milk

2

tablespoons butter

¼

cup parsley
Preparation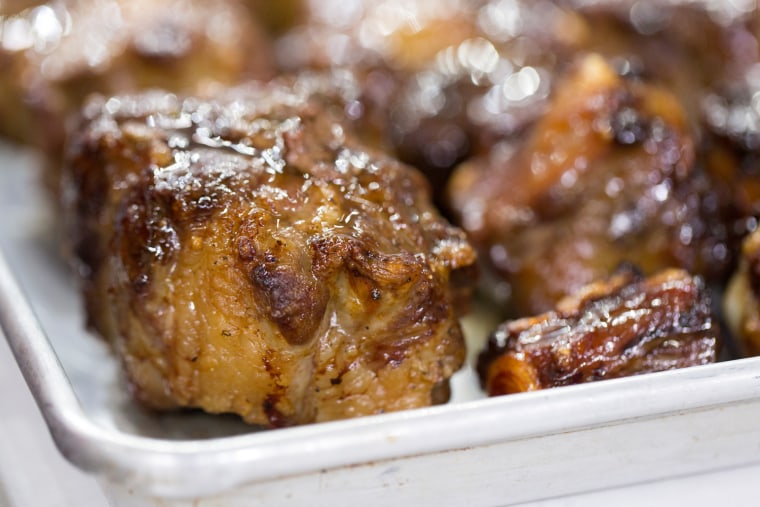 Make stew:
Preheat oven to 425`F. Distribute oxtail on a sheet pan in single layer. Drizzle with olive oil, then season generously with salt and pepper. Toss to distribute oil and seasoning. Place in oven and roast until caramelized, about 20 minutes.
Meanwhile, heat a Dutch oven over medium-high heat.  Add some olive oil, then the onions and leeks, stirring to soften about 4 minutes.  Season with salt while cooking, and do not let brown. 
Reduce heat to medium and add celery and carrots, cooking and stirring another 6-8 minutes.  Add a pinch more salt while cooking.  
Stir in tomato paste and let cook 1 minute. Add bay leaf, thyme and rosemary.
When oxtails are well browned, remove from oven and reduce heat to 325F. Transfer meat to the pot and add broth. Add red wine to just cover meat and vegetables. Bring to a low boil, turn off heat and cover pot.
Place in oven and cook 3 ½ to 4 hours, until meat is falling off the bone. 
Strain liquids into another pot, and spread meat and vegetables onto a sheet pan to cool. Place liquids over medium heat and simmer until reduced by one-third to one-half.
When meat is cool enough to handle, remove bones and discard. 
If serving same day, return meat and vegetables to liquids. Bring to a low simmer and lower heat to keep warm. [If refrigerating for another day, let liquids cool, then transfer meat and vegetables to liquid and refrigerate.  Keeps 2-3 days in refrigerator, or 3-4 months in freezer.
Make dumplings:
Combine the flour, baking powder, and salt in a bowl. Stir in the milk until just blended. Add more milk as needed to reach the consistency of a drop biscuit. Do not overmix.
Right before serving, bring the stew to a low simmer in a wide pot.
Drop generous tabelspoon-size dollops of the flour mixture onto the surface of the stew and scatter the parsley over the top. Cover the pot and cook 15-18 minutes. Serve warm.